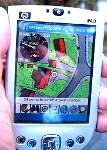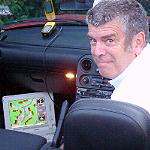 Home . GPS . Downloads . Business . Partners . Contact . Family . AVL . Links . History . AsOnTV . Holidays . Snoopy
Downloads of the GPS Software and mapping
Updated 0940 Z/UT/GMT Monday 9th January 2023 UK time - See footnote near the end :-)
Who can run GPSS and/or GPSSppc on Android or other modern platforms ?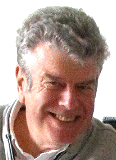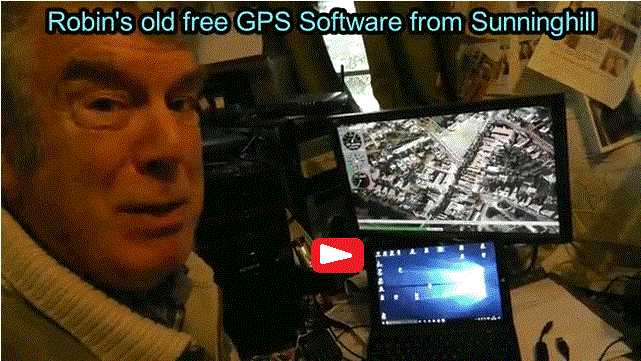 Who can run my old GPS Software on modern hardware ? The rewards for you could be big, since my software is free. Play the video to see what GPSS was doing over 20 years ago - still much more than most SatNav systems :-)
It should not be so difficult technically, since GPSS.EXE and/or GPSSPPC.EXE, in the GPSS.ZIP download below, just need to be supported by emulation software. This will need to support a simple 16 bit Windows PC application, including graphics output, serial input/output, and Files Input/Output. Maybe it has already been done ?
You can contact me by email on robin@gpss.co.uk and my Contact page. Don't be shy :-)
Many of the words below have not changed for years ...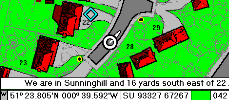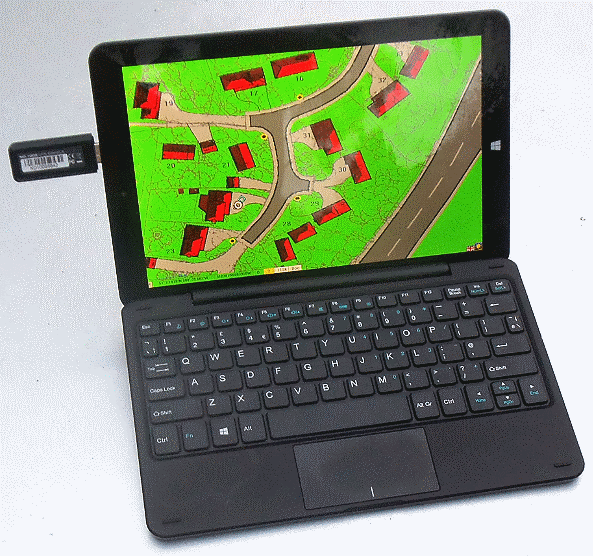 October 2016: GPSS runs OK under Windows 10 on a Linx10. See Robin's New Toy: the Linx8 (and 10), that has been on the front page since early 2014. Is it only the Linx10, or have Microsoft fixed some Windows 10 restrictions ? Following has been on this page since soon after Windows 10 was released...
GPSS has run on every earlier version of Windows, from the very first version of Microsoft Windows 3.1, through versions such as 3.11, 98, 2000, NT, Millenium, XP (was that the best ?), and Windows 7. In recent years, only the standard 64 bit version of Windows 7 could not run GPSS because it did not have full "compatability mode". You needed to give Microsoft more money for Windows 7 Professional. The problems were not with GPSS, but with Microsoft not providing compatability between Windows Operating Systems. Also, between their software tools, such as the Visual Basic compilers. It would have been neccesary to re-write GPSS. That has never been worth the effort, simply to run GPSS on Microsoft Windows. Everybody knows that, if it were re-written, it would make more sense for it to run on other platforms like Android :-)

You may wish to visit the simple introduction to GPS Navigation with GPSS
Need a GPS ? Then see GPS Advice page.
Having problems ? Then see the Problems page.
Interested in discussing business ? See Business page.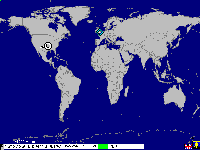 Please follow these simple steps 1,2,3,4 :
Step 1. download and test the GPS Software with a GPS. GPSS will give a demonstration.
Run GPSS on a Laptop with a GPS and it should show your GPS position on a World map.
Note your lat/lon displayed by GPSS. e.g. 453095N0754595W. Note the Ctrl-R Form details.
Over 100 people download GPSS each day. See from what country they download.
Step 2. Send Robin the Quiz Answers Robin will answer with free key codes, tips such as what mapping to add, and a REF line for you to give in future emails. Robin will then answer your questions and/or discuss business, use of GPSS, etc.
Few of those who download, register. If numbers increased, we might make the Quiz more difficult :-)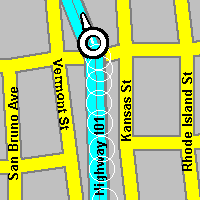 Step 3. Use tips from Robin

- to add more maps and sounds. e.g. street level or even house level detail on maps; voice guidance in your own language; switching GPSS to remote tracking (AVL) over GSM or other communications; help with testing the latest beta copy of GPSS on the oldnew page. You then may also want to read more tips.

Step 4. use GPSS for more than 3 months, then get a free superkey - to remove Snoopy forever :-)


GPSS and GPSSppc suport "superkeys" matched to the users name, for any PC and for an unlimited time period.
Step 1: download and test the GPS Software with a GPS.
This is for GPSS on a full Windows Laptop (e.g. XP, Vista, 7, 8.1 - but NOT 64-bit versions of Windows), and/or GPSSPPC for a Pocket PC running Windows Mobile.
The download includes GPSS.EXE, GPSSPPC.EXE and the baseline files such as sounds and a non-detailed World map.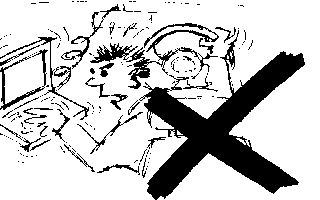 YOU USE GPSS AT YOUR OWN RISK - INCLUDING HAVING ACCIDENTS OR GETTING LOST !
YOU MAY NOT USE GPSS FOR BUSINESS WITHOUT PERMISSION FROM ROBIN LOVELOCK.
THE SOFTWARE AND DATA ON THIS WEB SITE, OR DATA GENERATED FROM SOFTWARE ON THIS WEB SITE, ARE NOT TO BE USED WITH SOFTWARE OTHER THAN GPSS. GPSS SHOULD ONLY BE DISTRIBUTED ON FLOPPY DISK, CD OR DVD IN A COMPLETE AND UNMODIFIED FORM. YOU MAY NOT DISTRIBUTE LESS THAN THE CONTENTS OF THIS GPSS BASELINE. YOU MAY NOT DISTRIBUTE GPSS ON THE INTERNET BUT YOU ARE WELCOME TO REFER OTHERS TO THIS SITE: www.gpss.co.uk GPSS FACILITIES ARE THE INTELLECTUAL PROPERTY OF ROBIN LOVELOCK.
Safety and GPSS - enjoy GPSS but please ... KEEP YOUR EYES ON THE ROAD !
The GPSS Baseline is v6.97 November 2011. What's new ? see here and change history here.
GPSS installation from GPSS.ZIP ...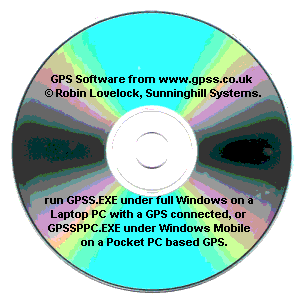 Open GPSS.ZIP ... Extract all files ... Next ... C:\ (to install into C:\gpss )

move the GPSS folder onto your Laptop PC or Pocket PC. e.g. CD/DVD or Activesync.
run GPSS.EXE from full Windows, or GPSSPPC.EXE from Windows Mobile.
Please tell Robin on gpss@compuserve.com of any problems.
If you have problems, see the Problems ? page.
e.g. the old method, since 1997, of downloading GPSSA.EXE
Over 100 people download GPSS each day. See from what country they download.
when you have your GPSS folder of files ...
run GPSS.EXE from full Windows to see a demonstration of what GPSS can do.
write a CD or DVD to transfer the folder to your Laptop PC with GPS.
run GPSS.EXE on the Laptop PC with GPS to use GPSS "for real".
Activesync the folder onto your Pocket PC before running GPSSPPC.EXE - also see here.
Step 2: QUIZ - answer Robin's questions, then you get free support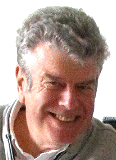 This "quiz" is needed for business users and for free support. i.e. Robin answering your emailed questions.
Robin will reply with tips, such as what mapping to add, the six people nearest you on the email links pages, and a REF line for you to include in future emails to Robin on gpss@compuserve.com (on the contact page), and a free key code lasting 6 months.
Robin makes no promise here, but for years he has been re-issueing free key codes every 6 months to those who did the Quiz and remembered their REF that he gave them. i.e. you should only need to do the Quiz once, if you remember your REF.
You can read all about Robin and the Lovelock family on their family pages - so don't be shy with your Quiz answers :-)
Before you answer the Quiz, you should have GPSS or GPSSppc responding to a GPS. The software should be running on a mobile PC such as a Laptop or Pocket PC based GPS. You will need to collect the following information before you answer the Quiz:
the latitude longitude displayed by GPSS or GPSSppc with the GPS working. e.g. 512382N0003960W
the version number of GPSS and or GPSSppc being used. e.g. v5.5 or v5c.
if you want a key code for GPSS, the Ctrl-R details, explained at end of problems page.
Few of those who download, register. If numbers increased, we might make the Quiz more difficult :-)
Step 3: use tips from Robin and add mapping for any country
Robin's reply to your Quiz Form in step 2 above, will include tips on where to find mapping for your country, city or even house, in the pages below and other sources.
Do NOT run these downloaded EXE from your Internet browser. Put them in the GPSS folder then run from file Explorer to add the files.
If your country is not on the lists below, please contact us - we normally provide the mapping within 24 hours.
To make GPSS speak other languages please see the language page.
To help Robin and others test the very latest version of the full Windows GPSS.EXE please see the oldnew page.
To help Robin test GPSS on the Pocket PC and Smartphone, click here
Download Pages for USA including Alaska & Hawaii
Please see Central America below for the Bahamas, Bermuda and Puerto Rico.
Download Page for Central, South America, Caribbean
Antilles, Argentina, Bahamas, Barbados and Caribbean, Belize, Bermuda, Bolivia, Brazil, Costa Rica, Chile, Colombia, Dominican Republic, Ecuador, El Salvador, Falkland Islands, Galapagos Islands, Grenada, Guatemala, Haiti, Honduras, Jamaica, Kayman Islands, Nicaragua, Panama, Paraguay, Peru, Puerto Rico, Suriname, Trinidad, Uruguay, US Virgin Islands, Venezuela.
Download Page for Europe
Albania, Andorra, Armenia, Austria, Azerbaijan, Belarus, Belgium, Bosnia Herzegovina, Bulgaria, Corfu, Crete, Croatia, Cyprus, Czech Republic, Denmark, Estonia, Faroes, Finland, France, Georgia, Germany, Gibraltar, Greece, Holland, Hungary, Iceland, Ireland, Italy, Latvia, Lithuania, Luxembourg, Macedonia (FYROM), Malta, Moldova, Monaco, Norway, Poland, Portugal, Romania, Russia, Serbia and Montenegro, Slovakia, Slovenia, Spain, Sweden, Switzerland, Turkey and Ukraine.
Download Page for Africa & Middle East
Algeria, Angola, Azores, Benin, Botswana, Canary Islands, Cape Verd Islands, Central African Republic, Congo Democratic Republic, Egypt, Ethiopia, Gambia and Guinea Bissau (see Senegal), Iran, Iraq, Israel, Ivory Coast, Jordan, Kenya, Kuwait, Lebanon, Libya, Madagascar, Malawi, Mali, Mauritius, Morocco, Namibia, Nigeria, Oman, Qatar, Reunion, Saudi Arabia, Senegal, Sierra Leone, South Africa, Sudan, Syria, Tanzania, Tunisia, Uganda, United Arab Emirates, Yemen, Zambia, Zimbabwe.
Download Page for Asia
Afghanistan, Bangladesh, Borneo, Brunei, Burma, Cambodia, China, Hong Kong, India, Japan, Korea, Java in Indonesia, Kazakhstan, Malaysia, Maldives, Marshall Islands, Myanmar, Northern Mariana Islands, Nepal, Okinawa, Pakistan, Papua New Ginea, Philippines, Sarawak, Singapore, Sri Lanka, Tahiti, Taiwan, Thailand, Turkmenistan, Uzbekistan, Vietnam.
Download Page for Australia, New Zealand, New Caledonia & Fiji
Download Page for Canada, Greenland & Mexico
Download Page for United Kingdom
Step 4. use GPSS then get a free superkey to remove Snoopy forever :-)
Use GPSS for more than 3 months, then get a free superkey - to remove Snoopy forever :-)
Just use GPSS, asking Robin for help if needed. Please wait for at least 3 months before asking for the GPSS superkey. You only need to give your full name and something like your email address if different at the time you did the step 2 Quiz. Robin will check his emails to confirm you had got this far, and will send you a superkey, matched to your name, which will work on any PC or Pocket PC for an unlimited period of time.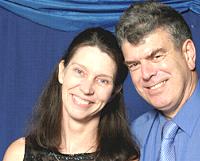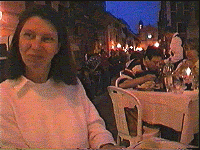 We used to say please send us 10GBP by PAYPAL to get a superkey, and pay towards the cost of GPSS and maybe a little towards a meal out for Robin and June :-) However, Robin was 65 in 2012, and told the UK taxman that he was stopping the business and not taking in money. If a big business opportunity arises, Robin can always contact the UK taxman again.
Robin is now officially "retired" - although June says he retired over 10 years ago :-)
It is true that for over 10 years he has not had to do much work to maintain GPSS and this web site, and respond to the occasional email from the many people still using GPSS around the World. The simple 1, 2, 3 process above means that it takes little time to help people start to use GPSS.
In recent years Robin spends much of his time on hobbies, some of which are GPS-related, like Trans-Atlantic Robot Boats or Geocaching.
Well, somebody has to do it :-)

Footnote added in 2023 - Under Construction ...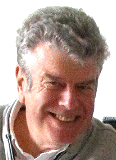 from Robin Lovelock: I started with extracts from the Holiday page - and hope to improve it some time. Some may like my choice of my videos chosen, and some not ;-)
Tap or Click on these pictures to expand or play videos. e.g. those old photos sent by Andy in Poland in 2022, of him using my GPS Software to navigate, in the snow, between Poland and Croatia. VERY topical, because some of Robin's old friends were on holiday in Miami, USA, hoping for warmer weather, but got more snow than the 0.5 metre in Poland, and the brief flurry of snow, and freezing temperatures here. But not as cold as our friends such as Andy in Poland, and many others experienced :-)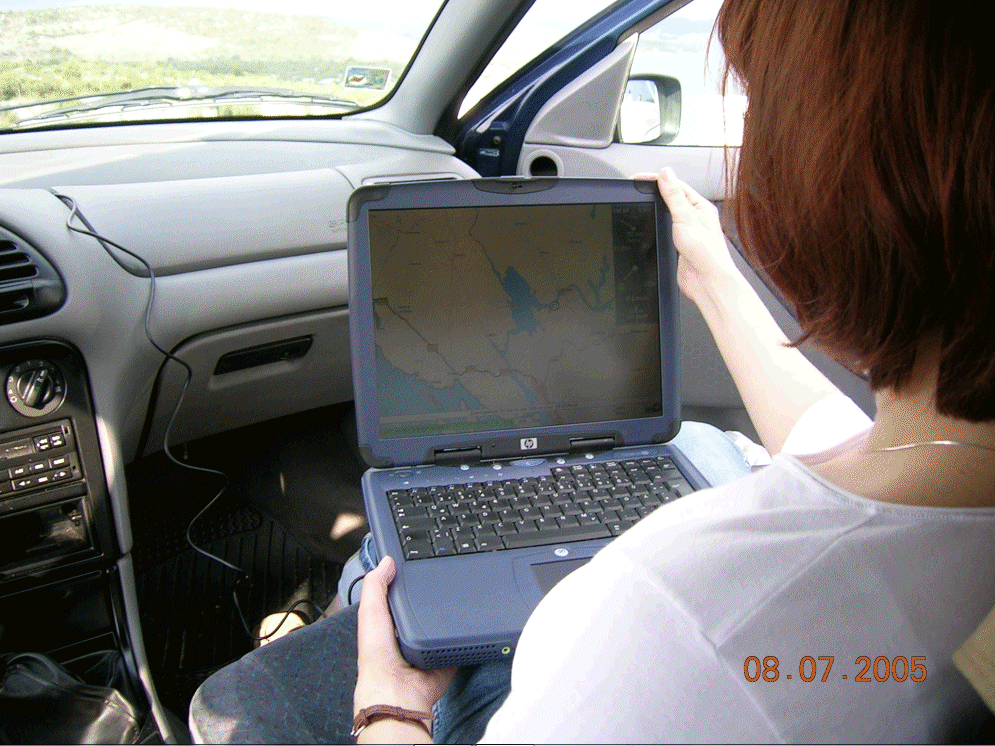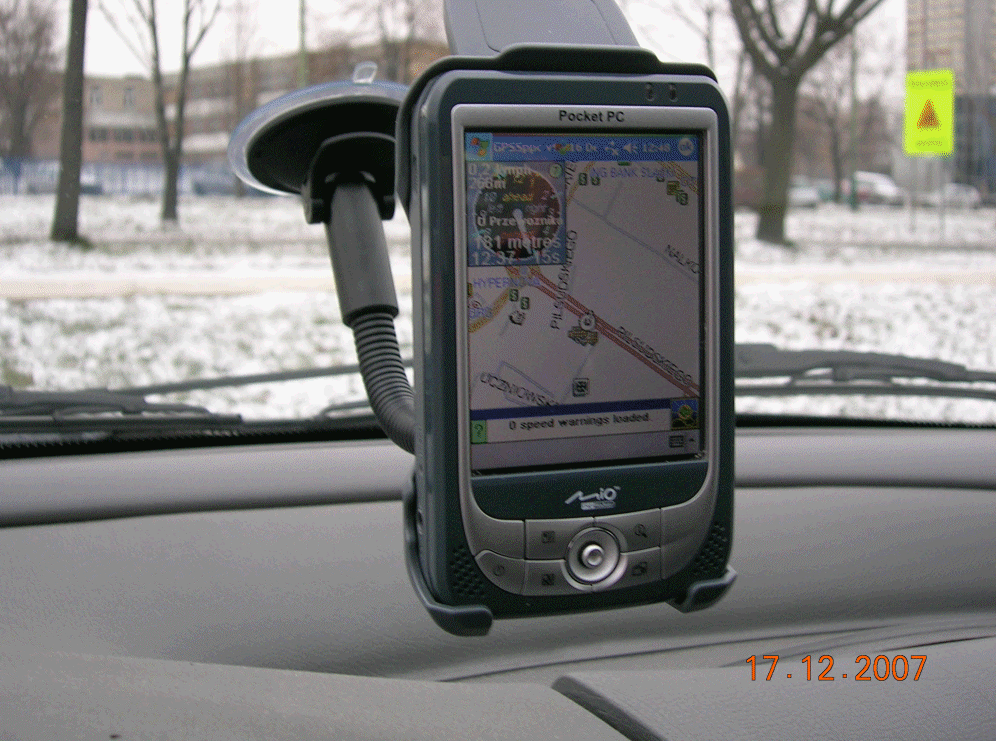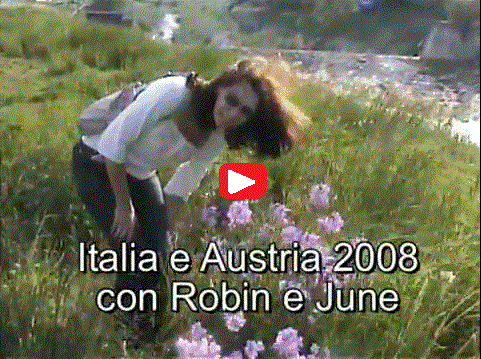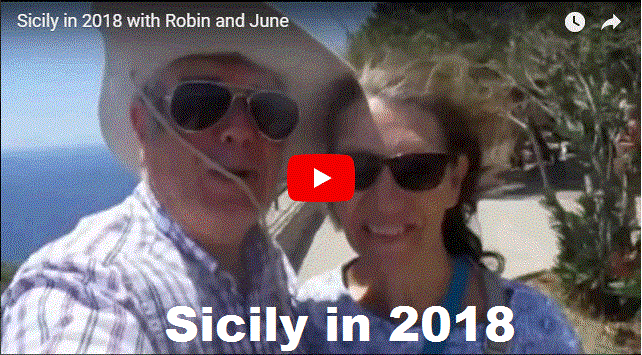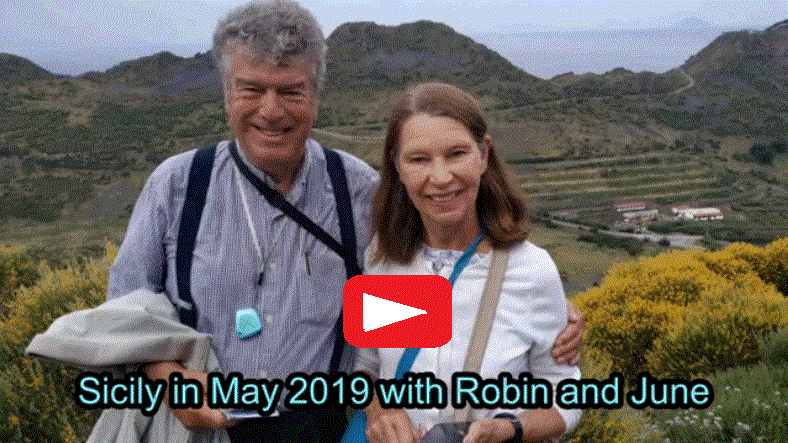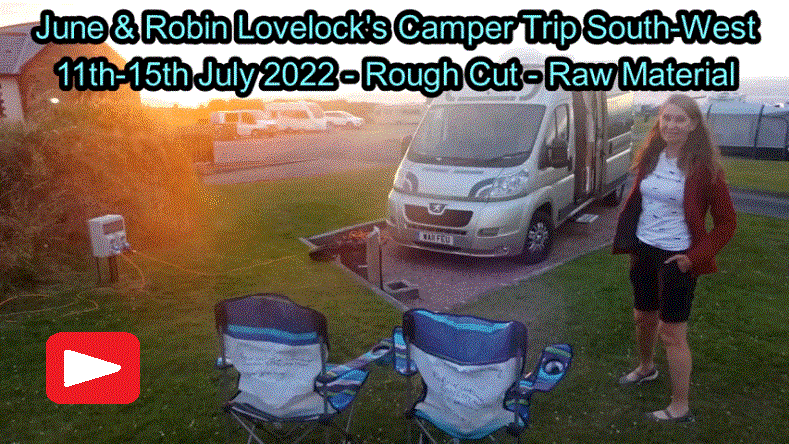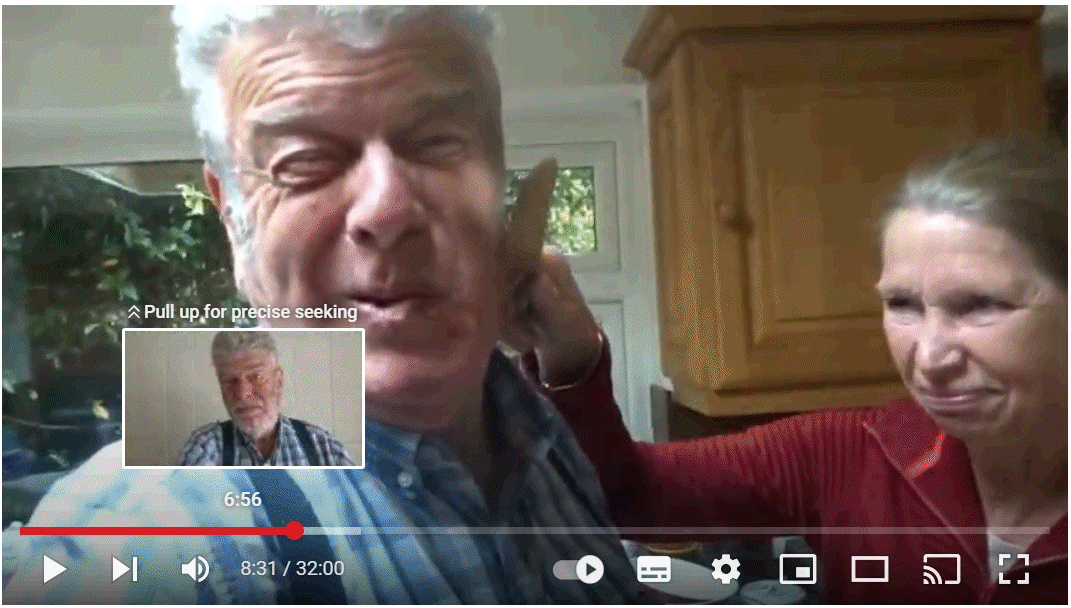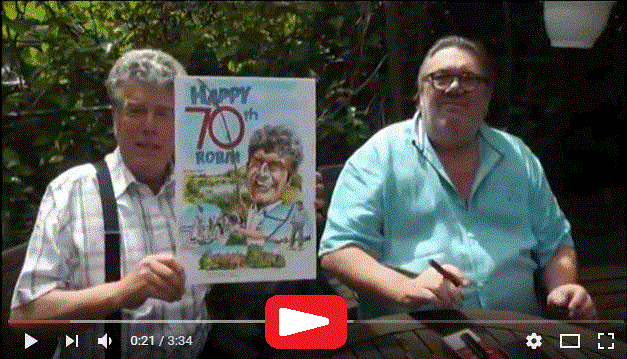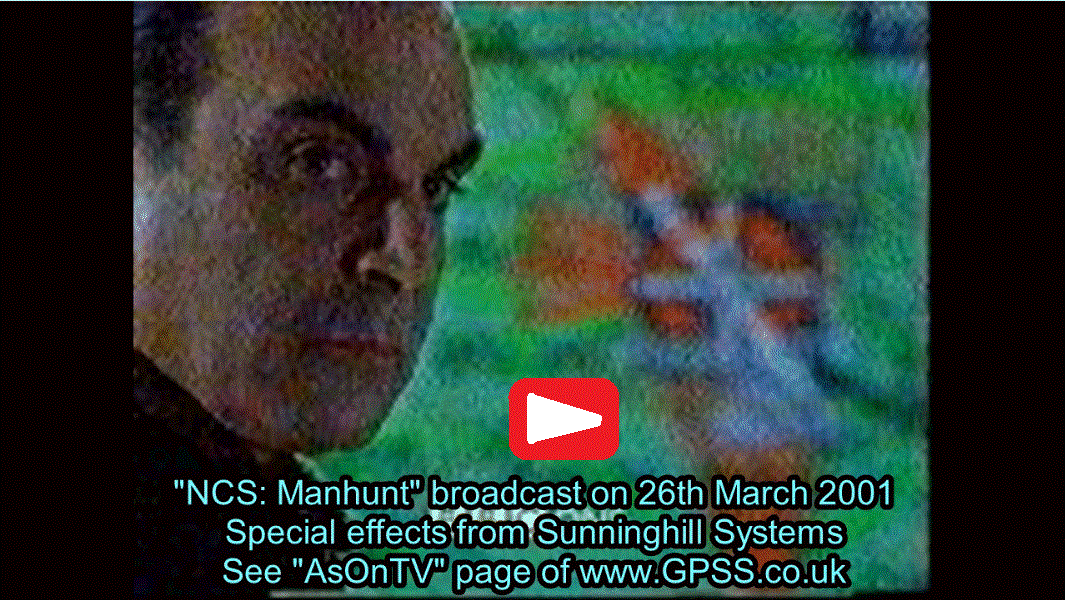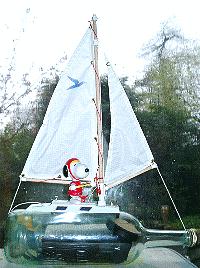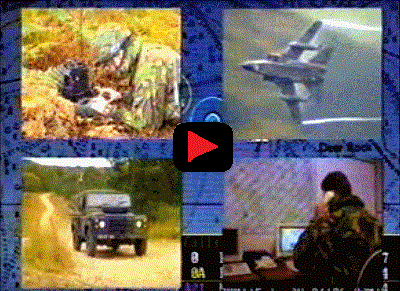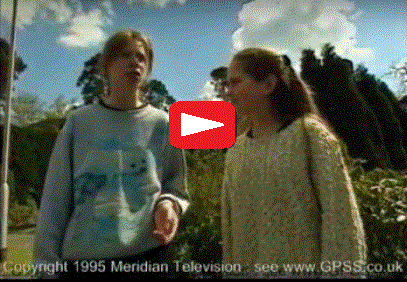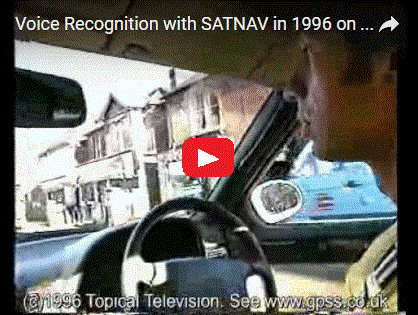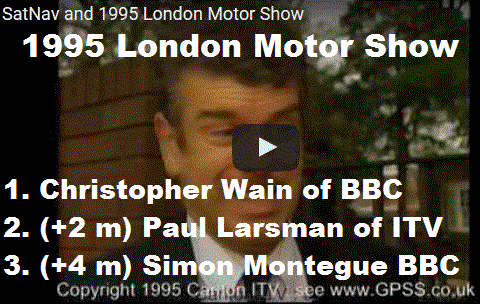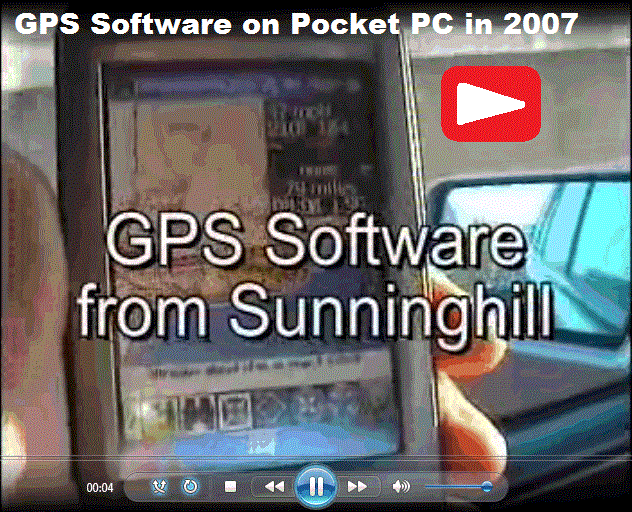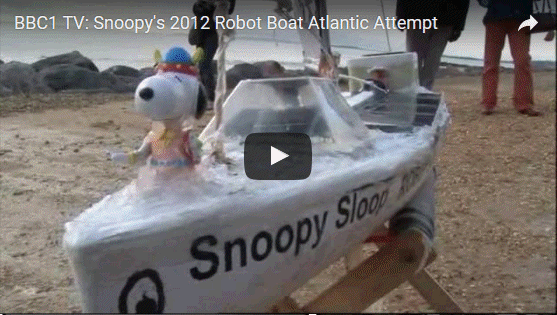 Topics overlap. e.g. technology; business; promotion; publicity; art; advertising; but most important of all: people ;-)
© 1991-2023 Robin Lovelock, Sunninghill Systems.
Any links to this web site should be direct into www.gpss.co.uk
Robin Lovelock, Sunninghill Systems, 22 Armitage Court, Sunninghill, Ascot, Berks SL5 9TA, United Kingdom.
There have been

visits to this page counted by Digits Web Counter since 17 February 2017.