This page may not present clearly on some small smartphone screens; please use a normal large screen on a desktop, laptop, or tablet in landscape mode. Thankyou. © Robin Lovelock.










Home . About . Contact . GPS . Downloads . Business . Partners . Family . AVL . Links . History . AsOnTV . Holidays . Snoopy . NHSCare.info . Grumpy . Roof
Robin's "Blog" Page updated 1655 UK ( 1655z GMT/UT/GPS time) Friday 3rd December 2021.
This page is a "Family Blog" - but there are a LOT of overlapping topics. e.g. work on Roof & House page ;-)
Tap or Click Here to skip to near the most recent "Family Blog" material.
Weather for Sunninghill in week ahead from BBC is on www.bbc.co.uk/weather/2636518 . Robin had used rain predictions on premium.raintoday.co.uk , but now - see below :-)

Will we have rain here in Sunninghill soon ? What do the rain radars say ? :-)

From Robin's Snoopy page: Robin likes minimum hassle and spending time with Grumpy Old Men :-) Click on pictures to expand, play, or visit the relevant page.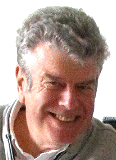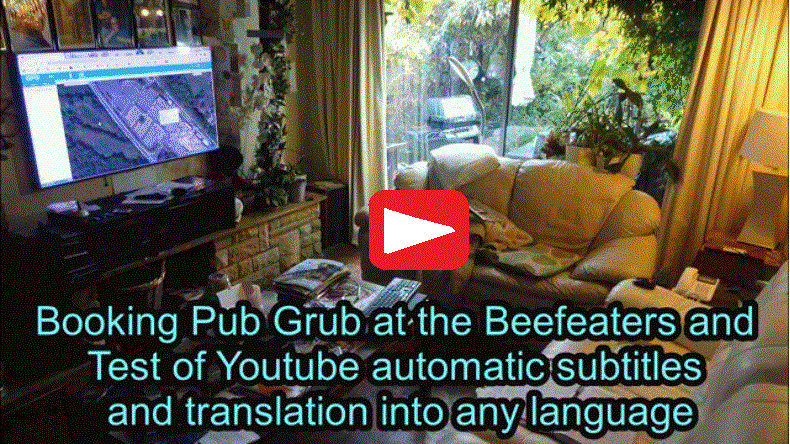 Robin claims that some of his friends, and work-mates over the years, are crazier than he. We all have our "crosses to bear", be it recent bereavement, physical health, addiction, or stigma resulting from mental health problems. Sometimes many things overlap, such as helping friends, making new ones, or doing work in the Garden . Or watching it being done :-)
How appropriate that those words above were still so applicable on Wednesday 10th November 2021, when the video on the right was recorded. It was Robin booking a table at the pub particularly liked by my two neighbours on Armitage Court , Richard and Stuart, who like Terry, enjoy real beer. All have had a role within Snoopy's Robot Boat Team-Joker .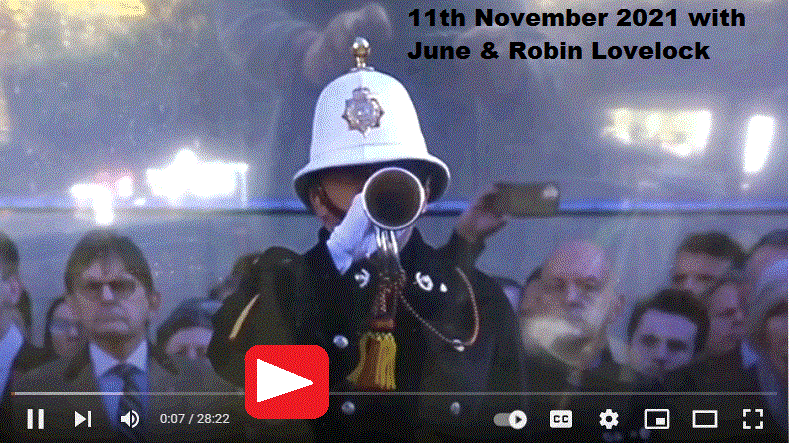 Those guys above: From left to right: Peter Facey ( near Winchester ), Dick Bailey ( from Reading ), who star with Snoopy, then Stuart Wicks and John Sylvester, Richard Ince and Robin Lovelock, from Sunninghill/Ascot.
Other Grumpy Old Men meet for pub lunches, then coffee and biscuits and cake, back at one of our houses - sometimes served by women, such as Richard's wife Fay. e.g. Terry from Fleet and Alan Edwards - from Robin and June's Ferranti days in 1970. There is no subject that we do not discuss, including how technology can be put to good - or bad - use. Booking a table in a pub is a GOOD use ! Why automatic subtitle translation ? Some of our friends in the pictures above like to speak in other languages: Robin is known as "Robin Cha Cha", or "Robin Bey", or "Uncle Robin" :-)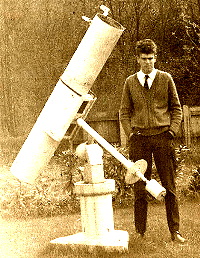 Robin's dinner was eaten, on his lap, sat in front of the CCTV display in the lounge, but enjoying what June had on the main TV: BBC1 with Pugsy Bear for Children in need, and then The Repair Shop - which included repairing an Old Telescope . Tap on the link or a slightly younger Robin, for more. Maybe put a Dashcam on it ?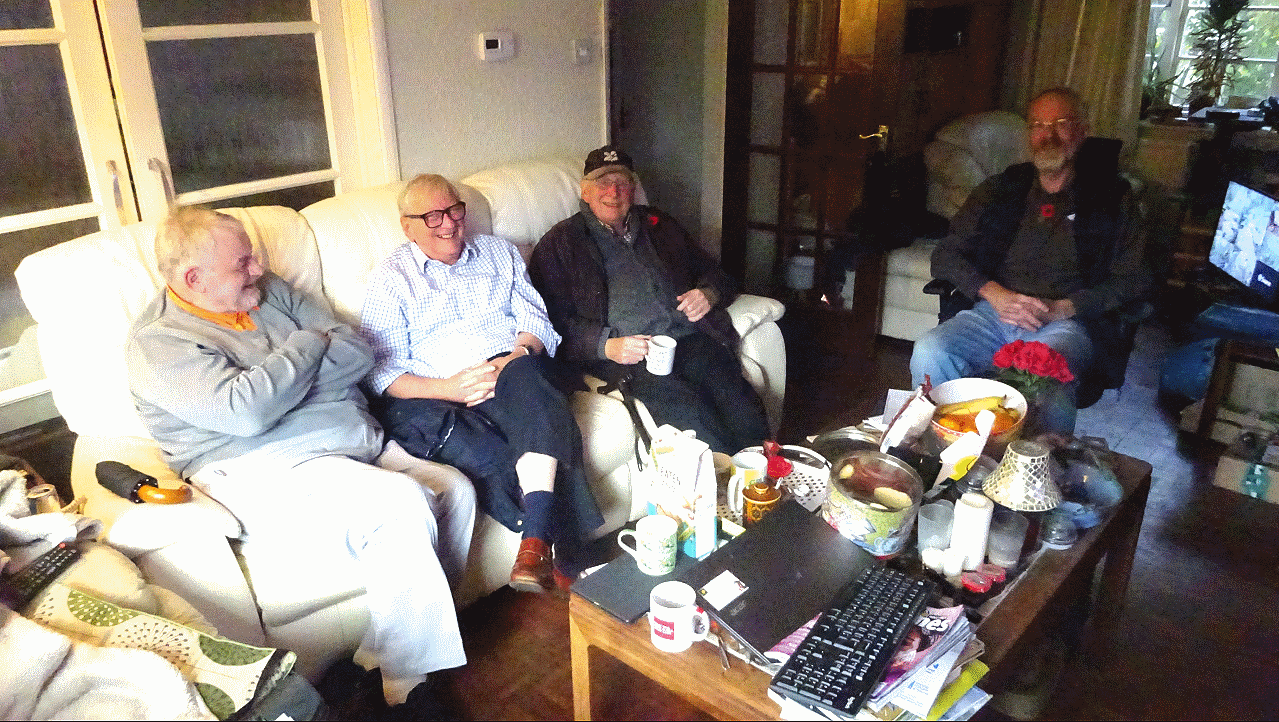 That, and MANY more things, have been "in the queue" for years. There are just not enough hours in the day, months, or years left, to do it all :-)
Tap or Click on that picture on the left. It's Terry, Richard, Stuart, Alan. being given coffee and biscuits here, after we'd had a lovely lunch at The Dog & Partridge Pub in Sunninghill.
I'd had to make a last minute change, from the Beefeaters, after receiving a 'phone call from them that morning. Their lovely Romanian guy explained they had a temporary "Technical Issue" and we ended our friendly conversation in Italian - "Grazie Mille" :-)
More words, pictures, and videos, in due course. So much quicker than talking, and saves me precious time. Not for you ? Too much ? See my CanUSee page :-)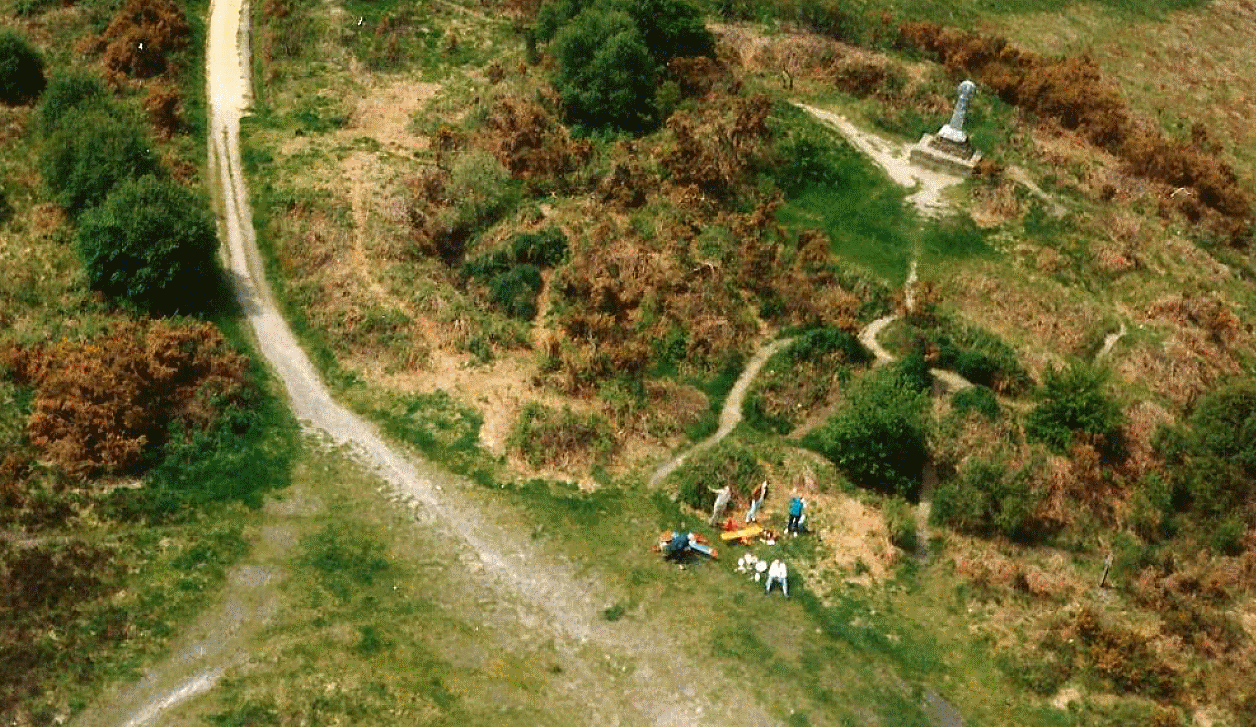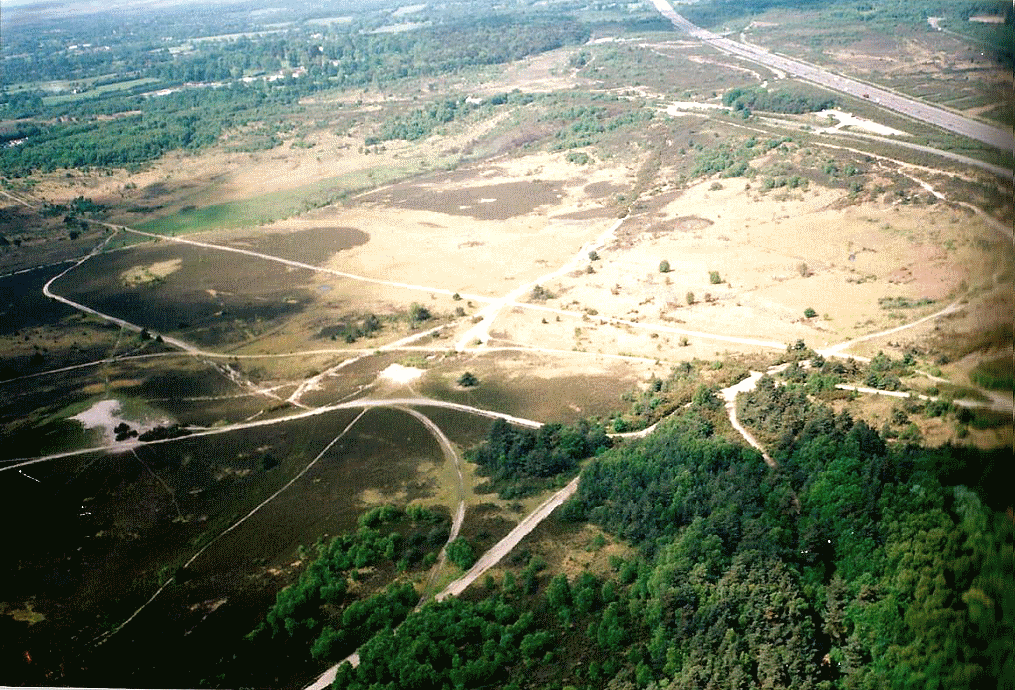 Saturday 13th November 2021 has the CCMFA AGM. That's Chobham Common Model Flyers Association. See Robin's Chobham page, with these pictures full size and MUCH more :-)

Great if Robin can drag June over there for the social chat before the main AGM begins, but time is so short. We have a Whatsap video chat from 1930 with family: maybe some of it can be done from Tringham Hall, Chobham, or even in our car ?
Tap or Click on that Spot Trace Satcomms tracker to see where Robin's old dented silver Merc "C4 GPS" is :-)
June should have food on our table soon, and Robin expects to be at Tringham Hall by 1900, for the 2000 CCMFA AGM. and will have his U5 and Chromebook, plus independent Wifi box. So that should cover the bases for any Whatsapp chat, or guys seeing what they want to see :-)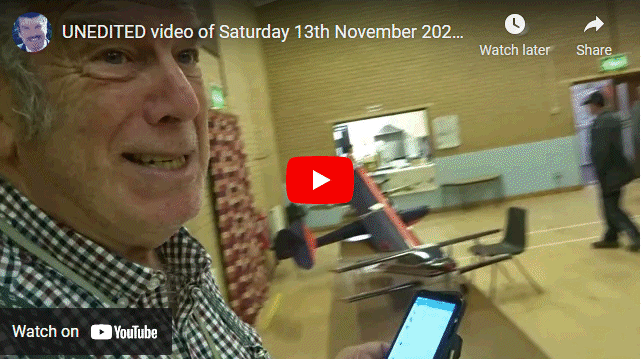 Newsflash: Today it is Rememberance Sunday, and would have been Robin's dad, Len Lovelock 's, 106th Birthday. Here is the UNEDITED video from yesterday. on www.youtube.com/embed/A368rF_r6bw . Yes, sorry the date in the title was wrong. We all make mistakes - particularly when overloaded ! :-)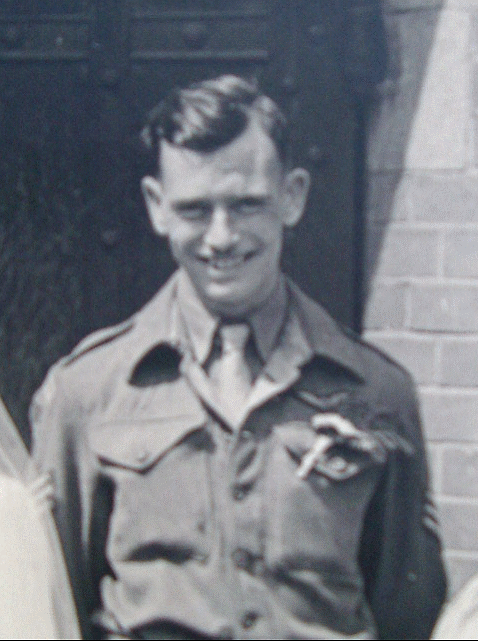 The full Youtube description is: QUOTE
18 minutes of boring raw pictures and video, that MAY include a few minutes of some use, to someone with the time to edit it. Robin's reference is 131121u1.mp4 and it was made on Saturday 13th November 2021, the day before Rememberance Sunday, which would have been the 106th Birthday of Robin's dad, Len Lovelock. Lots of words here, but old pictures from Robin's archives may make the material more interesting and amusing - for a few :-) It includes scenes of house and garden of the Lovelock family in Sunninghill. e.g. LOTS of work needed, such as a leaking pond, and unfinished Kitchen, but mostly LOTS of tidying up. PLENTY of work for handymen. The most interesting part was probably Robin's visit to the CCMFA AGM ( Chobham Common Model Flying Club Annual General Meeting ), even though Robin took care to avoid showing much of people. BUT there is a lot, showimg his attempts to use his Chromebook and Alcatel U5 smartphone, to join his family Whatsap video chat that begins at 1930 on a Saturday. Some "Techys" may have suggestions, or interest in the things that DID work. e.g. using the Chromebook as a briefing aid; the SPOT Trace Satcamms tracker in his old car, and the PocketCam Pensioner tracker that he wears. Robin particularly enjoyed chatting to people, including John and Betty Hancock, and the lovely surprise of discoverimg shared interests with the guy who Robin had known for years: he lives near June's late father, Jack Ponsford, and works in the avionics industry. e.g. EASAMS work. There is a brief record of Robin's return home, including arriving at an incident near the Surrey / Berkshire boundary, with lots of blue flashing lights. The police were about to close the road and Robin took an easy diversion. He arrived home to find June watching TV, no distractions awaited him - other than the cat Tody. So he could offload his pocket camera and set it processing with Videopad, ready for an UNLISTED Youtube upload. Too boring to appear LISTED, but might be shortened and combined with other material. e.g. Old friend and workmate had sent a link with news from Holland and the village of Zoeterwoude where June, Robin, and baby Samantha was born. They had cancelled, dueto Covid, the traditional arrival of Saint Nicholas, with his helpers called Zwarterpiets ( Black Peters ). Samantha remembers it well: Families would leave a carrot on the doorstep, for the donkey. Children who had been naughty would be taken back to Spain ! For some unknown reason, the TV news piece showed just "Peters" ? and no "black peters". Is that "political-correctness", or is it racial predudice ? Anyway, Robin is sure everyone will enjoy some of the photos and 8mm movie clips he has from those days. e.g. when he dressed up as a zvarterpiet. e.g. when he dressed up as Father Christmas and drove from Zoterwoude to The Hague, to support the Christmas Party of Walter Schmidt's Land Command & Control Group. i.e. senior NATO scientists, engineers, and technicians, sitting on his knee, to be given presents :-) It's unlikely that Robin will have time to edit and use this material, but he has several friends who are skilled film editors, and may see a use for it, combined with other material. Relevant web sites and pages are "Coughlan Charity Campaign" on www.nhscare.info, The NATO 1970s days on www.gpss.co.uk/johnman.htm and "EASAMS" on www.gpss.co.uk/easams.htm and "ROOF" on www.gpss.co.uk/roof.htm and "AMRA" on www.gpss.co.uk/amra.htm which reveal work done, and work needed, in June and Robin Lovelock's house and garden. Sorry about the error of date in the title ! :-)
UNQUOTE
Here are a few old photos that say more than words, about Len Lovelock . Tap or Click on them to enlarge...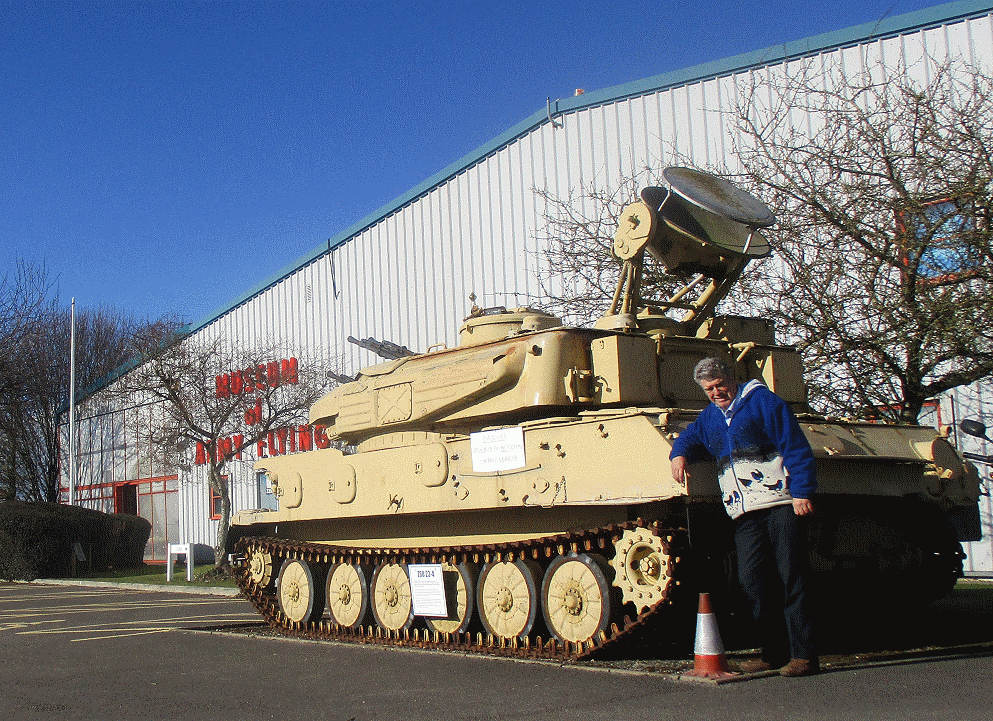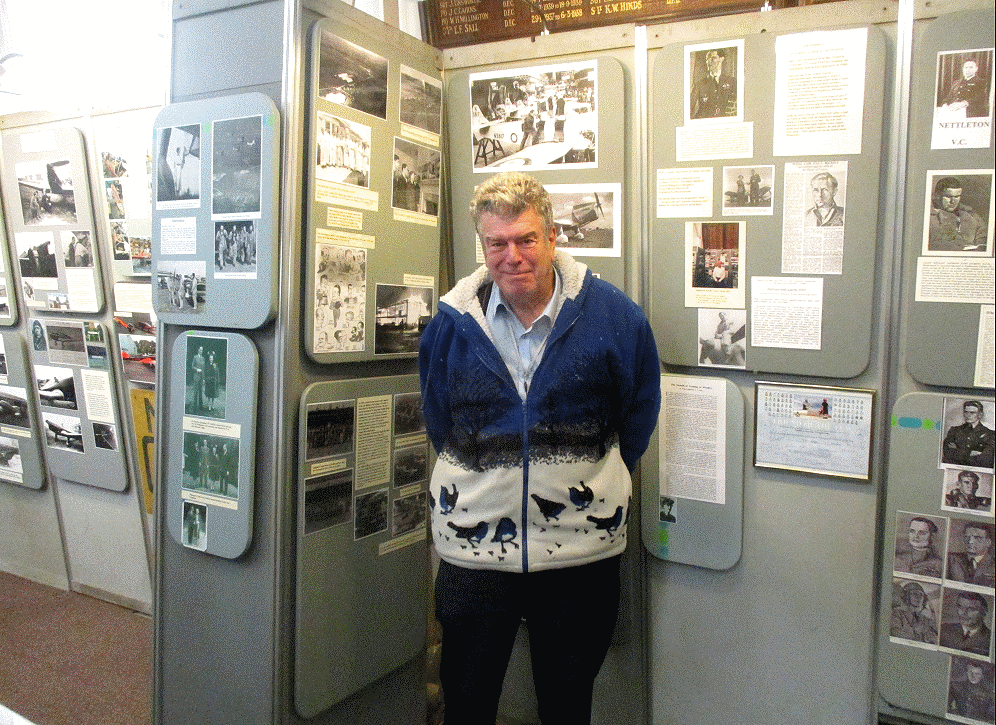 More based on that Len Lovelock page, updated in March 2018 ...
from Robin Lovelock in March 2018: I thought it was about time that I added those photos above and results from research into my dad's war years. Some of you may see the difference in cap badge, from the Tank Regiment to the Glider Regiment. Horsa Gliders were used to land troops at Arnhem. I wished I'd asked dad more questions, but I do remember his telling me how he broke his ankle, at Woodley Airdrome when having a flying lesson in a Tiger Moth. He forgot to put the flaps down before landing, so shot off the end of the runway ! He said that his instructor became a famous actor, and it seems it was Richard Todd . I also recall how he said it was much easier to jump out of a 'plane wearing a parachute, rather than from a balloon, tethered to the ground ! If it were not for that flying accident, Arnhem might have been next, and I might not be here. On 7th March 2018 I visited Museum of Berkshire Aviation at Woodley, then the Museum of Army Flying at Middle Wallop. . My Uncle Bernie Sharp, above, confirms that my dad broke his ankle, and not his leg. Also, that the pilots trained to fly the gliders, would then be stretcher-bearers, since they would not have had time for all the other training.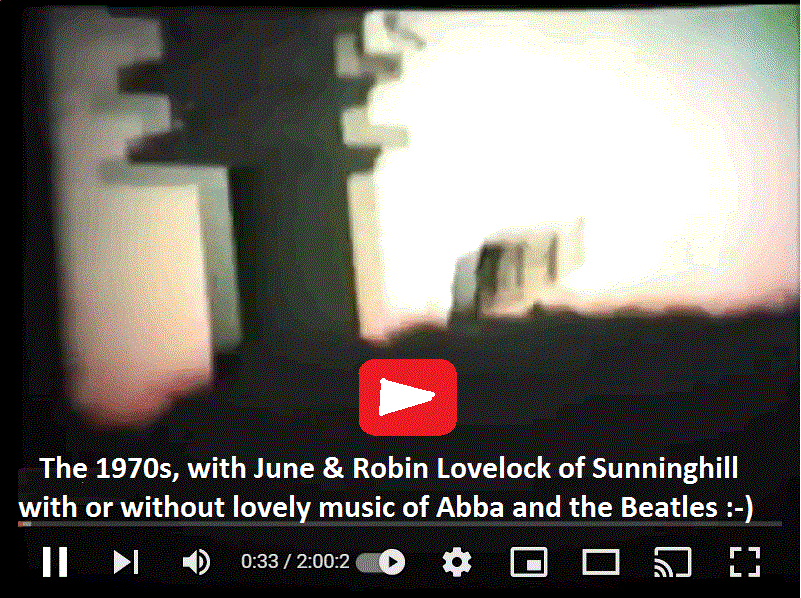 The description for Robin's video 1970s.mp4 now says
QUOTE Very old video from the 1970s shot on standard 8 or Super 8 film :-) It starts with glimpses of June and Robin driving their old Mk3 Cortina past familiar places including near their homes including Zoeterwoude, and where Robin worked at SHAPE Technical Centre, but lots, lots, more, inclusing visiting their house just built in Armitage Court, Sunninghill. Lovely sound track - let's hope it get's published :-) * More detail on Robin's www.gpss.co.uk including www.gpss.co.uk/johnman.htm and www.gpss.co.uk/amra.htm - Enjoy ! :-) * Youtube said "Blocked due to copyright claim" - that background music from 1970s, such as The Beatles and Abba. Copyright still applies after 50 years ? Robin may try and upload again without the sound - or maybe the clever Google Guys have this base covered ? i.e. simply suppress the music and allow words with automatic subtitles and translation ? Or maybe competing systems can do it better ? But KISS: Keep It Simple, Stupid :-) Love & Strength. Robin Lovelock in Sunninghill. www.gpss.co.uk - see "Covid19" page on www.gpss.co.uk/covid19.htm - to educate and amuse :-) UNQUOTE
The 1970s video on https://youtu.be/w3pAGt6qiWI would not play: OK if only a silent movie; has been OK; needs more time ? ;-)
If Robin makes either video "Listed" it will apear near front of https://www.youtube.com/user/RobinLovelock/videos - "Robin1".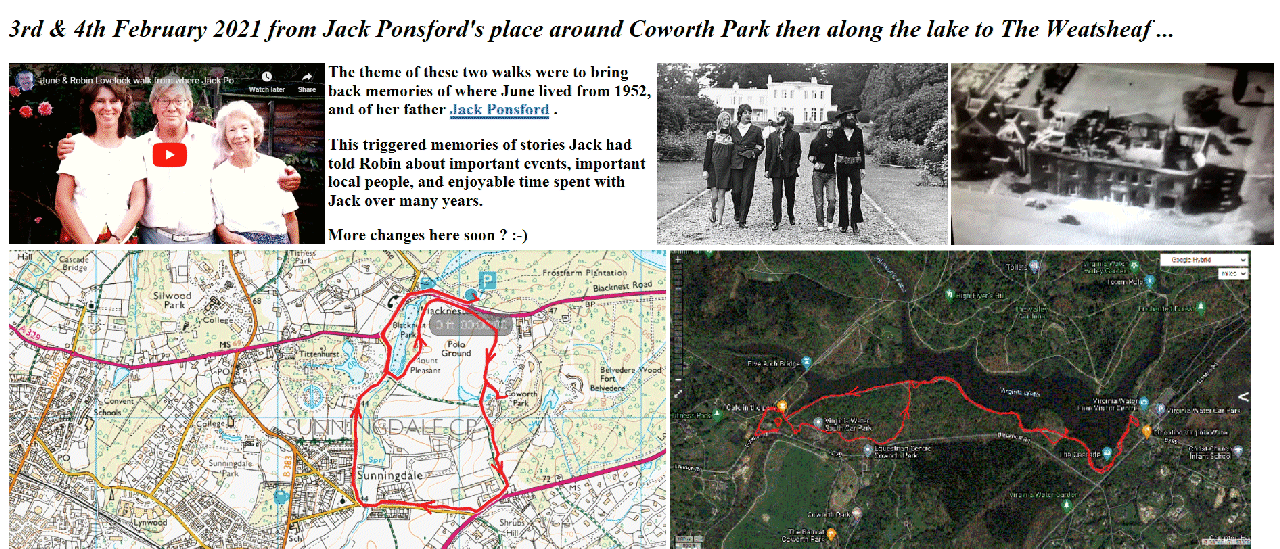 Robin was experiencing similar problems with https://www.youtube.com/embed/zc3pBcUrAVk and/or , 141121u1.mp4 that had been uploading for hours onto Youtube. He had better get the links above correct :-) He needed to get the URL from the PC still doing the upload; will it allow him in on another platform ? ;-)
Until this link works reliably, "Play Picture" on the left might simply show a relevant picture from Robin. e.g. Click on this extract from the "Walks" page. Jack's famous neighbours: The Beatles and Royalty ;-)
Remember that there are a LOT of things in the path: Robin making mistakes; flaws in the TOTAL system, including software inside Robin's platforms, through the total comms, and the clever software in Google's servers, and others in the loop such as Robin's alternative hosters, and those contracted by Google. Don't forget that "processing is still in progress", and that can take hours or days. Especially if humans are in the loop - I hope they are ;-) But nothing is perfect, and Robin is very impressed by Youtube in recent years ;-)
Tuesday 18th November 2021: ROBIN LOVELOCK ABSOLVES GOOGLE FROM CLAIMS ON COPYRIGHT IN HIS YOUTUBE VIDEOS.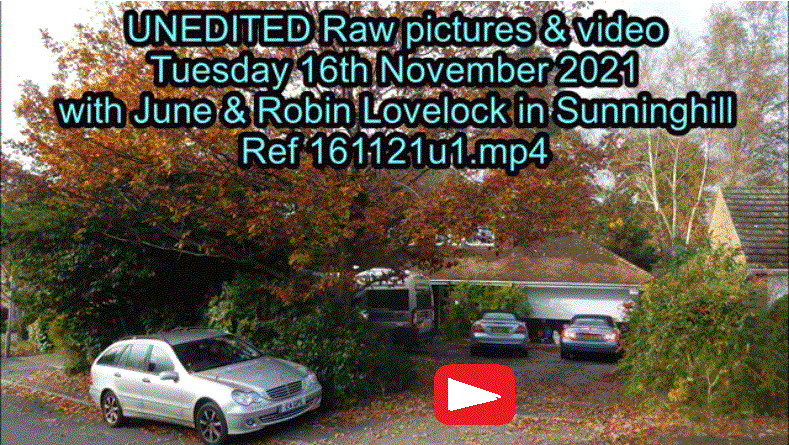 I've now seen the excellent copyright-related controlled in Youtube, but could not see a simple button so that the owner of the video could take the above action. e.g. to make the video "Listed". I see that the 1970s video was uploaded onto my "Robin3" Youtube Channel. I can see it, as the owner, if I log in under that account: I have several ;-) My congratulations to the guys who provided those options for the video owner to decide how the offending sound clips are handled. BUT this would take a LOT of time to go through, and then, I guess it might take days or weeks of Youtube processing :-)
Why does everyone blame the "bearers" like Facebook/Yahoo/Google/Whatsapp/etc, etc - for "bad behaviour" on the Net ? Better to track down the offenders. Do we blame the communications infrastucture, on which the Net relies ? If someone writes obscene or racial graffitti on a wall - do we punish the guy who owns the wall ?
Much better to speak to the offenders nicely - to do better graffitti ? :-)
Some time I may have time to move this "Blog" material elsewhere. But there are just not enough hours in the day :-)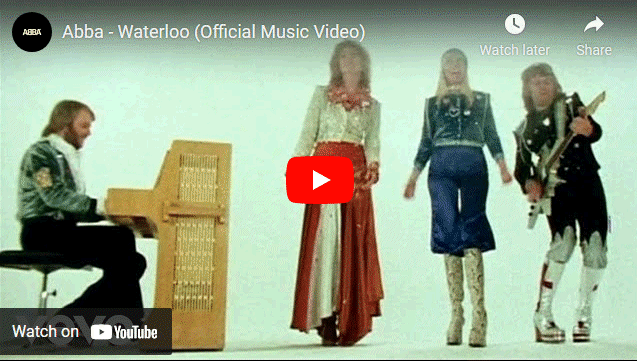 Wednesday 19th November 2021: Robin continues to be impressed by Youtube, and understands why they cannot simply provide that option of the owner "taking responsibility" for Copyright breach: far too many guys, would simply "Publish and Be Damned", and then, with no financial means for lawyers, would be another "Legal Aid" strain on the state. Also, it's possible that the block related to copyright, might only be for those trying to make money from their videos - that's certainly not Robin ! :-)
Here is some more good news: it seems that yesterday's video might now be available as "Listed" to anyone. Again, it's raw material, for others to make use of, but some topics are dear to Robin. e.g. both the original MASH film, then the TV series MASH. That "Suicide is Painless" theme song is a very suitable background to that difficult topic, seldom spoken about, and very applicable in these Covid19 times.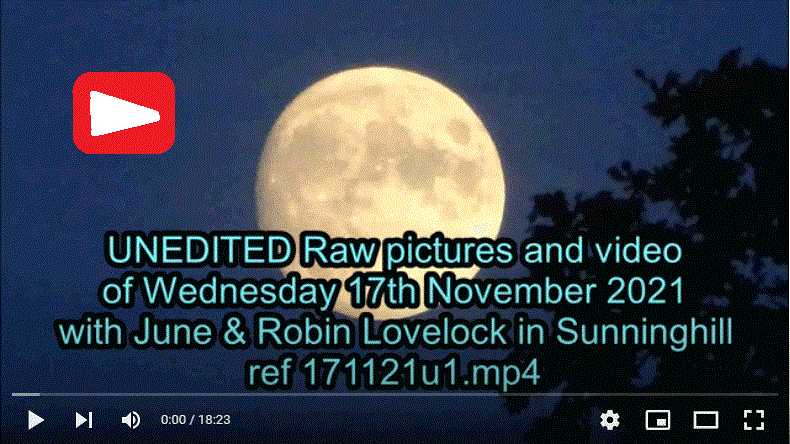 The Youtube link to the video 161121u.mp4 will be https://www.youtube.com/embed/He223-OMnAM The Youtube description is QUOTE 40 minutes of UNEDITED Raw pictures & video 161121u1.mp4 of June & Robin Lovelock of Sunninghill, recorded on Tuesday 16th November 2021. Someone MAY make use of SOME of the material, to do some good. As always, it deals with a wide range of overlapping subjects: some difficult. e.g. suicide. e.g. "Suicide is Painless" from MASH might stop publication because of copyright. LOTS of stuff to bore most, but not all. e.g. "Techy" stuff on PCs; Work needed in our house & garden; Nature "red in tooth & claw"; walk near Chobham, in fading light, to a particular pond, near where a new Esso pipeline is being laid; near important or historic places; e.g. "Tank Factory"; Longcross House; Tank Hill CCMFA flying site; Longcross Studios; and much much more. In short term, this video is destined for Robin's "Roof" page www.gpss.co.uk/roof.htm ; "Roof" now includes work on Robin's house and garden, but also a temporary location for a "Family Blog" to support our activity - and MAYBE others; It was June mentioning that her Grandfather "Topped himself" ( committed suicide ), that made Robin include that difficult subject. That's MORE than enough for a Youtube description. As I say in the video: I've never contemplated suicide, but I'm sure a few wish I would ;-) UNQUOTE
Above video is rough, but may serve some purpose ? A good day for Lunatics ? ;-) More here, when there is time, such as plugging in "play pictures" etc :-)

Tap or Click on these pictures to play the video or expand them. They are pictures from Thursday 18th November 2021. The day ended in an interesting walk around the edge of Tittenhurst Park, after parking outside the Sunningdale Bowls Club. June said that Diana Dors was buried in the Sunningdale Cemetary, and that was another reason to visit her grave, and that of her husband Alan. June's late dad Jack Ponsford had told Robin interesting tales, including about Diana & Alan. But there were many other places they visited, in the fading light, but a full moon. Play the pictures, but remember, this is simply raw material for something better ;-)
Friday 19th November 2021: Pub Grub today. I received a link from my old chum Gus. That's my drawing on the left, in the style of Felix Topolski - but Gus was always a better artist than me. I did it for his Birthday Card - after that one he did for my 70th years ago. Visit his web site https://creativepool.com/gusrussell , to see what a professional can do ! :-)
Here is "First Cut" video of some pictures of the day.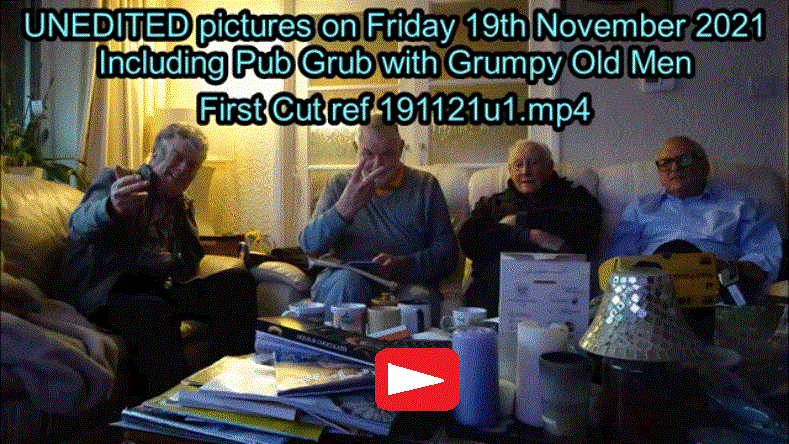 This 6 minute video of UNEDITED pictures from Friday 19th November 2021. Includes Pub Grub for six Grumpy Old Men at The Cricketers Beefeater in Bagshot. This is a first cut. It shows events in the Lovelock household including the women going off to tennis, and work needing to be done, including a new downstairs toilet suit. No photos were taken at the Pub, but several show four guys who came back for coffee and more natter, at Robin's place: Stuart Wicks, Richard Ince, Terry Kensey, and their host Robin Lovelock. Pictures show things like his mopping up after a mistake with the coffee machine. Two guys had lunch with us, but not coffee: Roy Vaughn and Alan Edwards. So Robin has used old photos here. A lovely bonus for Robin was Terry giving him the photos from their late friend Trevor Saunders. This is just a small sample of the many yet to be digitised and put in places like the EASAMS page. Tody the cat said hello to Terry. Robin had several important 'phone calls from his friend Paul in Chobham. The day ended with watching Children in Need on BBC1 TV, while doing work such as taking extra photos for this video. Of course, the most important things during the day were the interesting conversations in the pub and back here. For more information, visit the "Temporary Family Blog" withing Robin's "Roof" page www.gpss.co.uk/roof.htm If you dare :-)
Only time to plug in this picture: Trevor from his sick bed, insisted we treat ourselves at his expence. Johny Ghurka's in Fleet. Click on it to visit Trevor's page :-)
Tap or Click on the videos to see some of what what we did.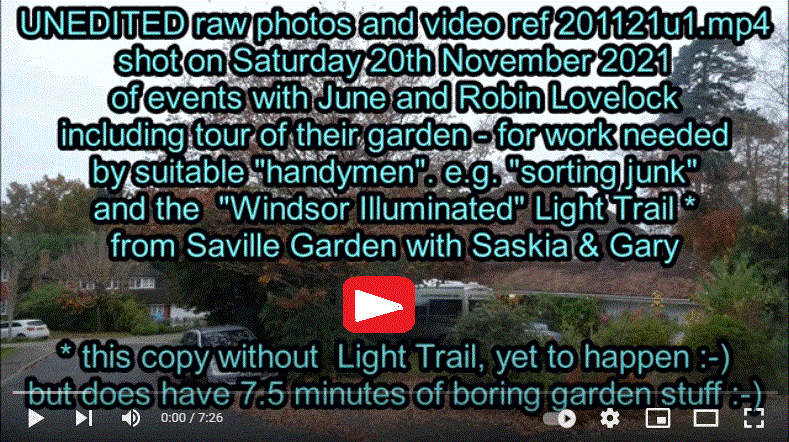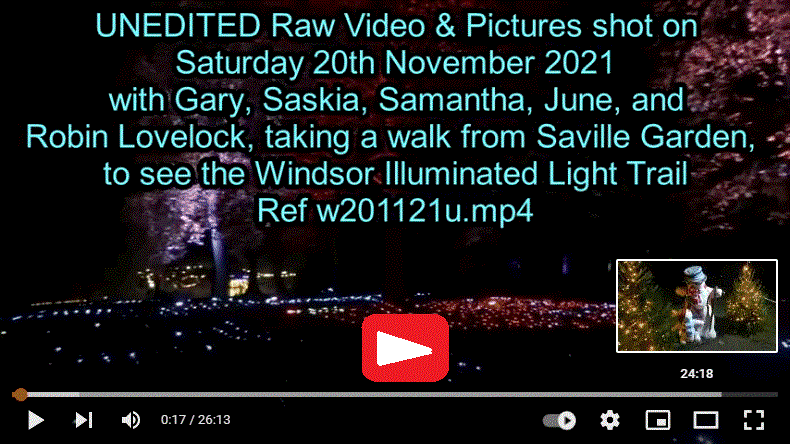 From near bottem of Robin's Covi19 page... June caught a mild case of Covid19 in early October, but just a sore throat and a few aches and pains. The PCR test posted on 10th October, showed positive on Monday 11th. June followed the rules - and common sense - and was back to her usual routines of tennis, socialising, and shopping, on Tuesday 19th October. Robin and Samantha tested negative, and have had no symptoms - so far.
On the left, is us enjoying the Windsor Illuminated Light Trail on Saturday 20th November 2021 :-)
To the left of that is what happened earlier in the day: boring to most viewers :-)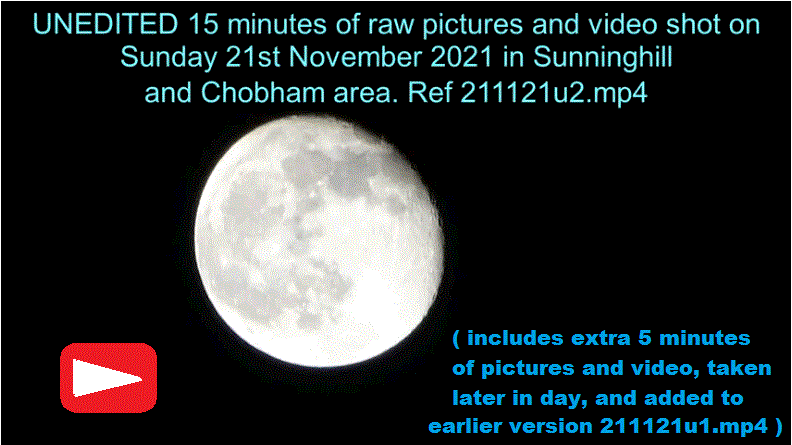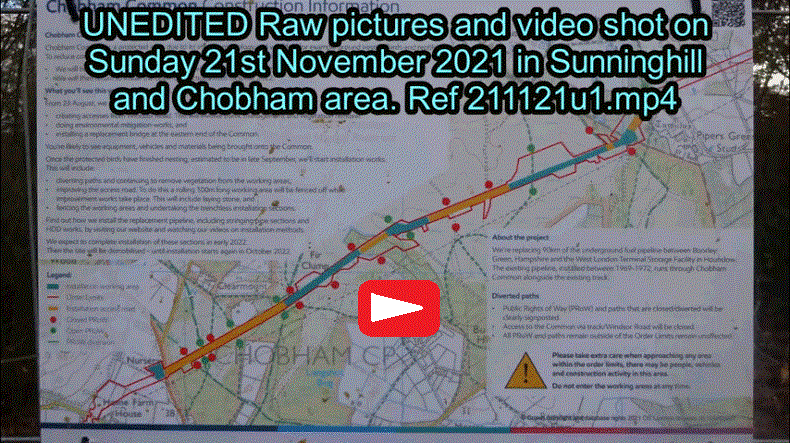 Sunday 21st November 2021: That video on the right: The Youtube description says: QUOTE: This is 10 minutes of raw video and pictures, shot on Sunday 21st November 2021 by June & Robin Lovelock of Sunninghill. Much of it is the photo trail, shot by Robin, investigating the Esso pipeline being laid near Chobham. There are also glimpses of a typical day, handling long 'phone calls from friends, and mundane things like buying & eating lunch, garden chores, the cat Tody, and showing off gadgets and their garden - that, like the house, needs work on it ! :-) More detail about that is on Robin's "Roof" page www.gpss.co.uk/roof.htm . UNQUOTE.
Monday 22nd November 2021: On the left is the later version. Robin has other photos and video clips, yet to be used.
Yes, today another photo shhot was started, including a trip to Longacres :-)
But, as Robin has said before: there are just not enough hours in the day :-)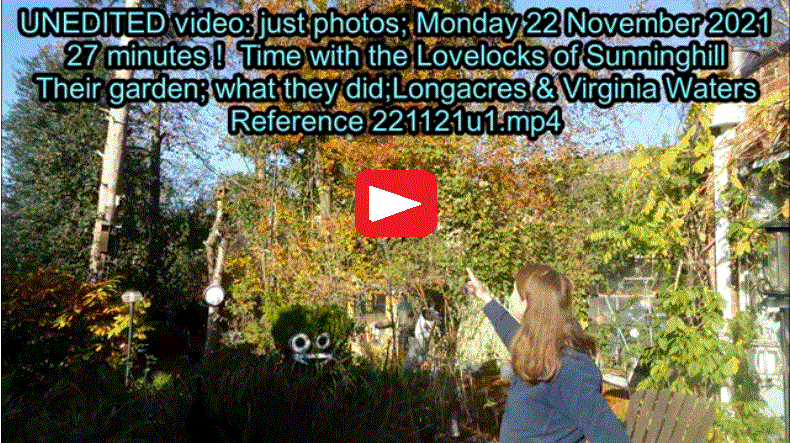 Tuesday 23rd November 2021: On the right is Robin's "photo trail" of Monday 22nd November 2021.
The Youtube description says...
QUOTE
28 minute video of raw photos taken on Monday 22nd November 2021 by June & Robin Lovelock in Sunninghill. It includes what we did, and parts of the garden and house needing worlk. e.g. Tall beech tree to be topped - but without damage to the high climbing clemetus. e.g. pond repair. replace window woodwork, if not the windows. It includes a trip to Longacres to buy pl;ants; June making lunch, dinner, and Christmas pudding - with beer ! The trip to Virginia Water Lake was to see the sunset, but we saw much more. Bright planets in the night sky, prompted Robin to use June's Android Aps, and reminded him of his old telescope - that could benifit from a web cam -) More background detail can be found on Robin's "Roof" page www.gpss.co.uk/roof.htm - but don't get too bored :-)
UNQUOTE

These two UNEDITED videos are also near the bottem of the Chobham page. This "Covid19 Graphs" video is near the top of the Covid19 page. A few may be interested :-)
Wednesday 24th November 2021: Deer eat up all peanuts; Moving leaves from our oak tree; visit to Bansals in village; Gary Carter & Mice Nest in Car; Garden, House, and us :-)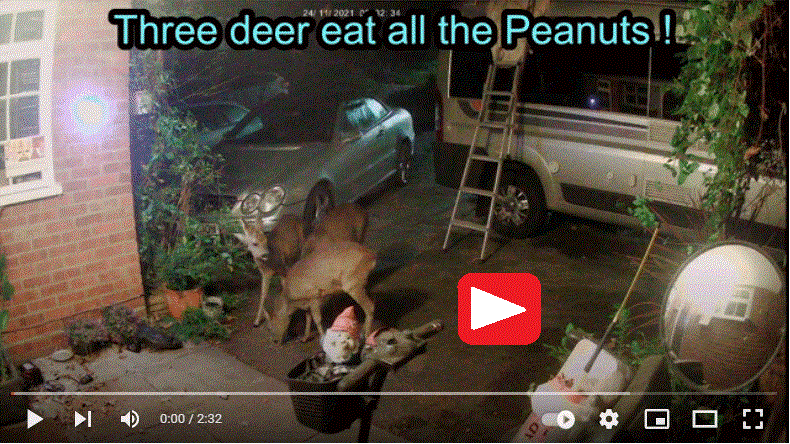 That video on the left: the Youtube description says QUOTE:
2 minute video from one of Robin's CCTV cameras, showing three deer, coming to our front door, and eating up ALL the peanuts left out for other animals. e.g. foxes, hedgehogs, and - of course - mice. Robin is looking for a good lawyer, to take court action against the deer, using this CCTV footage as evidence. This video may be added to some of Robin's pages such as "AMRA" on www.gpss.co.uk/amra.htm and "Blog" on www.gpss.co.uk/blog.htm - but best start with Robin's "Home" page www.gpss.co.uk ;-)
UNQUOTE

That video on the right: the Youtube description says QUOTE:
UNEDITED video of June & Robin Lovelock on Wednesday 24/11/2021: 30 minutes include 6 min summary, 5 min pictures, 19 min raw video, for future possible use. Destined for Family "Blog" page on www.gpss.co.uk/blog.htm Shows Robin & June clearing leaves from under their big oak tree, grown from an acorn; visit to Indian friends in the village; banter with friend Gary Carter of www.carmech.co.uk servicing Samantha's car; View of LOTS of work needed on house and garden. But nice patio now, with TV and chimenea . More background is on www.gpss.co.uk
UNQUOTE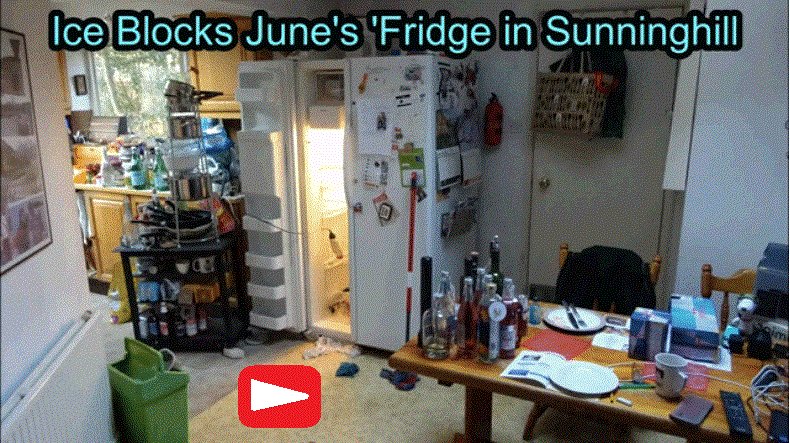 Monday 29th November 2021: Some may find the 7 minute video on the left, amusing or even educational.
Robin noticed June spending a lot of time working on our 'fridge, and she explained that, for the past month or two, the lowest compartment in the freezer was like a block of ice, trapping lots of the food. The first 1 minute is a summary, but you may enjoy all of it. Amazing how Youtube "automatically" chose those pictures from my City University days, at the start. Well Done Guys ;-)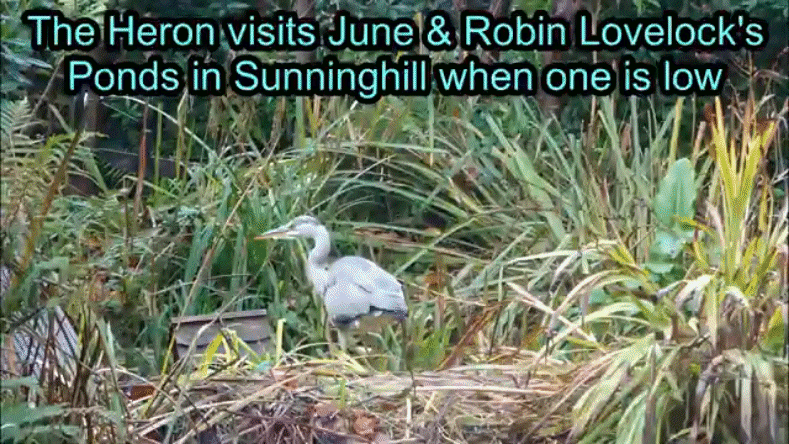 Friday 3rd December 2021. June has ordered a new Fridge-Freezer for delivery tomorrow - from the same guys who gave us that amusing "Washing Machine Saga", that appears further down this page. The old Fridge/Freezer is close to working reliably, and probably just needs a good drying out, but we've had it for more than 20 years, so I guess it could be changed :-)
On the right is a 4 minute video: the heron visiting our two ponds, and being caught on CCTV - as was Robin, taking photos :-)

From old Roof page ... Scroll down to see latest news (roughly) first, with pictures, etc.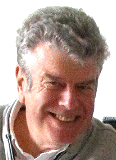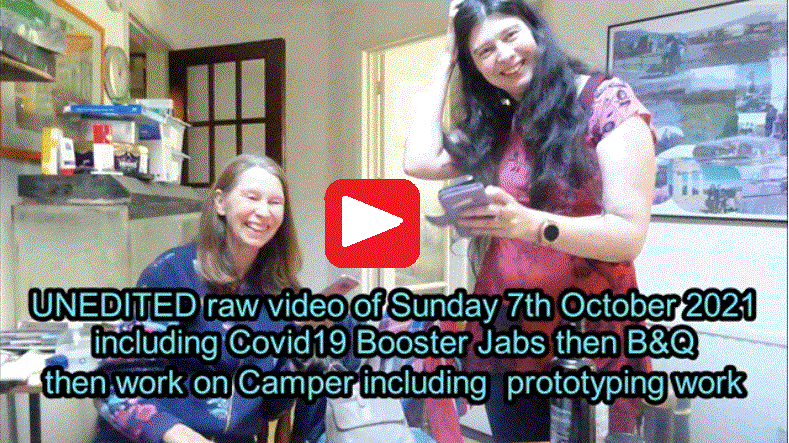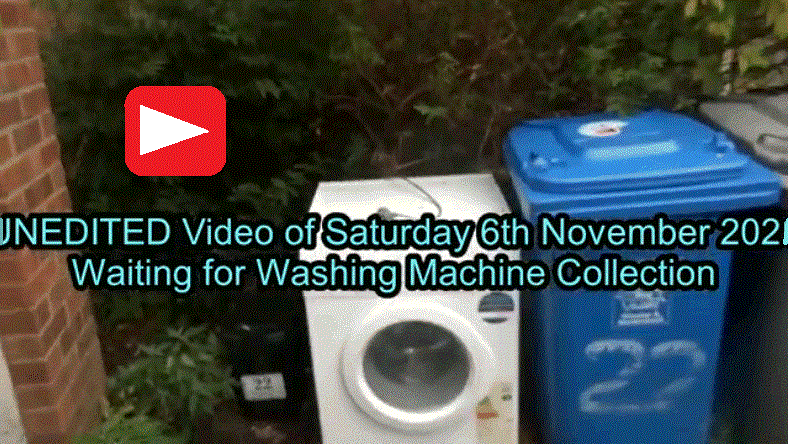 November 2021 and video "blogs" of overlapping stories. e.g. "The Washing Machine Saga" ;-) This section is in rapid state of change, but includes UNLISTED ( hidden ) videos, and pictures, which Robin did not want to clutter the more public "LISTED" videos on his main Youtube channels like "Robin1" on www.youtube.com/user/RobinLovelock/videos .
As time permits, more pictures and videos can be added - carefully ! ;-)
Let's start with a quote from part of an email send to several trusted friends and family. QUOTE: This is the link to the UNEDITED video covering yesterday, Sunday 7th November 2021, now processed by Youtube: https://youtu.be/JdSYCd5Anag . It may take another day before automatic subtitles appear. e.g. for relatives of friends like the Bansals, Tom & Kinga opposite, etc. I dislike "blogs" but it can save time, if done right. Also a means of photos and video not being lost. I'll add to this email as replys, as I have the time to find more hidden links. e.g. that for the days before and after. e.g. that for the day before should be: https://youtu.be/62XgN9rQtR8 UNQUOTE.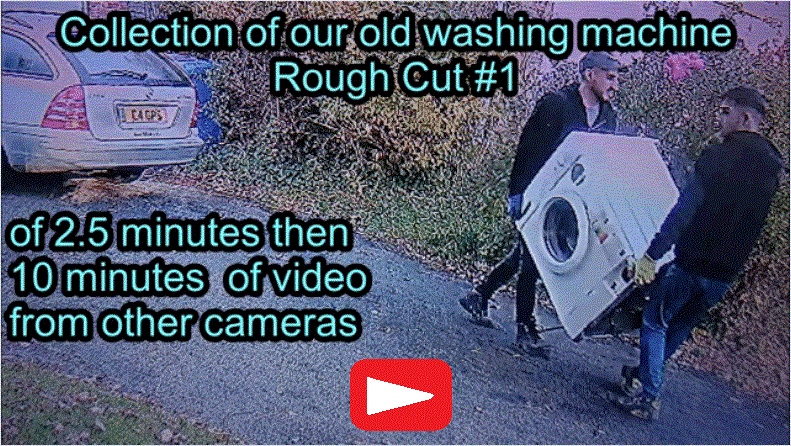 The Youtube automatic subtitles did appear, with automatic translation into almost ANY language. But what about 'Strine, or Cockney, American vs English English, Sicilean Dialect, etc ? All possible with that clevor combination of Speech Recognition, Artificial Intelligence (AI), and - of course - those hard-working guys spread around the World, who often give us cold-calls :-)
Important to say here that, the main purpose of these long, boring, "Family Blog" videos, is to provide an easy means of remote briefing guys such as "handymen" ( sorry Ladies - "Handy Persons ), on what work I want done. e.g. quick installation of an 8 x 6 ft toolshed, so awe can quickly hang up tools and find them. Lots more, such a fixing leaky ponds, and - very important - helping us seperate what can be thrown away, and what should be kept. Putting in cupboards and shelves, where needed - but sorting through stuff takes the time. Major work is needed in places like Samantha's bathroom, and at least a "tidy up" in the downstairs toilet.
Newsflash on Tuesday 9th November 2021 The old Washing Machine has gone, and nobody told us ! I went to the dustbins this morning and did not notice - but June did, before she got changed for tennis! The video from yesterday is now on https://youtu.be/JIKzoLSpNuQ . More pictures and video in due course, if and when there is time ! :-)
Update soon after: A quick CCTV check showed the two guys doing a quick job: white van arrived 0904; walk to it, read the note I left, with visiting cards; decided not to venture too far down the side - when they saw more water squirter stuff; carried it up to the van, with no need for a sack truck; were then off by 0908; Less than 5 minutes on site, with no visit to front door; BUT, I need to see if June has anything in her smartphone that she missed. She hadn't their I.I. system still had yesterday's information from ~ 1600: "two jobs ahead of you, but will be with you soon" :-) We were all here when they visited; I was in the back garden filming work needed by handymen. Looks like these two guys might be ideal ? As it happens, a good friend had his washing machine stolen. It was caught on CCTV.
Tap or Click on pictures below to expand. The new Washing Machine was delivered on Thursday 4th November. Tha Saga started then. More pictures from the videos above ? :-)
Gary Carter's mate Paul McDermid came to the rescue again. See words about him doing our wiring later on this page. Robin showed him the tap and moved the old one outside :-)
Earlier material ...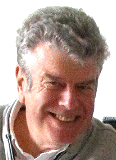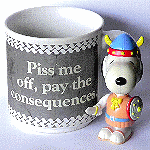 We've had a minor roof leak, since Storm Christof hit us on Wednesday 20th January. In heavy rain, water drips in from near the corner of our kitchen table - caught nicely by a bowl on the floor :-) I'd left an answerphone message on Richie's 'phone at 1355z, and Richie soon called back. He gave me the sensible advice, not to try sealing the suspect joint, seen here in the photo, marked by our youngest daughter's favourite mug :-) Tap or Click on pictures to enlarge. We would obviously need to wait for dry weather, and that has only been here a few days. Looking at the roof window more closely, it's possible that water is getting in there, not helped by the lack of slope. I see that water seems to coming OUT of the felting joint, where I had assumed it was getting in. Writing this on a Saturday, so will email his wife Debbie, then send him a text. She may, like June, be the boss in their household, and will decide his priority work, particularly at the weekend. Richie knows, he, or one of his guys, will be made most welcome, with coffee or drink, Covid19 or not. Their nice place in Bracknell is near where June & Robin's Ferranti workmates had lunchtime beers in 1970 :-)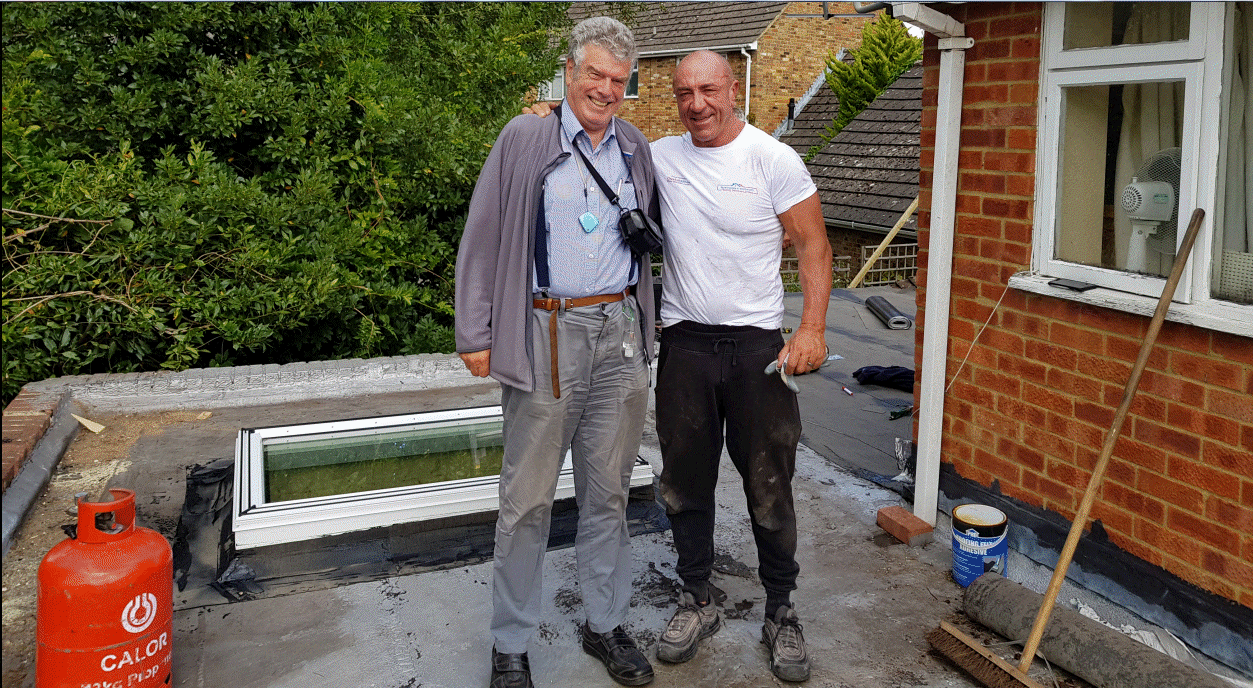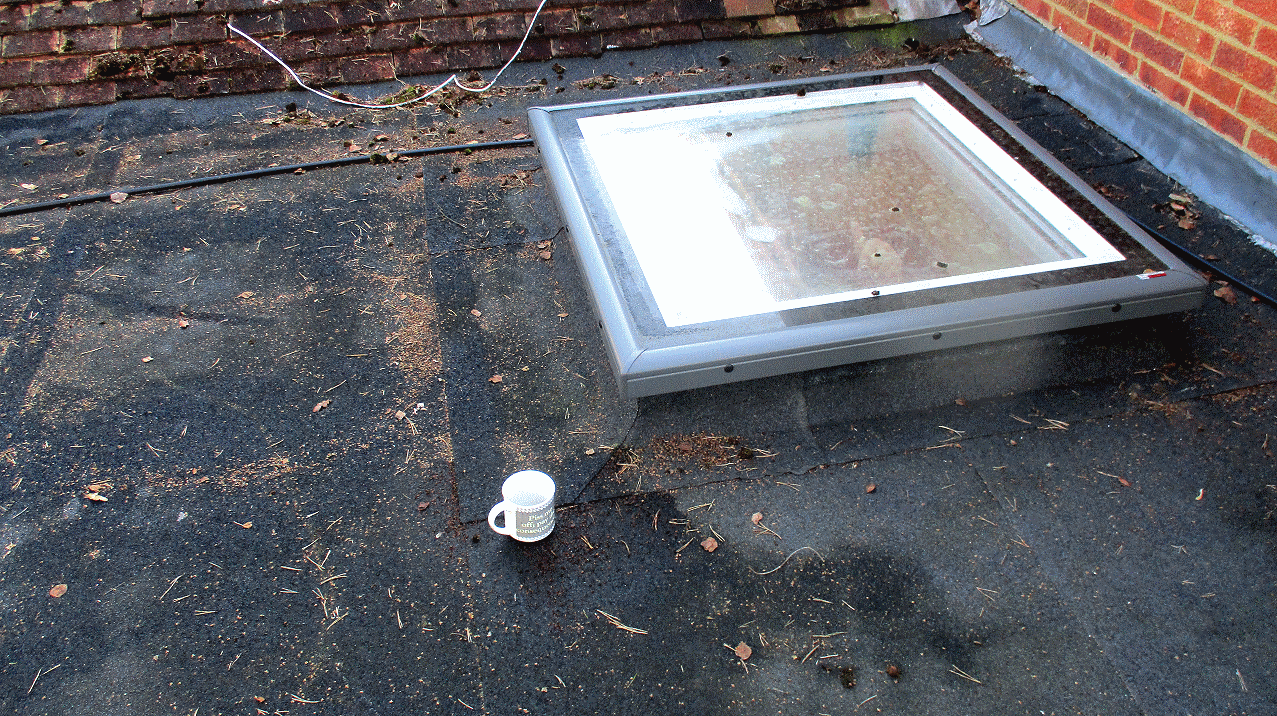 Bentley, the "Guard Cat" from Paul & Paula's opposite, on sentry duty on our old Kitchen window sill. Who put "One Shot" in a "water" squirter ?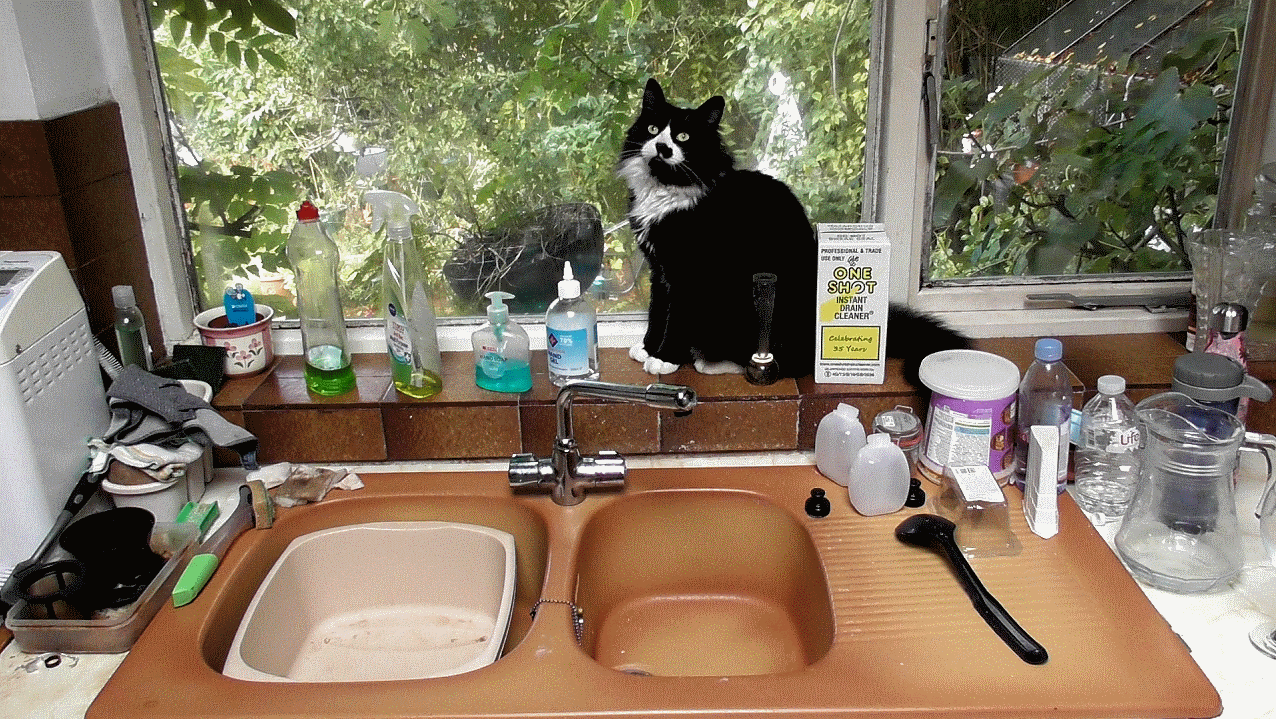 18th December 2020: Robin and June Lovelock, where they eat in their Kitchen, ready to enjoy Christmas. e.g. much better light, and ready for plastering.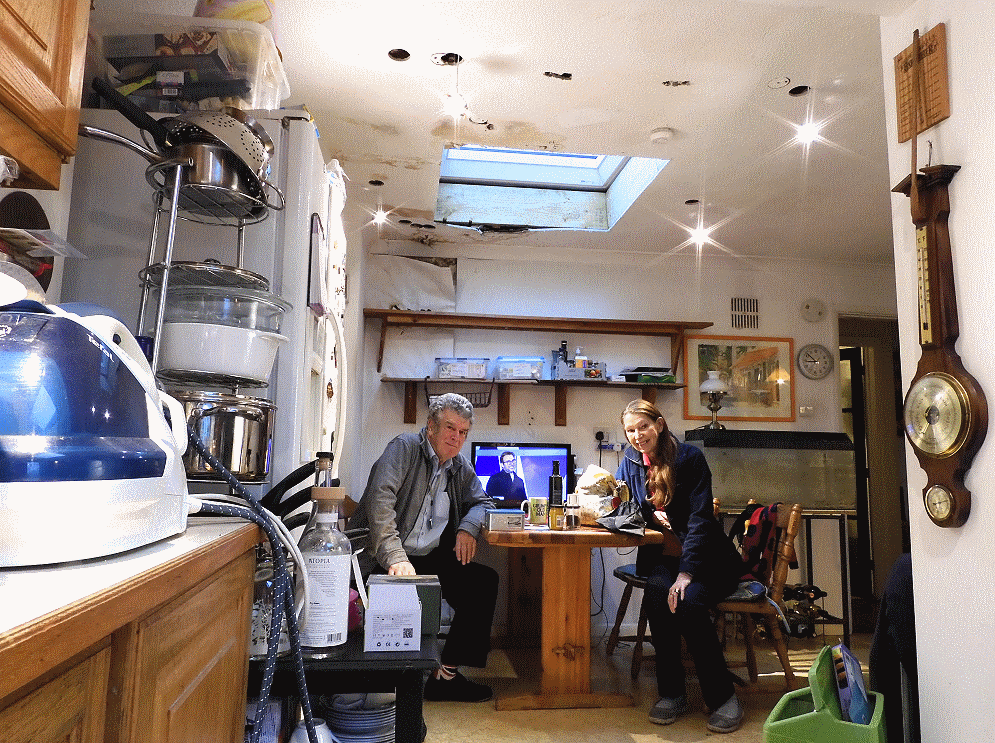 18th December 2020: June Lovelock, in her Kitchen, ready to enjoy Christmas with family, including cooking the Christmas Dinner :-)

from Robin's "Contact" page ...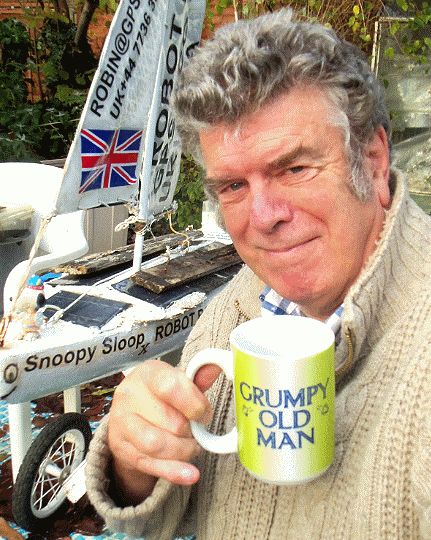 Hi ! I'm Robin Lovelock, and little has changed on this "Contact" page for many years, other than the recent photo of me on the left. I'm a "Grumpy Old Man", born in 1947, and always pleased to get your email.
I like to start conversations with an exchange of emails, so we both know a little about each other, before we speak on the telephone or face-to-face. In the past 20+ years that I've been doing this, I've built up a huge network of friends in over 150 countries. Over 10,000 of these have used my GPS Software. So, wherever you are in the World, I may know someone within walking distance of you :-)
I retired over 10 years ago, but still help those who use my GPS Software. However, in recent years, many who contact me are interested in my Snoopy's Robot Boat hobby, or "doing good" related to my charity interests, such as NHSCare.info in the UK, or even one or more topics on Grumpy page. I prefer direct email communication, and not via social networking sites, such as Facebook, Twitter and Google+.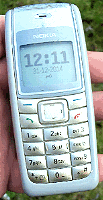 To e-mail me, click on robin@gpss.co.uk or gpss@compuserve.com. My emails are received by the desktop PC in my Study. I do NOT have a smartphone :-) I often hear emails coming in, so you may get a quick reply. Where possible, please contact me, Robin, by e-mail before making a 'phone call. You may contact June or myself on +44 1344 620775 - between 0800 and 2030 UK time, any day of the working week. If you are lucky, you may also catch us in at the weekend. If another member of the family or an answer-machine takes your call, please leave your name, reason for calling, country, and a telephone number. When away from home and office, Robin is contactable on mobile +44 7736 353404. If you 'phone, please be prepared to give your e-mail address, so I can pick up the conversation where it left off.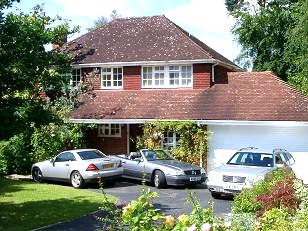 Our home and office address is : Sunninghill Systems, 22 Armitage Court, Sunninghill, Ascot, Berks SL5 9TA, United Kingdom.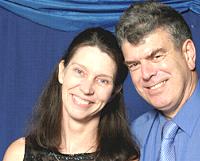 You can see us on Google Maps by clicking here You can see the entrance to Armitage Court on Google maps streetview here If you wish to visit, please email then ring us first.
If you have doubts about providing information about yourself, you may read more about us on our family page. We've lived here in Sunninghill since 1981, and hope to be here a good while longer :-)
You will probably have noticed that this web site is extremely "up front" about who we are. Giving people permission to use GPSS does not require huge resources. I have worked in larger companies and on larger projects than most people, and have no need to pretend what we are not. I greatly respect others who are able to be equally "up front" about themselves and their own business - however small it is. So don't be shy :-)
If this GPSS.co.uk is important to you: www.gpss.co.uk is hosted on www.tsogpss.co.uk.gridhosted.co.uk and www.gpss.force9.co.uk.gridhosted.co.uk <- remember these. Your browser is on

Who visits this page ?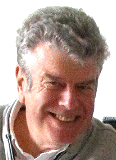 from Robin Lovelock in Sunninghill, Ascot, England: this section tells you when, and from roughly where, guys are visiting this "Blog" page.
As I say on other pages, it's very convenient for me, that there are so few visitors to this page: See map and words near end of my Home page ;-)
The visit counters may give a rough indication on who else is visiting, or has visited, this page. I don't hide or disguise my visits, but they may appear as "Ascot", or miles away, like "Reading, England" (on my Study PC), or "Redhill, England" ( on the Lounge PC). Positions may not be accurate, but times are. These may change at any time, without control by me. So, you may see if I'm "working" in the Study, or "playing" in Lounge :-)
Not all visits are seen, and some browsers hide location, but you may find Revolvermaps livestats for this "Blog" page interesting.
The video on the right shows several guys visiting at the same time, after I posted the link to my Covid19 page on the Microtransat forum :-)
© 1991-2020 Robin Lovelock, Sunninghill Systems. 22 Armitage Court, Sunninghill, Ascot, Berks SL5 9TA, United Kingdom.

There have been

visits to this page counted by Digits.net

since 24 November 2021.