These pages may not present clearly on some small smartphone screens; please use a normal large screen on a desktop, laptop, or tablet in landscape mode. Thankyou. © Robin Lovelock.














Home . GPS . Download . Business . Partners . Contact . Family . AVL . Links . History . AsOnTV . Holidays . Grumpy . Snoopy . NHSCare.info

Robin's "Old Car" page - Vintage Cars owned by friends, and "Old Bangers" he's owned
Last Update 2230 BST ( 2130 GMT ) Saturday 24th April 2021 UK time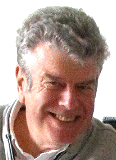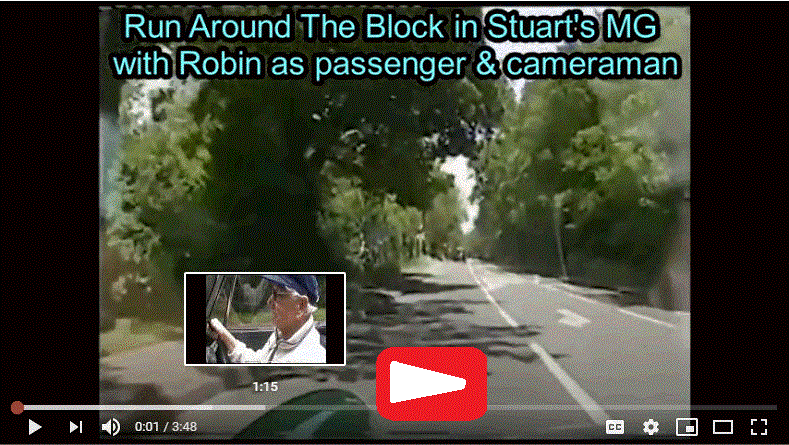 This "OLD CAR" page is a means of collecting relevant old pictures and videos, for my Google Group ROBINLOVELOCKSFRIENDS
Several of my friends are into vintage cars, and you will see some examples.
Most of the words, pictures, and videos, will be old cars, dependent on how easily I can find the material. The first to appear is me taking a "ride around the block" with friend and neighbour Stuart. I should have made the title "MG Midget" because Stuart also has an MGB. Enjoy the video on the right. The automatic subtitles have mistakes, but make it easier to work out what was said. You can also switch them to any language :-)
The material surrounding the video, on the VHS tape, indicates this was probably in 2005. By 2012, we see it in our 2012 Christmas Newsletter . Our young Sicilian friend Ferrucio was staying with us at the time, and I remember June being the passenger in Stuart's MG Midget, driving around Windsor Great Park, before the vintage car meet at the BEN Care Home. Ferrucio and I walked through the Park, and I filmed things like the cars coming down "The Long Walk". My friends from EASAMS , George and Jo Ward, were also at the event, driving their old vintage car. Hopefully I'll find pictures and video to add here soon.
Here's an extract from that 2012 Christmas Newsletter ...
June got to ride in neighbour Stuart's classic MG through Windsor Park. The squirrel continued to scrump our apples, and sit high up on the bat-box to eat them. Robin was pleased to see he didn't need to leave a ladder for the squirrel to get at the nuts, June had put in the bird-feeders. Even the Sunninghill Victorian Fair was sunny too!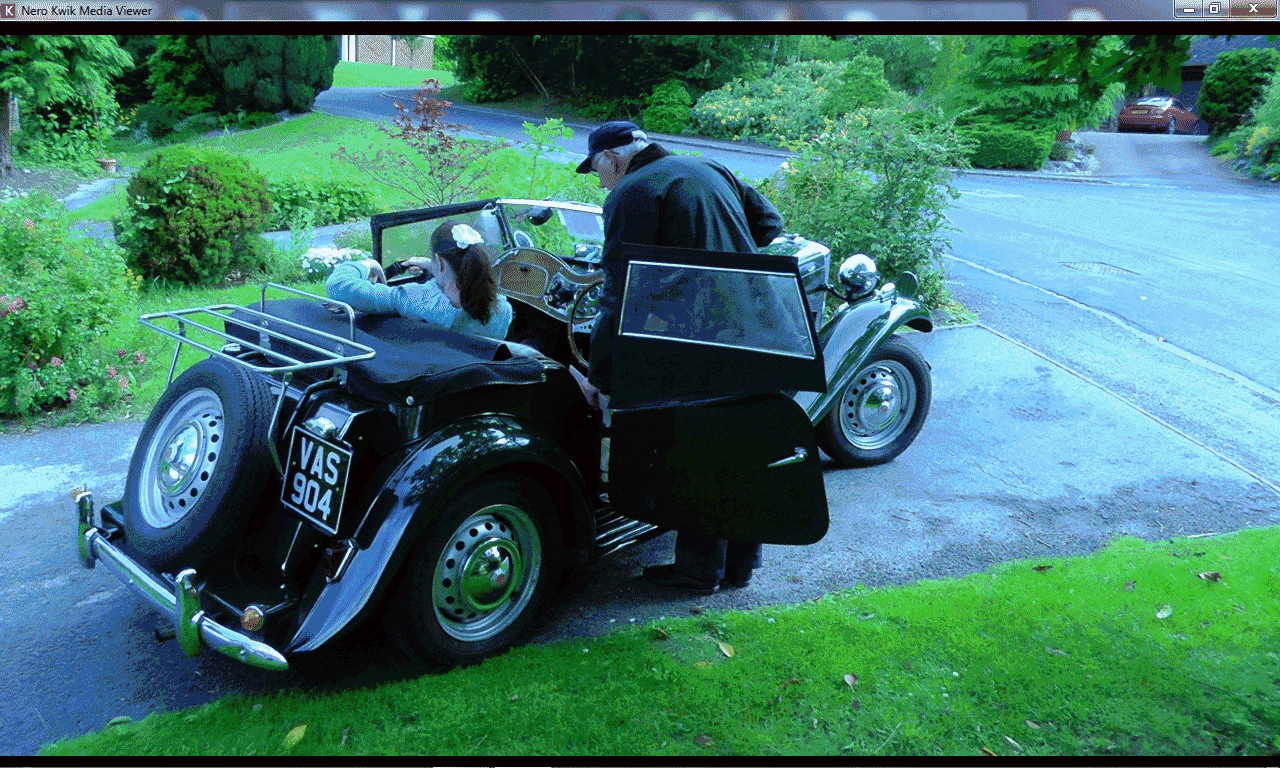 If I cast my mid back to the 1950s and 1960s, in Luckley Rd Wokingham, there were two friends, Alan Davies, and Chris Keevil, who lived in the same road, and I do recall, we did get up to a lot of mischief together. Both got MGs, but Alan no longer has his, but he did provide these words that follow, and will be amazed that I may have found a photo of his car ! :-)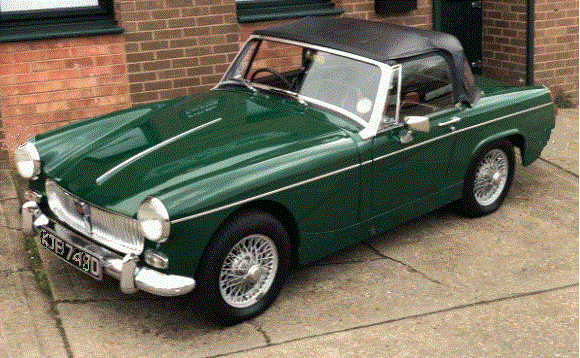 The only way I can give contribution to this is to cast my mind back and give you the sp on my 'old car' which Robin, you should remember well ! Here goes : MG Midget bought on borrowed money from parents in 1966 : Bought new in 1966 for approximately £725.00 : This extortionate figure included as extras , Oil cooler,Anti roll bar,Wire Wheels £60 and Tonneau cover and a years road tax £17.10shillings,which totalled approximately £100 worth of extras. It was in British Racing Green and had the chrome strip down the centre of the bonnet and chrome strips along the sides. It was a Mk2 Midget with a 1098cc engine with winding side windows which was a great advancement on the Mk 1 as that was a 997cc engine with Perspex sliding side screens as windows. N.B. If my memory serves me correctly the MG Midget Mk2 differed from the Austin Healey Sprite as it had these aforementioned chrome strips with vertical chrome strips to the front grill with of course the 'MG' badge accommodated in the centre of the grill. As I said,I acquired this pride and joy in '66 and covered 60,000 miles in it over 4 years.Probably up to no good the vast majority of the time ! N.N.B I had this car the same time that you had your Triumph Spitfire ! Happy days ! By the time I parted company with this treasured possession,I had become a bit of an MG Sports car fanatic and promised myself that one day I would have another one after I'd completed the responsible things in life like buying a house and raising a family and all those other trivial things that we all get caught up in, so in 2003,and not being mechanically minded I bought another one, but this time it was a modern day one. In 2003 I got anMGTF 135 with an 1800cc engine. So after all these years I've returned to another MG ( not a proper one so to speak but I have the marque once again. This, again was bought new In 2003 in Metallic XPower Grey and is garaged each winter on a trickle charger and in it's 17 year history has done 28,000 miles. So we have a bit of fun in it from time to time with summer picnics etc. I trust my above drivle will serve as some contribution towards what you are trying to put together. Perhaps your friend with the green midget may be interested in my contribution ! Hope this also casts your mind back to when you and I were the noisy' hooligans'of Luckley Road ! Regards Alan D P.S. As an addendum to the above,I have always been concerned about the head gasket problems that these later cars experienced but did nothing about it ! I did however come across a guy on LinkedIn called Roger Parker who used to be the Technical Director of MG in Abingdon ,so got into conversation with him over my concerns. He was amazingly helpful and asked me to provide the VIN number of my TF located at base of windscreen on passenger side. This I duly did and he responded to me immediately saying that my car was the 354th car produced after MG sorted that problem out and that I need not concern myself until the car has covered 50/60,000 miles. What a stroke of luck and discovery linking up with Roger Parker ! Perhaps you friend may well want to add this Gentleman's name to his address book !
From Robin: After seeing the above, and my picture of that MG Midget, Alan said: Very good Robin. 'Copy and Paste' has reached new heights with the correct Number plate on that green Midget ! It does look identical to mine but the wing mirror is a giveaway ! Didn't have that type of wing mirrors. I had chrome conical 'go faster' ones located on top of both front wings about halfway down and also I had bonnet straps as the bonnet lifted one night like a bullet with no warning and hence cut off my vision ! Bonnet bent at top of windscreen and also on central hood frame on top ! Very scary plus expensive repair !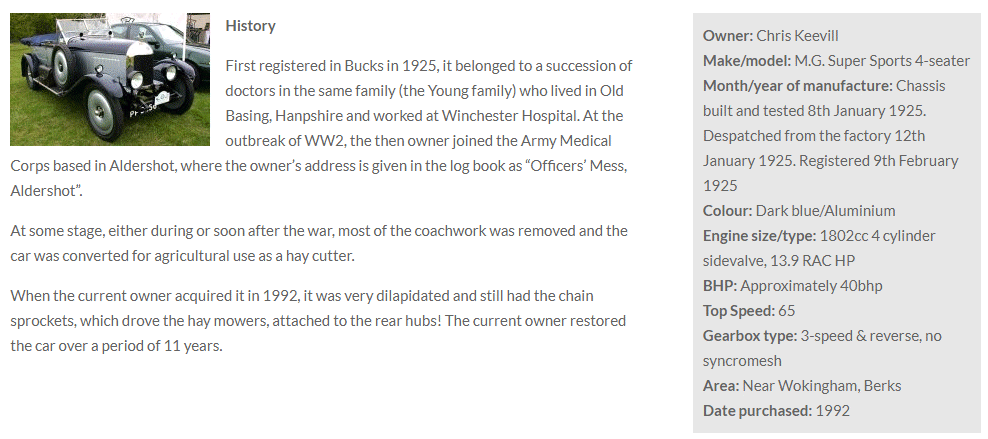 From Robin: If you Google "MG Chris Keevil" you will find no lack of information about him, because he is very famous in this field of vintage cars. e.g. this article has much more ...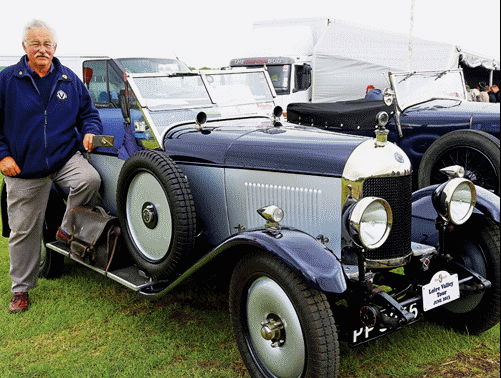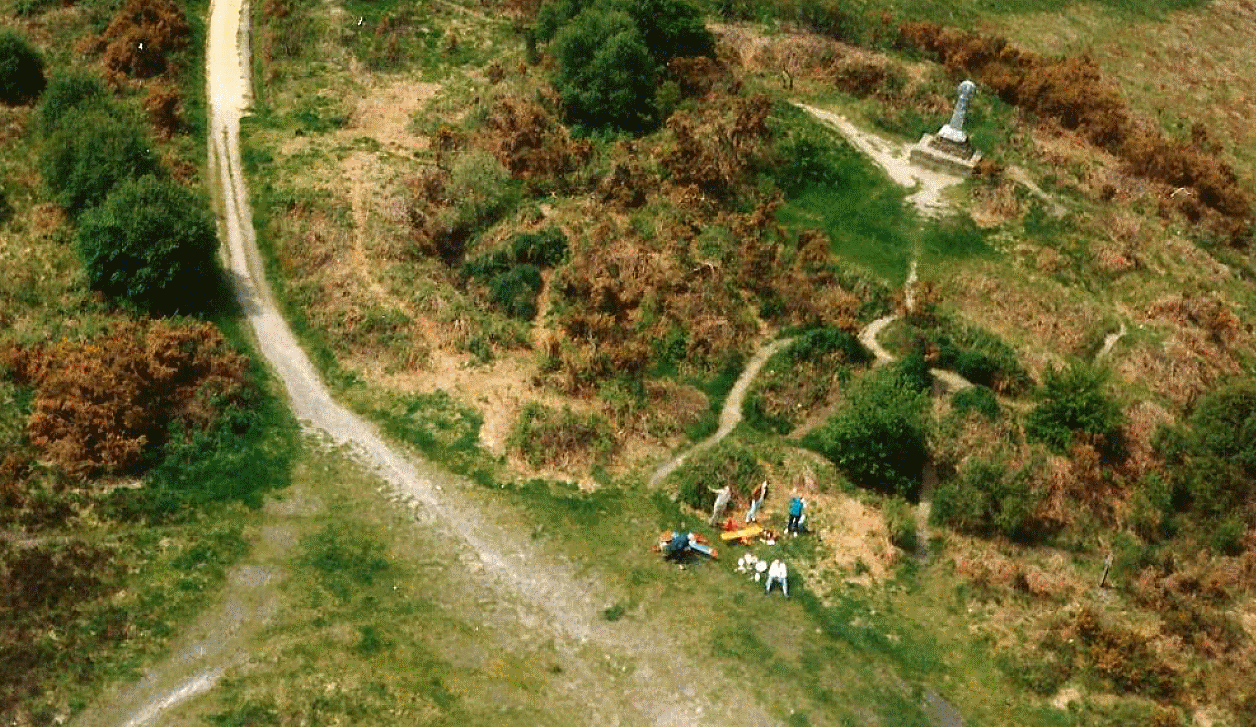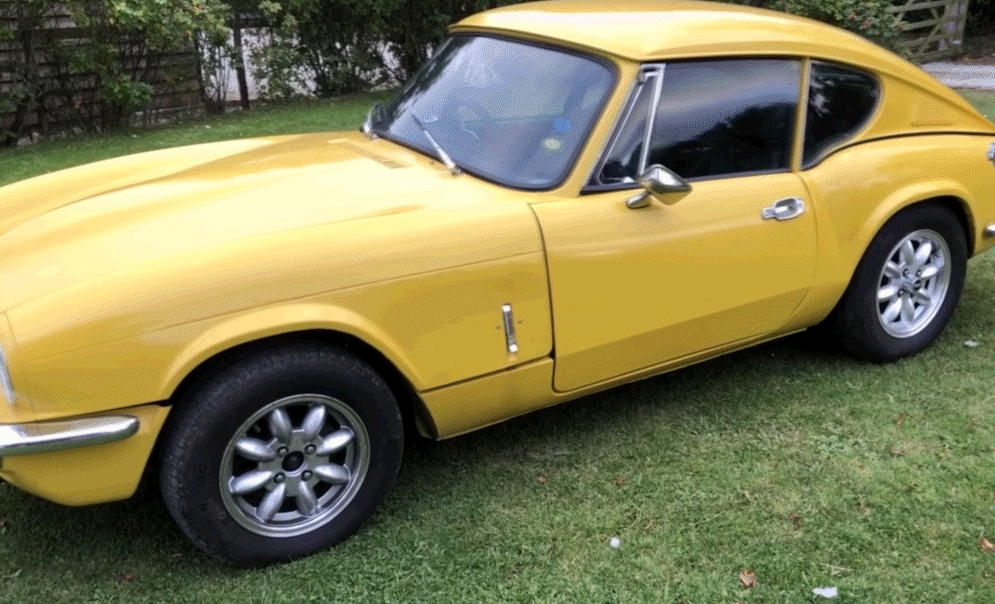 Here are photos of the 1973 Triumph GT6 Mk3, owned by Robin's old friend John Merrix. Robin and John flew model aircraft near the Monument on Chobham Common in the 1980s, and other places, carrying a 35mm camera. See Hobbies . Click on photos to enlarge.
Robin took the photo below, of the car, "stripped down to the metal", when June and he dropped in on them on Friday 18th September 2020, on their way back from a trip trip to Hayling Island.
It seems John forgot to respray the fan :-)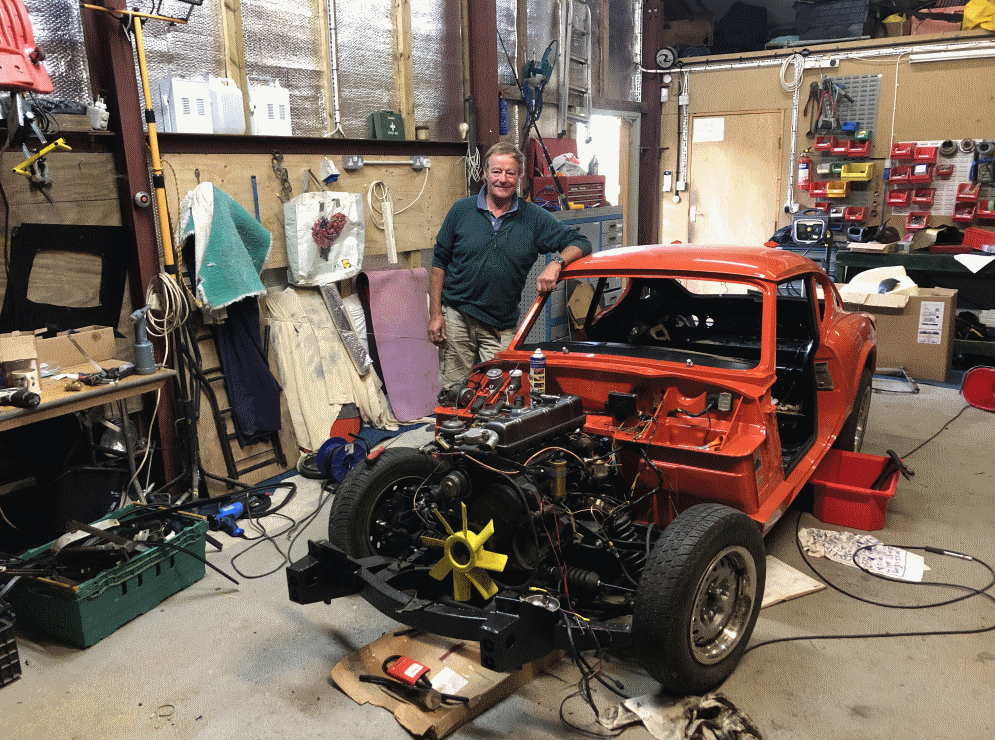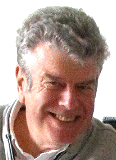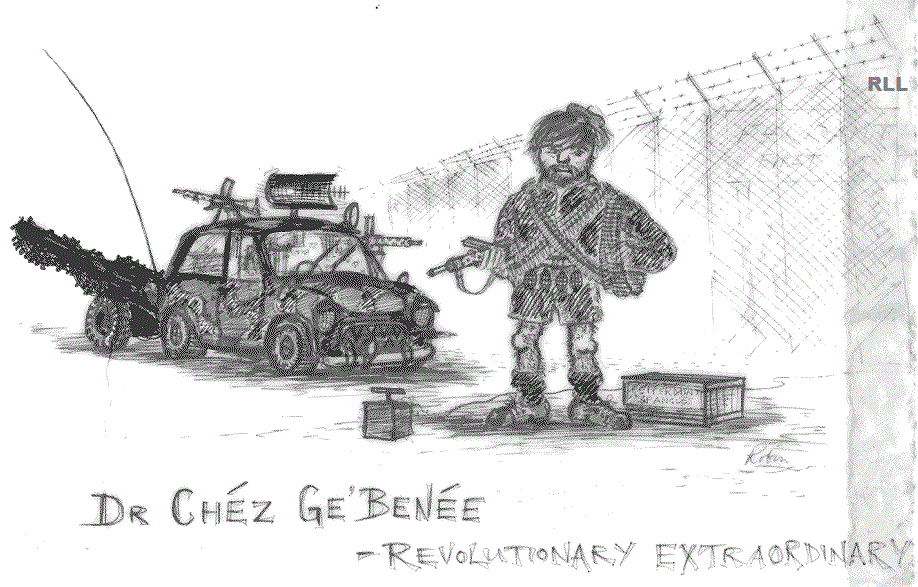 For myself, I've almost always driven old cars, from my first second hand mini, through the Triumph Spitfire Mk III, that could do the ton, to the old Mercs that I've driven into the ground in recent years. Hopefully I'll find some old photos of these cars, and say a bit more about the work I did on them. e.g. the Spitfire tended to need a valve grinding in regularly, especially if tested over 100 mph. It got to the stage that I could remove the exhaust manifold, take the head off, take out and grind in the problem valve, then put it all together, ready to drive, within the hour.
For now, the cartoon on the right of my Ferranto workmate Nigel's mini, will have to do :-)
I did have a brief relapse in the 1970s, when in that tax-free NATO job. First we got a new Ford Cortina Mk3, then a Mercedes 230, tax free, and with Diplomatic Discount, from the Mercedes factory in Singlefingham. Finally a new VW Golf, which was given to Samantha, after we returned to England in late 1980. She soon wrote that off in a minor crash.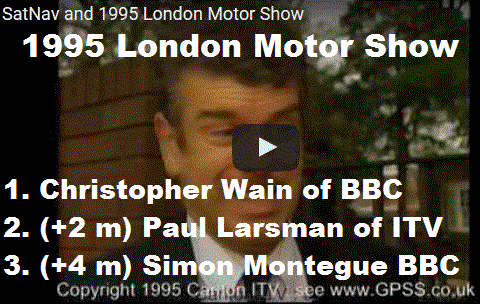 My favourite old car was the second-hand chocolate brown Merc, that we got to replace the rusty white Merc 230, that I'd got new in the 1970s. This old banger starred in TV coverage of the 1995 London Motor Show. After that, we drove it down to Italy and back, in 1999. But first, here is an extract from my AsOnTV page: Precious quotes from this piece, broadcast only hours after filming, were Allister's opening remarks of, "if you hate back seat drivers - you'll really hate this ..", and Paul Larsman's introduction of, "don't be fooled by the old banger - it's really a mobile laboratory for what is claimed to be the most advanced navigation system in the world.." :-)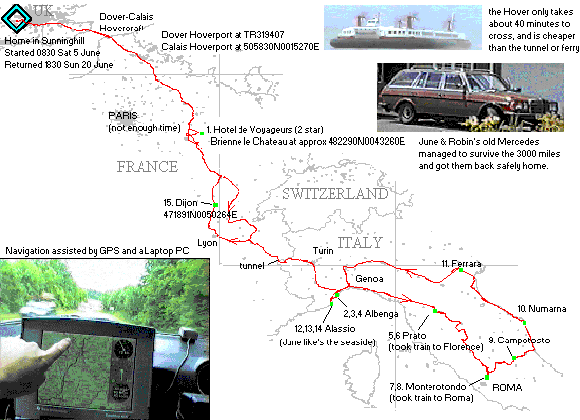 See our Holiday page, and scroll down to "1999: over 3000 miles in an 'old banger' :-) " I'll copy some of it in here ...
1999: over 3000 miles in an "old banger" :-)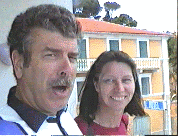 Prior to 1999, it had been many years since Robin and June last took a holiday to Italy (1981 ?). In June 1991 they decided to "live dangerously" and drive their "old banger" of a Mercedes down through France and around Italy. Places visited included Florence, Rome, Ferrara, Allasio and Albenga. They had a fantastic holiday - made the more enjoyable by meeting some of Robin's "Internet Friends".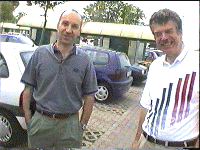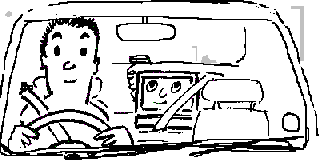 Grumpy Old Men Meetings
I thought I should include these pictures from my public 2019 Christmas Newsletter showing the Core members of our local "Last of the Summer Wine Team. The video on the right, shows how we can have meetings under Covid19 Lockdown conditions. However, our normal procedure is to go to a local Pub, well known for good real ale, and I usually act as chaufer, drinking Pepsi or Coka Cola. We have a "Pub Grub" meal, good conversation, then return to one of our houses for coffees and further chat. Old cars is certainly a topic of conversation, including "old bangers". But we usually don't talk much about our wives :-)
Our local "Sunninghill Last of the Summer Wine Team". From left to right: Stuart, John, Richard, and Robin.
My old Spitfire MK3, capable of 100mph, being done up by friends at our wedding on 26th June 1971.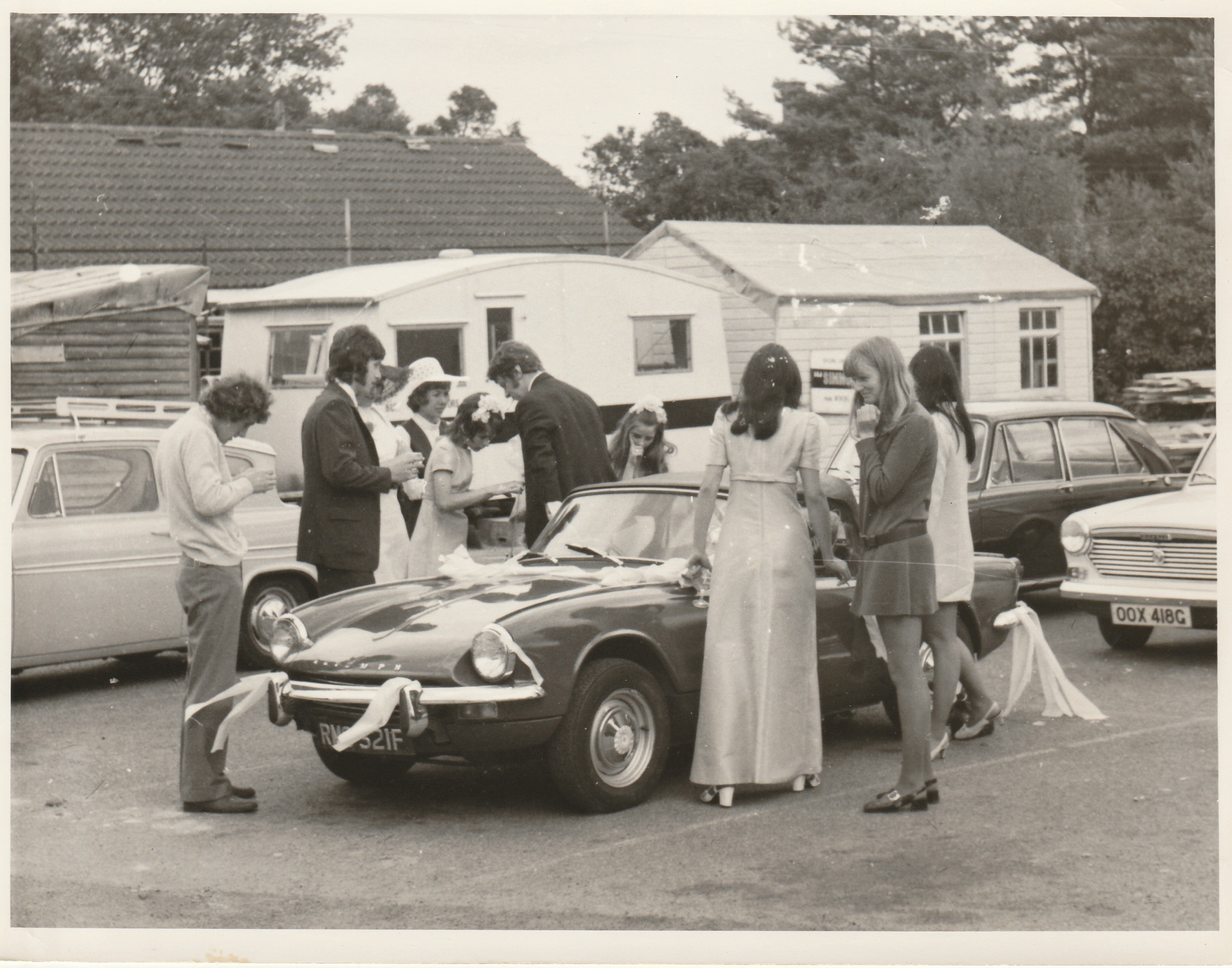 Who has visited this page ?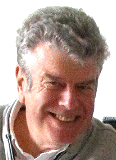 From Robin: It's very convenient for me, that there are so few visitors to this page: just those given the link. See map and words near end of my Home page ;-)
The visit counters may give a rough indication on who else is visiting, or has visited, this page. I don't hide or disguise my visits, but they may appear as "Ascot", or miles away, like "Bracknell, England" (on my Study PC), or "Southend-on-Sea, England" ( on the Lounge PC). Positions may not be accurate, but times are. These may change at any time, without control by me. So, you may see if I'm "working" in the Study, or "playing" in Lounge :-)
Not all visits are seen, and some browsers hide location, but you may find Revolvermaps livestats for OLDCAR page interesting.
The video on the right shows several guys visiting at the same time, after I posted the link on the Microtransat forum :-)
© 1991-2020 Robin Lovelock.
There have been

visits to this page counted by Digits Web Counter.