These pages may not present clearly on some small smartphone screens; please use a normal large screen on a desktop, laptop, or tablet in landscape mode. Thankyou. © Robin Lovelock.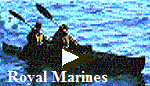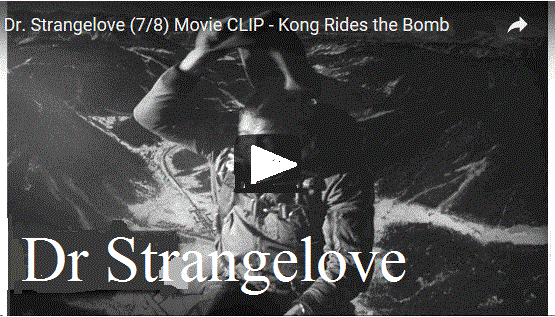 Snoopy the Viking will attempt the Atlantic again, from UK to USA, in his little robot boat. The "Microtransat Challenge" is a French idea.
Snoopy's rescue in 2015: See 2015 Attempt and the I-GotU track. Robin thanks the Royal Marines SBS. Beers ? Video on left added.
from Robin: see my Home page, for an introduction to who I am. e.g. the Dr Strangelove video on the right. Love and Strength to All.
See below for the details of Snoopy's UK to USA Atlantic Attempts and testing of Team-Joker's boats for the next.

Home . About . GPS . Downloads . Business . Partners . Contact . Family . AVL . Links . History . AsOnTV . Holidays . NHSCare.info . Grumpy . Snoopy
Cliquez sur le drapeau français ci-dessus si vous préférez grenouilles et les escargots à Roast Beef :-)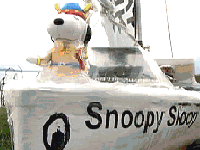 Robin's Summer Holiday in Victoria Ward Funny Farm :-)
UNDER CONSTRUCTION : material moved from Snoopy's 2019 Atlantic Attempst page.
You should begin with a visit to www.NHSCare.info and Robin's "Bluebell" pages.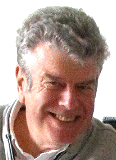 This page was updated at 1950 BST = 1850z GMT/UT/GPS Time, Thursday 15th August 2019.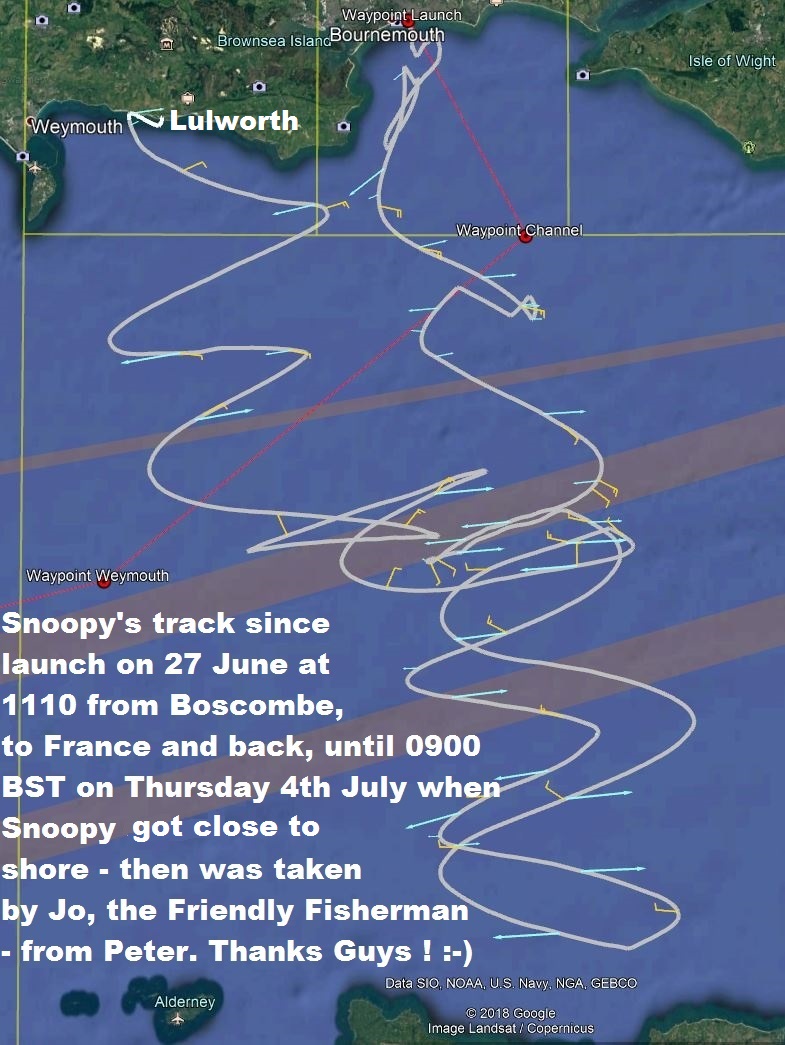 Click on pictures to enlarge or play video. NOTE: ROBIN DOES NOT HAVE ANYONE LIKE SECRETARIES, Funeral on 22nd, and lots of amusing, but tiring, meetings with Crisis Management Teams, when June and I are going to Nickolson House - where the qualified shrinks hang out. Thank God for Thames Vally Police, who invest hours in "Social Work" with Indian friends of our in the village. Thanks also Surrey Constabulary. Topics addressed here, in a messy way, are: Snoopy's Robot Boat adventure to France and back, chased by Dick, and ending on 4th July; The dangerous travels of our vulnerable Australian friends: young Tomaz, and his mother Kristina. I'm sure Kristina's father, Rudi Rolih, in Sydney Australia, took matters into his own hands, because he thought he would get blamed if our help to T & K resulted in June having a mental breakdown.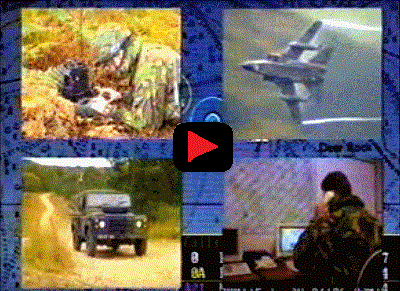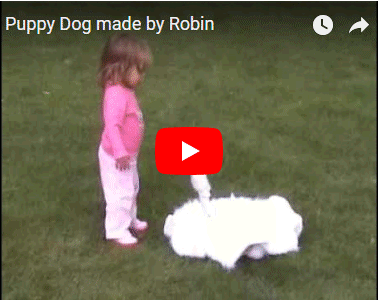 Or perhaps my being put inside - which I welcome ! :-) BTW: no need for a room, and it must be BlueBell Ward at Prospect Park Hospital Reading. Just the OK to make social visits, to chat to staff, and willing patients, in the TV room. For the record, Rudi's decision made things much worse, but let's hope T & K remain within the boundary of Thames Valley Constabulary.
Rudi Rolih, his wife Sylvie, and young children, Kristina and Poiter, first met me, Robin, my wife June,, and our young girls, Samantha, Saskia, and Michelle, when they flew out from Australia to the UK, at the start of the first Gulf War, in 1991.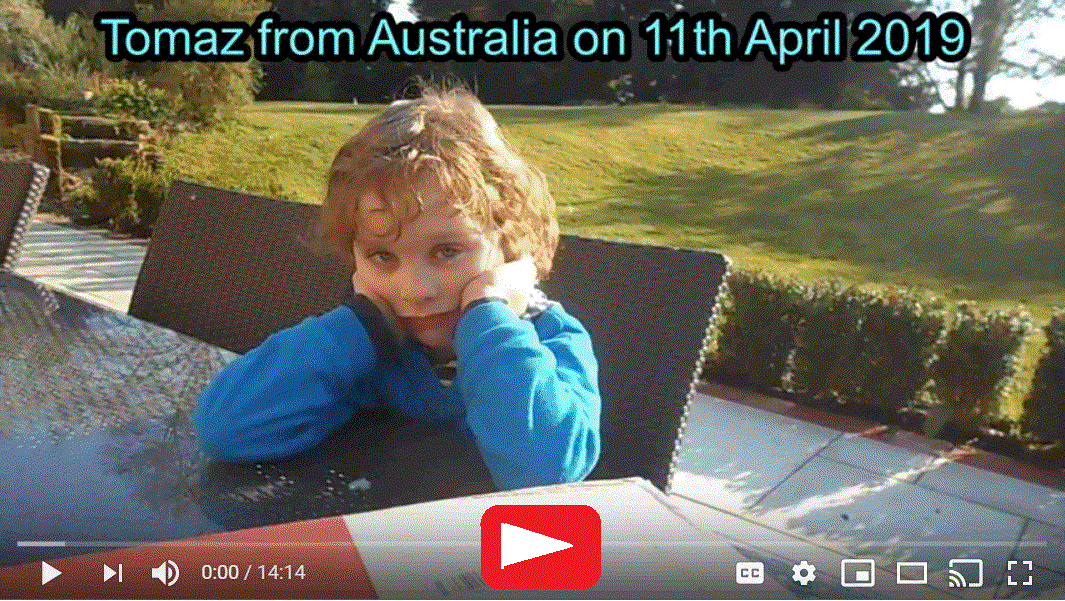 I had several projects in progress, within my Air Command & Control Group, and/or EASAMS ADCIS Business Development. I was living with my team, with just one week to submit of bid to MoD for desert worthy Laptop PCs for the Desert Rats (DICS). That "Barrosa Operation" video gives a clue. Many years later, Kristina lived with us for a while: check out the end of the "Puppy Dog" video above :-)
I'll skip over the UK history of Kristina, here, but in brief: she was a Pen Pal of Michelle, but they fell out when Kristina lived at Michelle's place in Coventry. Kristina graduated from Winchester University, on the same day as Colin Firth was given an honoury doctorate. Her degree was in media studies, and she moved to London, doing important work in the field of Gulf Piracy. She got pregnant with Tomaz, and returned to Australia, to join her parents, but she caught Lymes Desease from Ticks. After years of treatment in Australia, then in Arlington, near Washington, USA, at the expense of Rudi, with Sylvie and young Tomaz, they returned to Sydney, Australia. Tomaz has Lymes Desease, but was diagnosed early - he is an amazing 6 year old now ! Kristina had been progressing, being able, with a walker, to use Public Transport. Then, probably in a delirios condition, she decided to come to UK, to get better treatment under the NHS ! ??? All UK Political Parties are guilty on that. Rudi obviously wants Tomaz and Kristina back in Australia. Rudi could have claimed Tomaz's reading ability was down to him and Sylvie. No, Rudi said, that is all Kristina's good work. BTW Jeremy Hunt: looking forward to you being made Deputy P.M. - you can know how stretched the NHS funds have become, and I just LOVE your words "Deeply Disappointed" on that Iran Tanker thing :-)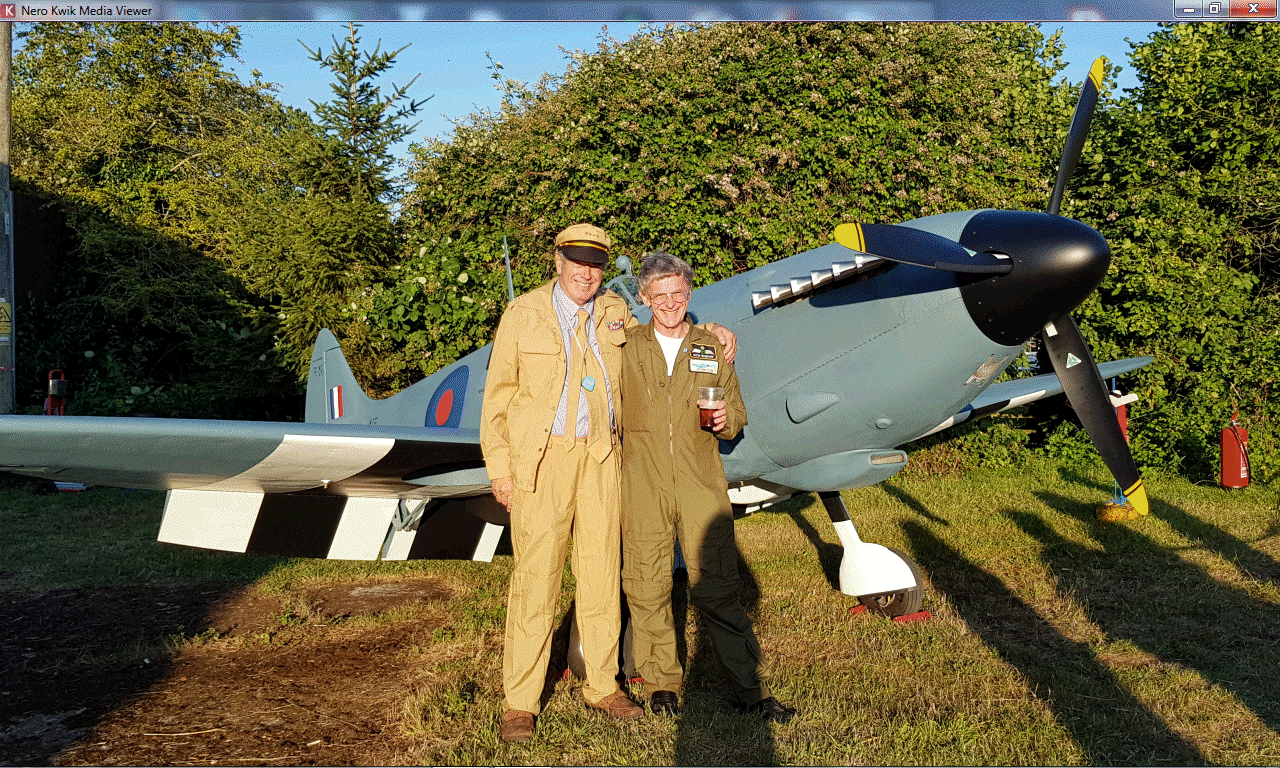 I'm trying to find some pictures, to put at the top here, to show you the GOOD things, that June and I have managed to give priority to: her 67th Birthday on 18th July, the Spitfire Party near RAF Odiham on 20th, the Funeral of ex-Ferranti friend Barry McCullock, which was a moving celibration of his life ( thanks Carol ). Thanks also Sally, for being so strong, like Carol, after Michael past away. Good Luck Becky in your Law Finals. Oh yes: sorry there are no pictures from that young lad, fresh out of prison, who burgled daughter #3, Michelle's Flat, took two treasured guitars, but than handed himself into Coventry Police, saying he wanted to go back to prison. It is NOT TRUE, that he'd found out who Michelle's father is, or her friends. It is also NOT true, my lovely young Pakistani neighbours opposite, that I am a Secret Agent. Yes, I was Positively Vetted ( P.V. and can be painfull ), back in 1970, for the SHAPE NATO Scientist Job. It is also true that I was P.V.d again at EASAMS , in connection with things like COBRA ( recent BBC news ). It's possible that I have been P.V.d more recently, but without my being told. Keep it that way - we just want to relax and enjoy life - or what life we still have left. Who knows what the future is ?

Robin and June Lovelock's Mental Health - or Mental Peculiarities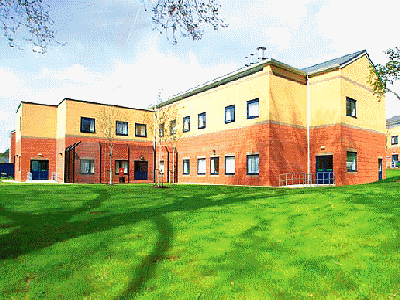 Everyone knows that Robin is the "Mad ex-NATO Scientist" or the Dr Strangelove in Sunninghill. The stigma has been irritating since 2015, but it is only recently, with Kristina's case, that it has been a major problem. The good news with June, is that I believe I know June's mental peculiarities: not early Alzheimers - she managed 20 words beging with S in 45 seconds ! She has the sleeping problem, that she needs complete darkness - easily fixed by her sleeping in a spare bedroom - the man of the house retain's the Master Bedroom. But, the subtle and important thing about June's brain: she cannot multi-task at all. e.g. if she heard, or read, four events that happend, she could not than say which was the more important. She is also used to giving orders, without any experience of having done so. e.g. to Samantha, who, when not at work, or playing tennis, spends all her time in her room. We are slowly changing this: e.g. Sam occasionaly helps with dinner. June will be getting an expert Mental Assessment at Nickolson House, and, to smooth this along, I'll have one too - ideally by that lovely Italian Lady Doctor we saw in 2015. Oh yes, in addition to the occasional gentle arm around June, I often make use of the expression, "Yes Dear" ;-)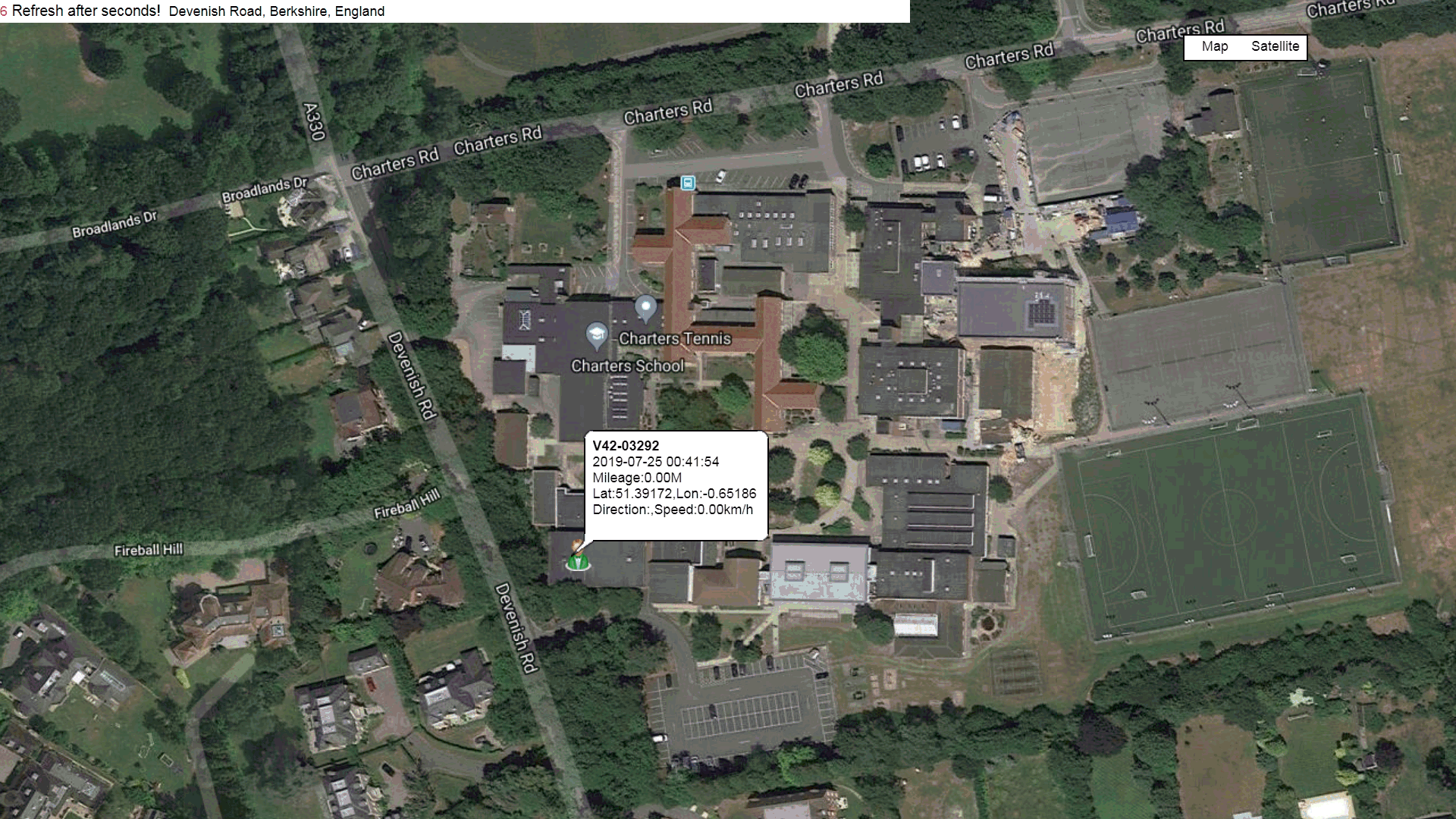 Another example as I write this, is that June is off to Gym ( not Jim ), with Cliff Graham, at Charters Recreation Centre, working out on the tread mill. Our three daughters went to Charters. That is where June and Robin played tennis in the early 1980s, and where Eric the Groundsman often asked for an aerial recce of his new painted lines on the football pitches. Cliff can be found on the Royal Ascot Tennis Club site, with his lovely friendly face, and the contact details of the guy to whom he reports. June started treadmill sessions with Cliff, at Charters, after her broken wrist. I encourage her to pay Cliff for the personal training, supervising June walking on the treadmill. BUT, some of my family and friends would say that, if June wants "Virtual Exercise", it would be better to buy one of those advanced, Google Streetmap cycles, or treadmills, from China :-) Why am I bringing Cliff into Junes Mental Health Problems here ? Because June confirms that I am the subject of conversation, and June has not been taking REAL walks with me, like parts of Windsor Great Park, for some time. Sorry Cliff :-)

( IMPORTANT: PICTURES TO GO IN HERE. e.g. June's Birthday, Spitfire Party, Funeral, Shrinks visiting, Police actions )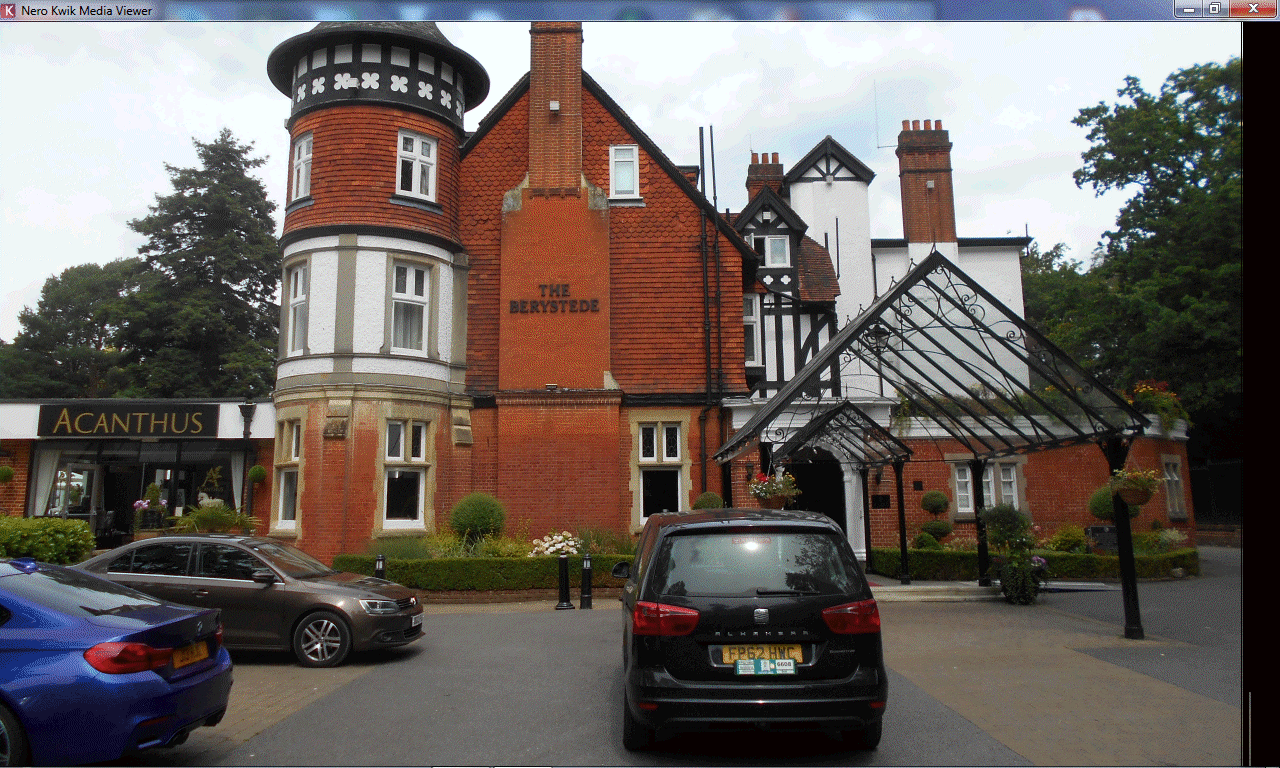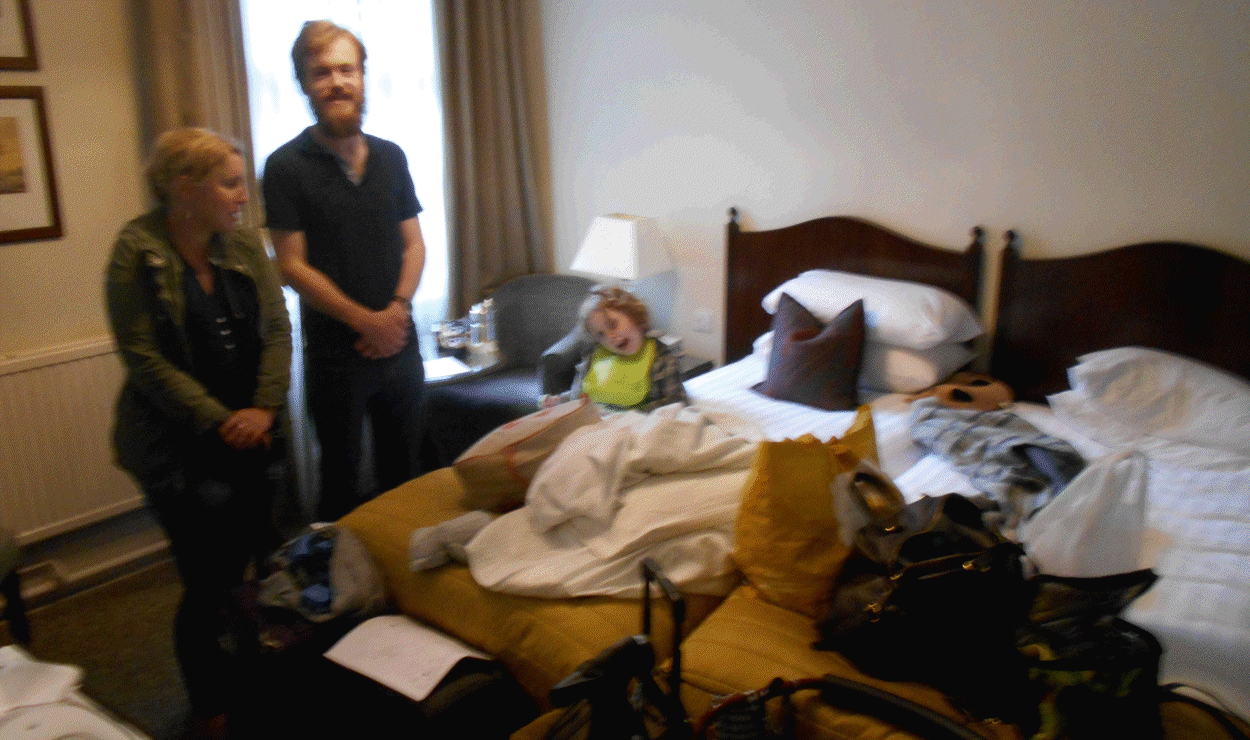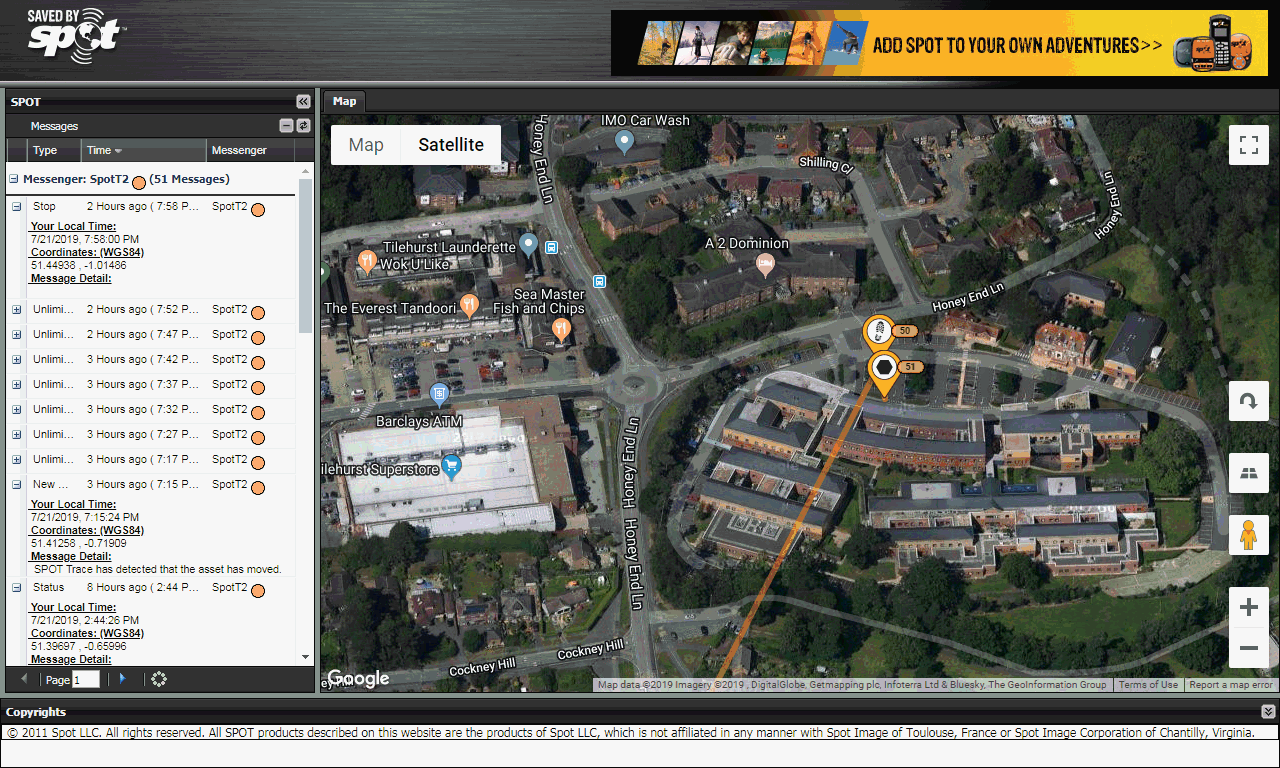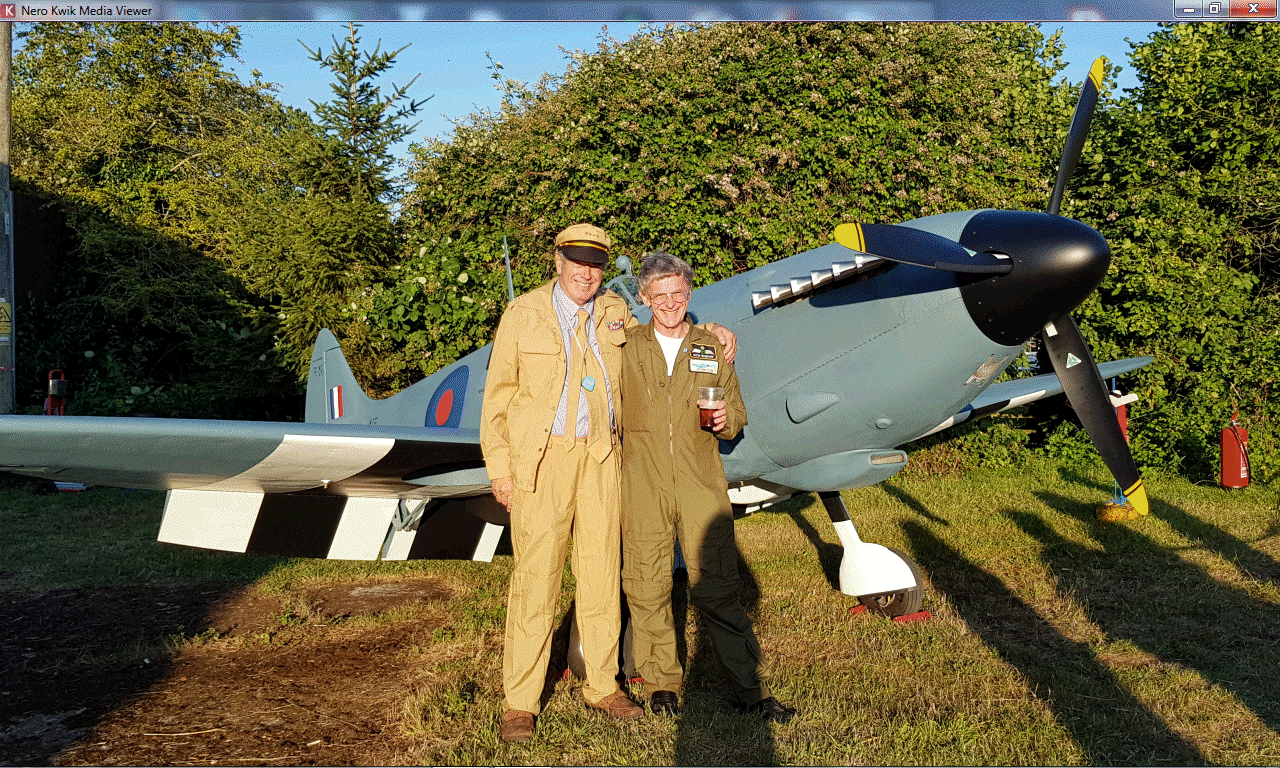 Here are some more zipped-up photo trails: A240719A.ZIP , A300719B.ZIP , A020819A.ZIP , A020819B.ZIP , A240719B.ZIP , A060819A.ZIP .
BELOW HAS NOT CHANGED, AND MAY TAKE DAYS TO DO SO - You just can't get the staff :-) , STC , EASAMS .
NO TIME FOR UPDATES ! What a lovely Birthday for June on 18th in La Sorrentina, Spitfire Party near RAF Odiham on 20th, (pictures in P180719A.ZIP ). What a lovely Spitfire Party (pictures in P200719A.ZIP ). June called Shrinks here, BUT, Who would be crazy enough to want to stay in BlueBell Ward ? :-) NOW MORE SLEEP !
Last Thursday said: June doing Waitrose Little Shop; Robin works on this page. JPG not GIF ! Taa Muchly Dick :-)
Scroll down to the end through the latest news and pictures. e.g. Pictures from Dick; Rudder gone BEFORE Rob rescued boat :-)
Journalist Friends: you are welcome to use material and run your drafts through me by email to robin@gpss.co.uk
All friends: You are welcome here, at our home 22, Armitage Court, Sunninghill, Ascot, Berkshire, England, UK. Any Time :-)
If you telephone us, please use the codeword "1700 BST Saturday 10th August" so that I know when you last visited this page, or that you have at all :-)
My (dumb) mobile cellular number is UK 07736 353 404 and our landline is UK 01344 620775. It's not changed in decades.
Anyone is welcome, but I suggest that you read my Home page first. The Dr Strangelove of Sunninghill lives here ! :-)

Robin being held in Victoria Ward, Farnham Road Hospiital, Guildford.
In short: Robin is not amused by what looks like being a long stay in Victoria Ward, Farnham Road Hospital, Guldford. However, as in 2015, he is gathering and distributing information that may do some good - like bring to light things like the cashflow, and ownership of companies contracted by this Trust.
Robin had been sectioned by Thames Valley Police, after taking photos outside Ascot Police station. This was after a visit to his Lightwater Surgury, in Surrey, who had confirmed that they had received no communications, concerning his mental health, since 2015. Robin had changed GP from Magnolia House, Sunninghill, to Lightwater, in 2015, to ensure that referals were to Frimley Park (Military) Hospital, rather than Wrexam Park, north of Slough, which was in "Special Needs" at the time. A consequence of this was that Mental Health referals are to Farnham Road Hospital, rather than to Bluebell Ward, Prospect Park Hospital, Reading. HOWEVER, after being taken to Bluebell Ward, Prospect Park Hospital in Reading, they decided that he should not be admitted, and he was taken home by his wife June. It seems that the post code of Robin's Lightwater Surgury was used to move him to Victoria Ward, with his GP being left completely out of the loop. No big surprise there - see Robin's Bluebell Pages linked from www.NHSCare.info !
Then, it seems, someone in the Maidenhead office of Berkshire Heallthcare Trust, sent a "white van" to collect Robin and move him into the Surrey based hospital. Robin has seen the big differences between this Surrey and Borders Partnership NHS Foundation Trust (S&BPNHSFT) and the Berkshire Healthcare Trust. In short: it appears to be driven, from top to bottom, by the need to maximise revenue, either from UK Goverment (NHS), Local Government (Social Services), or companies who can sell their services. e.g. provide legal advice, catering, staff - not saleried, etc, etc.
Click on pictures to enlarge.
The staff do an amazing job in caring for patients, but are clearly hampered by procedures, such as "paper tracking of patients". This is in addition to the problems uncovered by Robin in April 2015, documented online in November 2015, and taken up by the BBC in January 2016. The majority of staff appear to be on zero hour contracts, rather than the security of a full time NHS Salary. Let us hope that a new UK Government,led by Boris, will rectify the damage done by ALL parties since Maggy Thatcher. i.e. give nurses a decent wage direct, rather though agencies. Robin likes to think that his MP, Adam Afriyie, may have had a hand in this. Who knows what will appear on TV and/or the Newspapers after this Victoria Ward stay ? ;-)
Robin is a slow typist, but he can at least build "Photo Trails" which tell the unfolding story. He obviously has to use common sense in what he takes photos of. Maybe, in slower time, one or more journalists will use this material, and interviews, to "do some good".
Snoopy's June 2019 Atlantic Attempt - things start to get Manic :-)
( MATERIAL REMOVED FROM THIS PAGE )
GPSS based GPS Simulator plot of Snoopy's end to his journey in Lulworth Cove after a close approach to Bat's Head. That missing line was "finger trouble" :-)
News and pictures including Dick safe back from his sail to the Channel Islands ...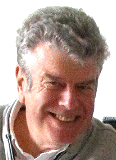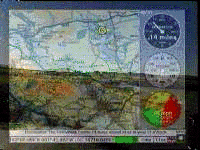 Why all the pictures ? Whoever you are: journalist, enthusiast, military, curious public, pictures say more than words.
Click on pictures to enlarge, play video, or visit another page. Hit "refresh" or change your browser if layout is poor. Or perhaps it is which hosting of my web site you are on - see the very end. Clear cached images in your browser ?
It could also be me :-)
This page may look confusing, but it saves me time. as it has over twenty years ago during a London Motor Show, or other occasions when the Newspapers and TV Networks took an interest in my old GPSS Software. see AsOnTv. BTW, if someone can run it on Android, under a suitable DOS/WinX Emulator, a lot of people might be interested. BUT I'm not into selling GPSS.
"The Barossa Operation" video, from my EASAMS years, 1980 to 1994, shows what we were doing under MS DOS and then Windows 3.1 before the first Gulf War. More detail is on my Barossa page. SatNav and remote tracking are not that new :-)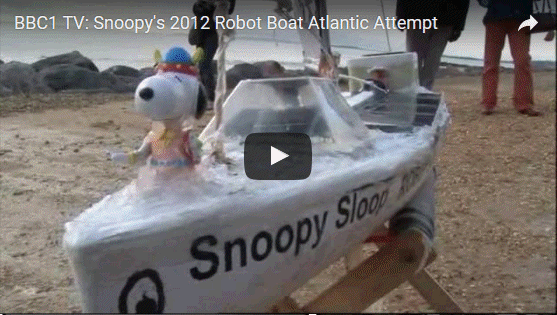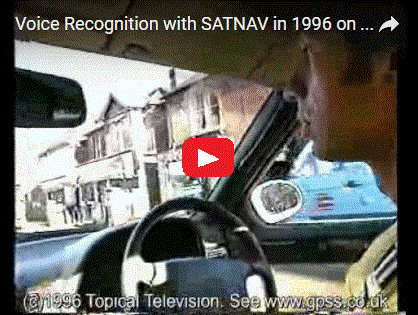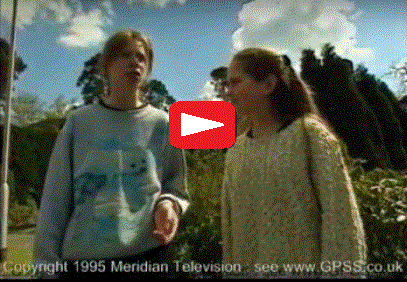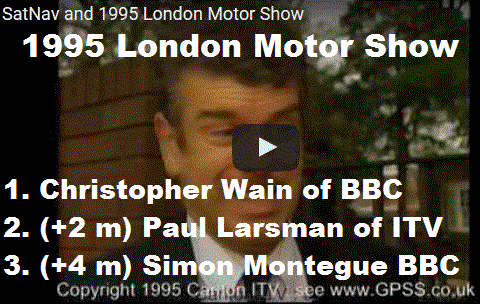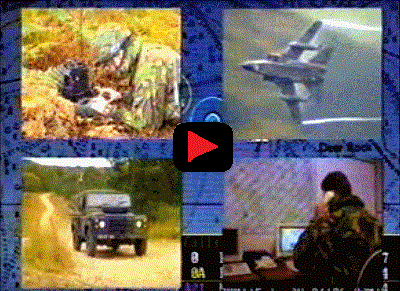 I'm gradually pulling in pictures which I have here, some from Peter and Dick, and some taken here. e.g. charging of batteries and inspection of the inside of the boat, best done with expert help. It's been a case of doing whatever seems the highest priority. e.g. Seeing that Dick got home safely, but also demonstrate the value of his SPOT Tracker. Reports seemed to be delayed at the weekend, due to all those Americans using SPOT in their deserts :-)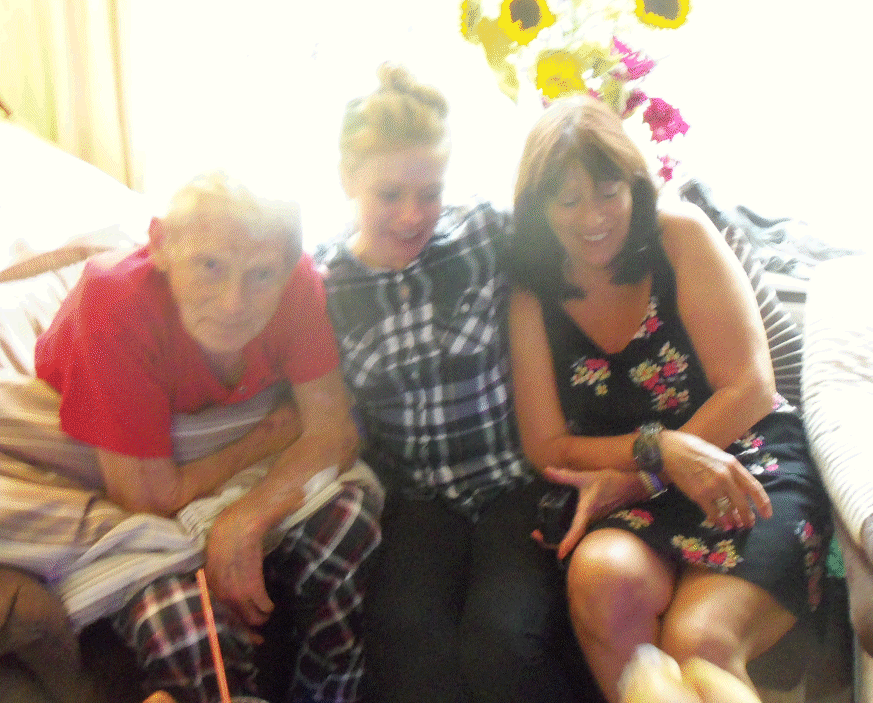 7th July 2019: There was some "Confidential Banter" over the night, which effected how June and I spent our day, hopefully overlapping pleasure with "Snoopy" stuff. Guys who have been party to this included my sister Sally, whose husband Michael passed away earlier in the year, and daughter Becky. They will not be down here for a while; Our daughter Saskia and partner Gary: see a little Snoopy robot boat being sailed by our "inherited grandchild" at CenterParcs. Mick Gulverston, of MicroMite fame, not so far from Ozzy friends with grandchild Tomaz.
We looked forward to whoever came and what we did . I'd been dressed, after enough sleep for hours, and the women were in the kitchen: with tennis on the TV. But, after they were dressed, June cooked me a nice brunch, using a tip from our Indian friends: brown bread, covered by bacon, scrambled egg, then Heinz baked beans. Of course, I forced myself to eat it :-)
June and I chose to visit "Bumpers" garden open for the NGS charity. What a lovely coincidence that it overlooked RAF Odiham, from where I had colleagues in the 1970s, and others in the area. On our way home, June and Robin were amused by the "Road Closed" signs that had been there for 3 months, which caused us no delay.
Interesting things happened that are best kept to our "Last of the Summer Wine" meetings in the pub, for which I am the driver. I'm sure there will be a lot to discuss here too.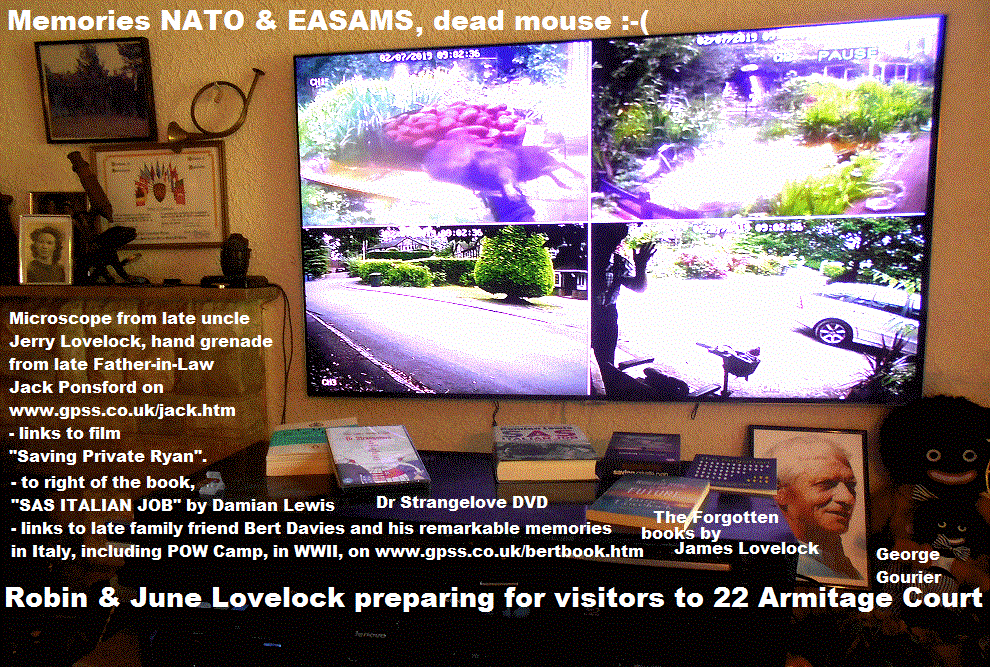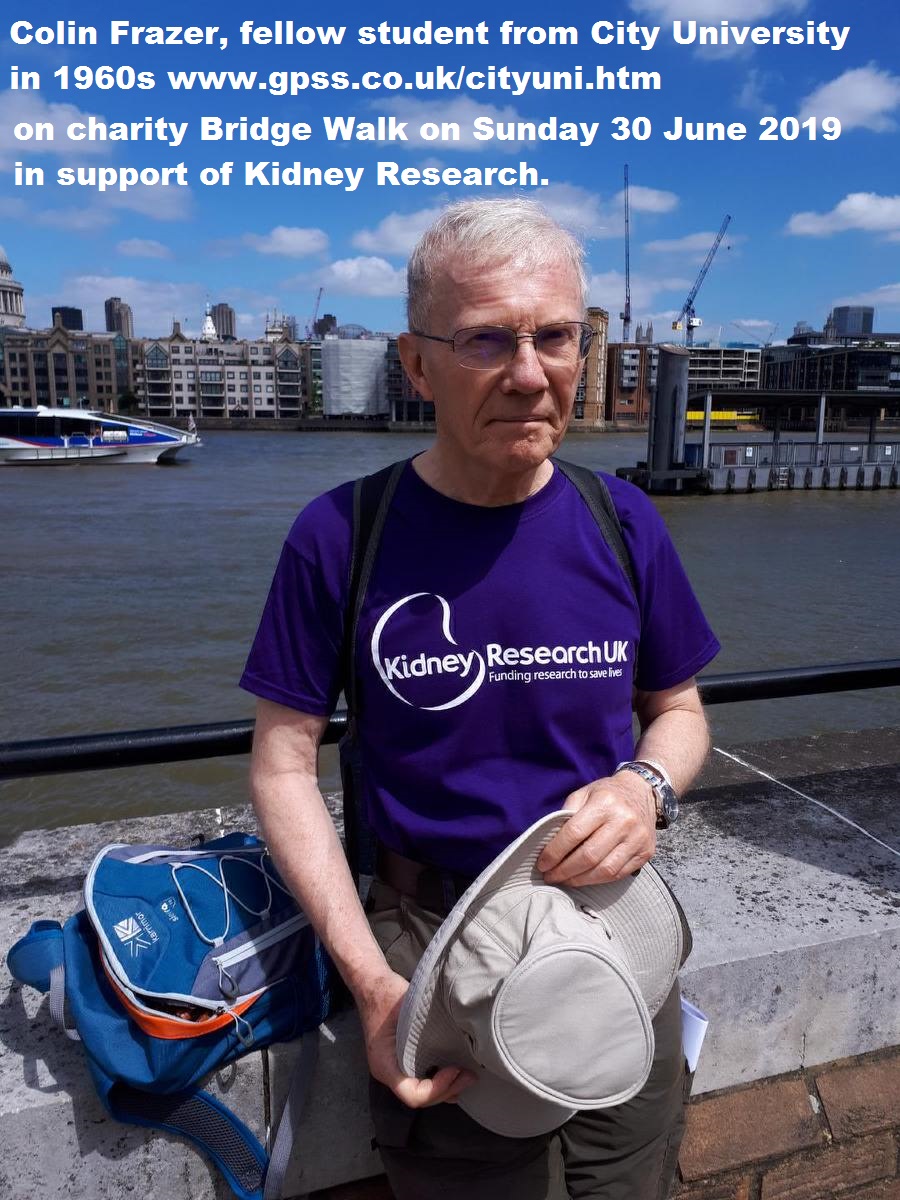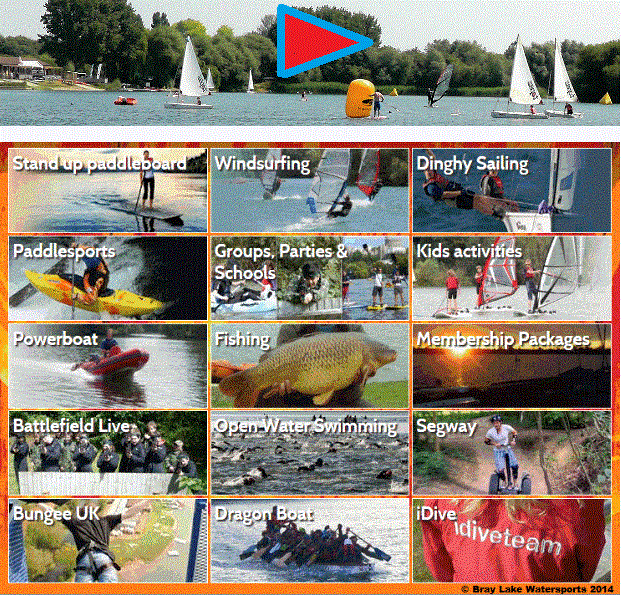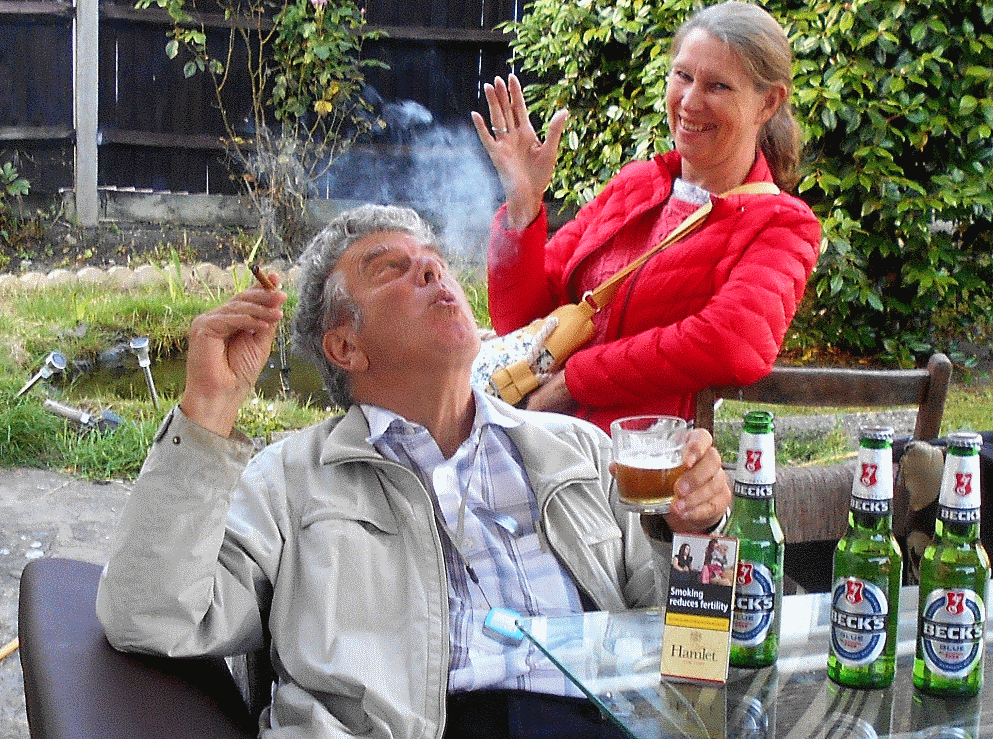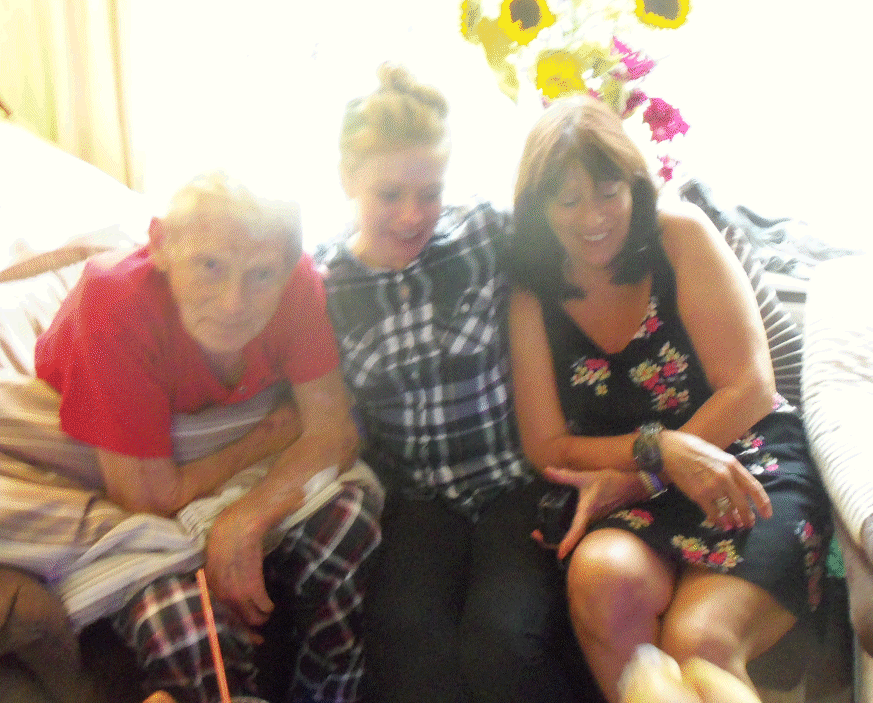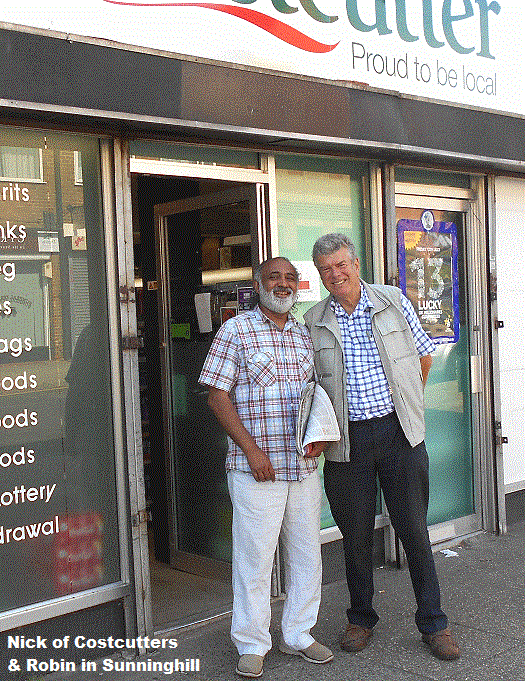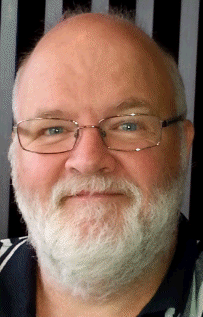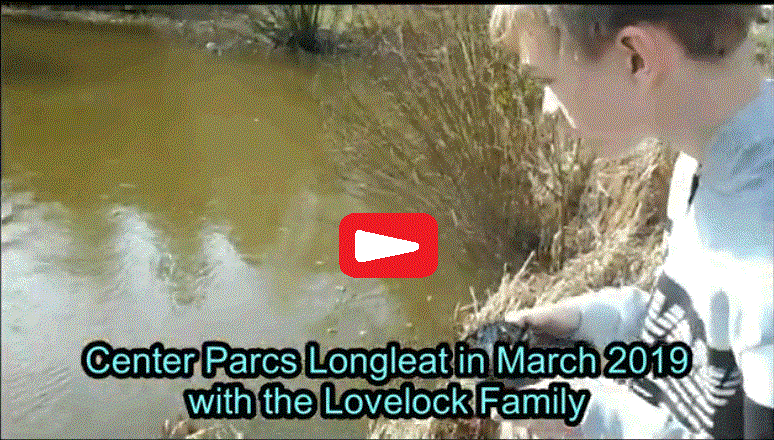 See notes at top of page about layout. e.g. hitting refresh; what browser; Robin's mistakes :-)
Yes, of course I could have made it easy to skip down to here - but then you would have missed the stuff above ;-)

e.g. if you received an email speaking of a Ghana connection at my City University 50th Anniversary on City University on my Home page .
This public page is obviously being used for non Snoopy stuff. e.g. Help for Kristina and Tomaz - no apologies for that ! Robin.

Tuesday 9th July: Today was "Pub Grub" with my Local "Last of the Summer Wine" Team, Stuart, Richard, John, Terry, and myself, Robin.
Pub Grub ended with coffee in Armitage Court. June came be back from The Royal Ascot Tennis Club, to watch Wimbledon Tennis live, on her choice of Court, on iPlayer.
Editing of details of Snoopy's Mission in progress, based on reports and feedback from Terry, etc. Terry: I had another 1 hour nap earlier, bring my total hours of sleep to 7 hours. Thanks for your concern ;-)
We watched first 3 minutes of BBC News Headlines until 1803. "No Comment" from Robin, other than that already on my "Grumpy" and "Bigger Picture" pages, linked from my Home page :-)
Now I guess I had better do my Italian Homework, prior to the lesson with Maria, and friends in Bracknell. We should leave by 1915, and others will be at home, to handle visits by half expected friends. Others: beware of other occupants, neighbours, cameras, and "water" squirters :-)
Lesson went well and we got back by 2200 BST with no need to visit family in our village.

The Wednesday 10th July trip to Wimbledon, then to Carshalton, help Kristina and Tomaz

Wednesday 10th July: Important email from Kristina sent not long ago. June and Samantha going to Wimbledon for tennis. Was going to give them lift to Sunningdale Station. Will they let me take them by car to Kristina's place ? Her email says she is now moving tomorrow, and still does not say where. It seems her father, Rudi, may be visiting his sick father in Slovenia. Love and Strength Rudi !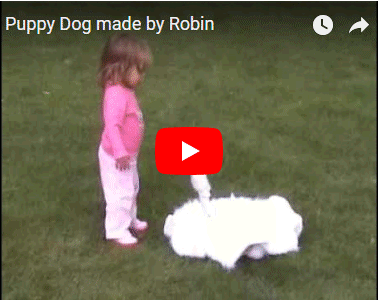 Kristina's Health Condition means she may make mistakes, deliberately or otherwise, in the information she gives to others. For some time she demands that emails are not shared with her father, Rudi Rolih, who, with wife Sylvie, and young Tomaz, took the family to a hospital in Arlington, near Washington, DC, USA, for several months of private health treatment for Lymes Desease. Rudi and his young family first met in the 1980s/1990s, when he brought them to UK, to work on the AUSTACS bid into Australia, by EASAMS . Many years later, Kristina became a 4th daughter, when she lived with us. Years after that, she worked in London, and became pregnant with Tomoz. She then went back to Sydney, Australia, to live with her parents. By the time she had Tomaz, she had caught Lymes Desease from Ticks. Tomaz inherited it, but it was diagnosed earlier. Recent history: Kristina decided to pack her bags and come to UK for better health treatment than Australia. Is that likely ? June and Robin (me), first met Kristina again in Southampton General Hospital, with Tomaz taken into care. Robin put the fantastic hospital staff in contact with Rudi, so he could put them in touch with Australian ( and American ) doctors, for hospital records. Having said all that, Kristina is a very intelligent and loving mother, with knowledge of the treatment that she and young Tomaz need ( see the video, he likes to be called TomAAAS ! ). We love them both to bits, BUT Kristina knows I think it was a BIG mistake to flee Australia. It seems she is "on the run", from people who can help, like local doctors, hospitals, Social Services, and schools. London is NOT the best place for them, and, i she came near to us, it would have to be somewhere like our local care homes, with the blessing of all the local authorities, like Police, NHS, and Social Services - who I would want to take responsability. More here later, perhaps.... Yes, check out Kristina living with us, and the peeing robot dog, on my TAM page, or just click on the picture on the right :-)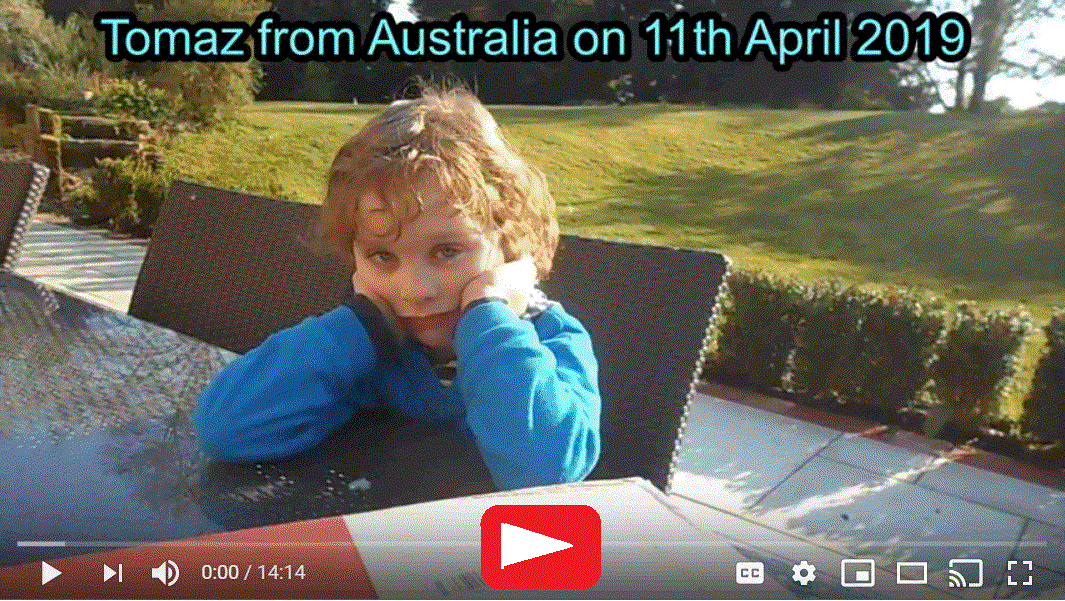 June and Samantha went to Wimbledon, and would want me (Robin) to give them a lift to Sunningdale Station. They agreed for me to take them by car, but not via Kristina's : they did not want risk of delay. I thought that it would be great to see young Tomaz again, and MAYBE find out where Kristina plans to go the next day. June came down in her dressing gown, switched on the coffee machine, and I saw how she reacted to the suggestion ! :-)
June agreed, if we go direct to Wimbledon, to be dropped off no later than 1030. Samantha, was present, and witnessed this decision. She is another person in the car to assist in navigation, etc. Robin thought they can handle things like any congestion charges, parking, etc. June said that the places was outside the conjestion charge area. It's a pitty they would not be there, for a few minutes at least, to witness what reception awaits Robin by the landlady. He expected Robin would get blamed again, saying it's his manic behaviour :-) No such things are said now that June is involved with helping the Bansal family in our village, when it was only Robin a few months ago. See Ajay . The visit went well, with Robin being welcomed into the house, and the landlady Becky, asking why Robin was there, but having to shout because she was still hoovering the floor. The boyfriend sat on the sofa, and smiling, said he'd only been there a day. Soon after a tearful Kristina appeared in the doorway, saying that she was now being kicked out today, and so her luggage would need to be moved. The important thing I noticed was that Becky made a point of correctly saying "TomAAS", and much later, gave him a hug before Kristina and he walked slowly along the street. By then I was well outside the property, and it did look as if Becky might try and provoke violence between her boyfriend and myself. This was unlikely, because he was friendly and suggested that I move my car further along the street, which I did. However, at one point Becky came out of the house, saying she had called the police. Perhaps she was trying to frighten me away ? Anyway, it was my opportunity to call 999, speak to the police, and say - that if there was such a call - I was able to provide more information. The police operator was not interested in my giving the link to this page, "www.gpss.co.uk/aa2019a.htm", and the conversation was so time consuming, that I had to remind her that our conversation was recorded at her end, and that I had to terminate the call.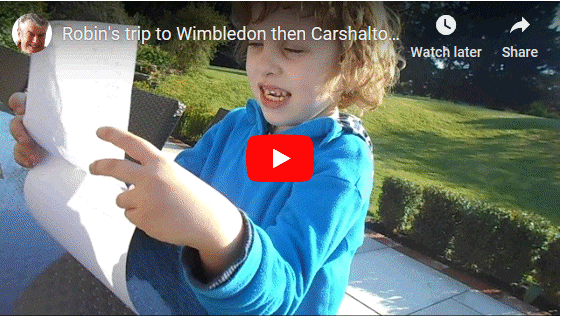 Eventually two police officers arrived, and went into the house for some time. The lead lady officer came back to me, waiting by my car up the road, and took a statement. She was then interrupted on her radio, and joined her colleage. At one time there was a temprary visit by two officers in a plain car. Over what seemed a long time, more and more police arrived, and I could see a white vehicle with flashing light, further down the street, to where Kristina had been walking. As events happened, I kept people informed using my mobile 'phone, and this included my wife, and my friend Dick. The key breakthrough was when I 'phoned Kristina's father Rudi, in Sydney, a bit before midnight Australia time. That call lasted a long time, because I was able to walk down the street and join Kristina, Tomaz - sat beside a young officer on the pavement, having a friendly chat. was able to give my 'phone to different people, and let Rudi speak to them. This included Tomaz, Kristina, and several police officers. It was sad, but understandable, that the senior officer who was watching, did not accept my visiting card, with my full contact details, and www.GPSS.co.uk He said that he was "Not interested in self promotion" :-)
Eventually I left the meeting, since I could see that the situation was now good. I bade my farewell, saying something like "Well Done Lads, we know that Kristina and Tomaz are now in safe hands ! I guess I should have said, "Lads and Lasses" :-) I then walked back to my car, still talking to Rudi in Sydney. I then drove to my relative in Kingston, to relax, eat, and chat, before returning home in my car, before it was completely dark.


Next morning I got the good news from Rudi Rolih, Kristina's father in Sydney Australia, to say he had spoken to Kristina. QUOTE: I was in contact again with K around 10pm your time. She ended up paying for a serviced apartment for the night - preparing to go out to get food for T for the morning. Plan then is for a taxi back to the BnB to get her stuff and meet the van. Police offered to escort her in and out of the BnB. Given the landlady's erratic behaviour I expect K to take them up on the offer. Cheers, Rudi. UNQUOTE
Update here at 1145 BST Wednesday 17th July 2019. After 'phone calls, SMS, and emails. Robin shared his reply with others.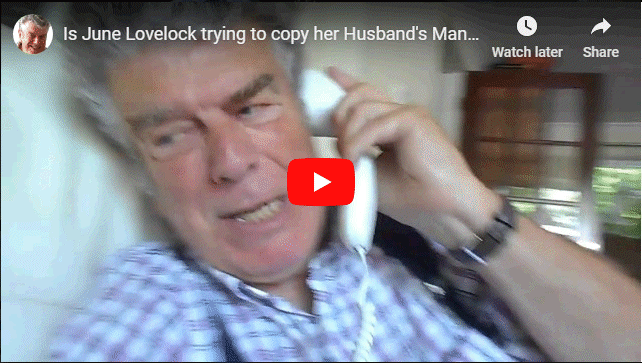 All is good with Tomaz and Kristina, now on way from London, to the Signature Ascot Grange car park, in the Ascot Cars VW Transporter Shuttle, reg GF17 WHT. Expected Time of Arrival (ETA) is Midday 1200 BST ( 1100z GMT).
I just got a text (SMS) from Kristina, say "10 minutes away", So on time :-)
All concerned have been asked NOT to call my mobile (on me while I take a much needed doze upstairs ;-) until midday, their ETA.
The same applies to my wife June, only just back from Royal Ascot Tennis ( yea sounds grand ain't it :-) who has not been able to handle things in past few days. More here in due course.
Ascot Grange Reception have been briefed, with lovely Arzu(?) taking the call. They now know details of the Rolih family, including father Rudi, in Sydney Australia, little 6 year old Tomaz ( prenounced TomAAAz :-) and lots of luggage. IF they stay at the Signature Ascot Grange, it will be after Kristina and Tomaz have inspected the room, including it's facilities for her to cook the special needs of Tomaz.
Before making a decision, they will wish to go across the road to see the room already booked, for a week, in the past hour, with lovely Scottish Stephanie ;-)
June got back from Tennis, and was asked to read the notes in my Desk Diary, and give me (Robin) a wake upstairs, in case I was still asleep. I heard a car leaving, and mistakenly thought it was June, attending to a call from the Bansals in the village. I came downstairs, and saw June sat, looking tired, in the lounge. She said she had not looked at the notes in the study, or presumably this section. I just said very gently to her, "Just concentrate on getting some sleep, and relaxing. OK ?". I got the familiar "Robin's Manic" expression.
As this video explains, I love June to bits, but I must admit being a little irritated, by being considered the only one he is bonkers. I love the way my dear Sister signs off. That's "Bonkers" not "Bonking" :-)

Hi Tomaz and Kristina. Great talking to you both just now, to reassure you that this "Care Home" ( on map near us ) is more like a Holiday Hotel, but has expert care for those who need it, when they need it.
If your Russian friend has to get you out sooner, at the very least, tell us you are coming, and aim for Ascot Police Station. That is the fall back option: you will then be within the area of my police contacts, Social Services, etc. Let me CC this to my friend Dick, who lives at Reading, and is an expert of Care Homes and Social Services, etc. That's Dick with his wife, with June and me, above the words about you in www.gpss.co.uk/aa2019a.htm I'll try and paste them in below. Good that you have a Laptop.
I love that "Man to Man" talk I just had with young Tomaz, and I'm sure he will be the Man and care for you. e.g. be good when you ask him to be good. Also, you may like the places near here, if you get here. You will like the Retirement Hotel / Care Home "Signature" ?? - but you will LOVE our robot boats and Bray Lake.
No lack of Bray Lake videos on that "Snoopy" page www.gpss.co.uk/autop.htm Have your Russian friend Anton look at it - and my friend Alexey now in St Petersburg, from Novosibirsk in Siberia. Also this years holiday in Sicily, when we met another Aleksey from St Petersburg at the top of that volcano :-) www.gpss.co.uk/holiday.htm - I have friends in 150 countries, and we have some rich Russian friends where my old friends and I often eat. I will CC one of them now, Stuart. You will see him and I playing with model aircraft and rockets ! :-)
Good that June spoke to you both, on speakerphone at your end, and was still watching tennis. Now, I've eaten my 3 weetabix for breakfast, and will go up to add some more hours of sleep to my day :-)
Your friends can use the Russian or Greek translation flags, but videos only play from the English pages. Be a good man Tomaz - look after you mum: she taught you to read VERY well. Well Done ! :-)
You will all like the puppy dog video :-)
Love and Strength !
Robin ( and June Lovelock ) in Sunninghill
1730 (BST) UK Time Sunday 14th July 2019
"Conspiracy Theories", and Grumpy Men's Taste in Women. First made here at 1730 BST ( 1630z ) on 14 July 2019, after 'phone calls and emails with others. Robin shared his reply with others.

Interesting Information for those into Conspiracy Theory or Cyber Security. It maybe of interest to Journalists, or somebody researching the local history. See the link below. June is watching the Men's Singles Finals on Lounge TV BBC1 HD Live ( Their clock matches our mechanical clock ) on matelpiece. Earlier, on our Bedroom TV upstairs, I had woken up to see the Women's Invitation Doubles. I had a little chuckle, when I recollect, Grumpy Old Men in the pub, discussing if they are a "T*ts Man" or a "B** Man". I am still a "T*ts Man" but recent experience means I can understand a change of preference. Don't forget that modern TV are controlled by the software within them that is prone to error and is often updated over the Net. The Net has never been 100% secure, since my NATO days at SHAPE Techical Centre with June after our marriage in 1971, in Sunninghill Church, not far from where General Eisenhaur, the first SACEUR, had his bunker - under the place that became the Marist Convent, and then the Marist School. As James ( Jim ) Lovelock explained, one should rigourously follow the "Scientific Method", allowing the remote possabilities to be true. It is remotely possible that TV software has been compromised, BUT, it is far more likely that one of these is true: June was wrong when she said I could not have seen that match, on BBC TV Ch 1 Live, on perhaps another court. She checked quickly during a break, because that TV upstairs cannot see Ch 101. Or, it is possible that I dreamt it, since I was catching up on sleep, able to simply open my eyes and see the screen. But, I do remember watching with enjoyment, the plump figure of the French lady ;-)
Robin often sat down briefly with June, while we watched Wimbledon on BBC1 HD ( Ch 101 ) in our lounge.
Robin congratulated June on how well she had dealt with the Bansals, below, while he was busy on tasks such as this page, and related topics.
The Men's Final has just finished, with Djokovic ( Serb ) winning against Federer ( Swiss ). Earlier, having seen both players, I was happy for the better man to win. i.e. both seemed as if they can cope with pressure. June said that she had wanted Federer to win, because he was older, and this might be his last chance. Also, June thought that Federer was the better player.
Next is ladies Finals: Maybe I'll go up catch up with sleep in our bed upstairs. Reference the "Conspiracy Theory" topics above. You may need to be a Grumpy Old Man to understand ;-)

Pictures below support the section above. They are moved down from earlier. Click on a picture to expand it, play a video, or visit another page.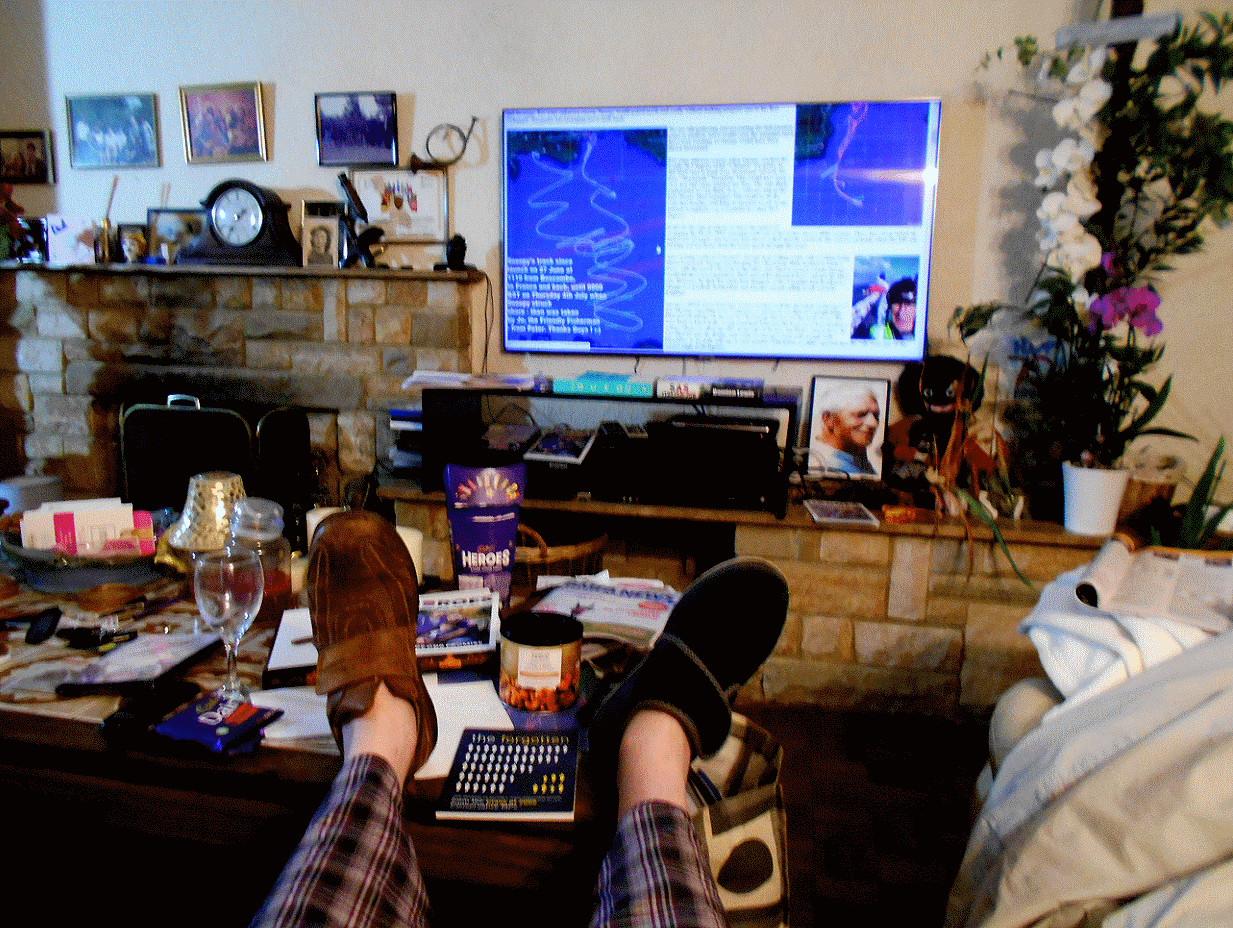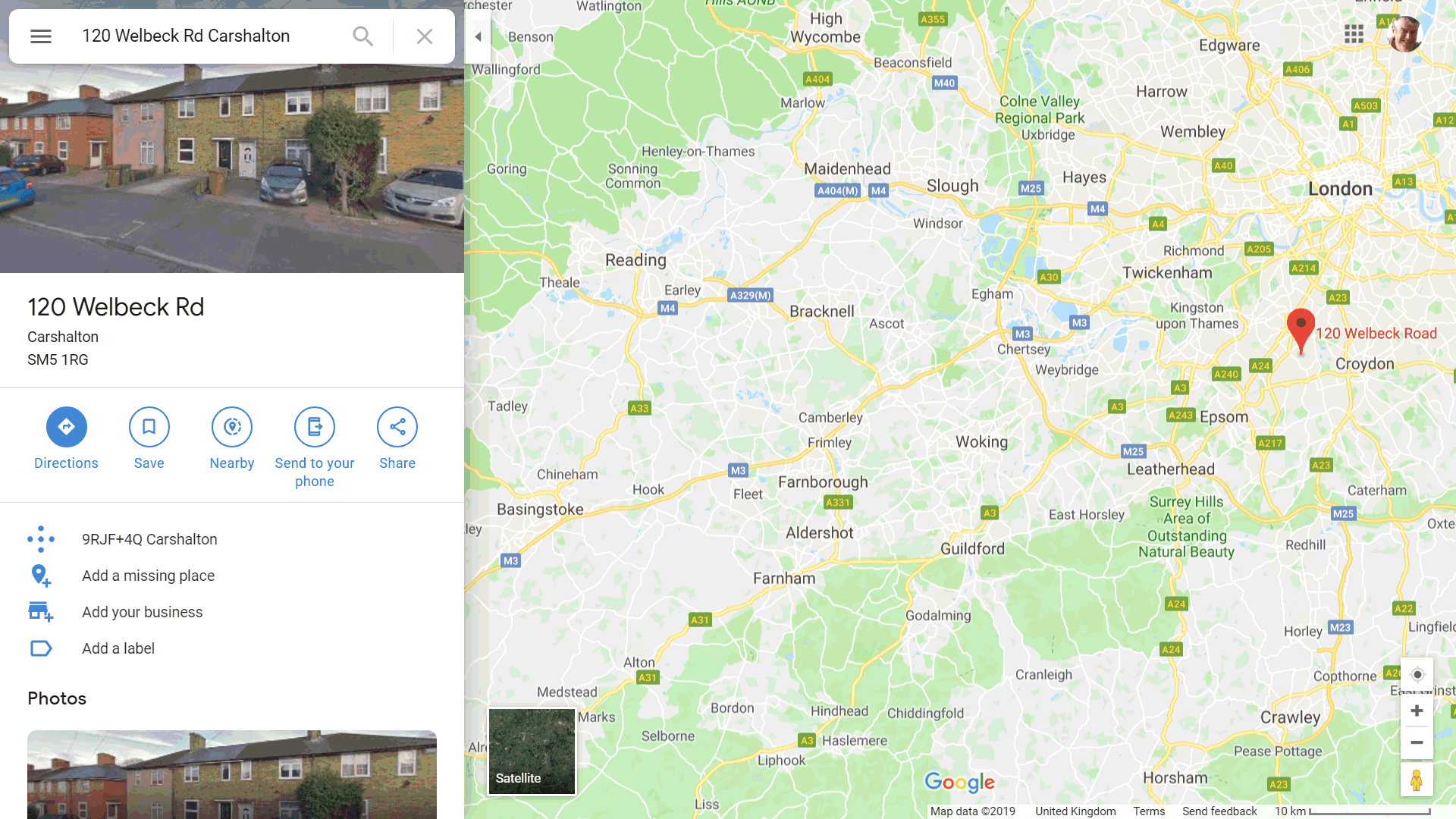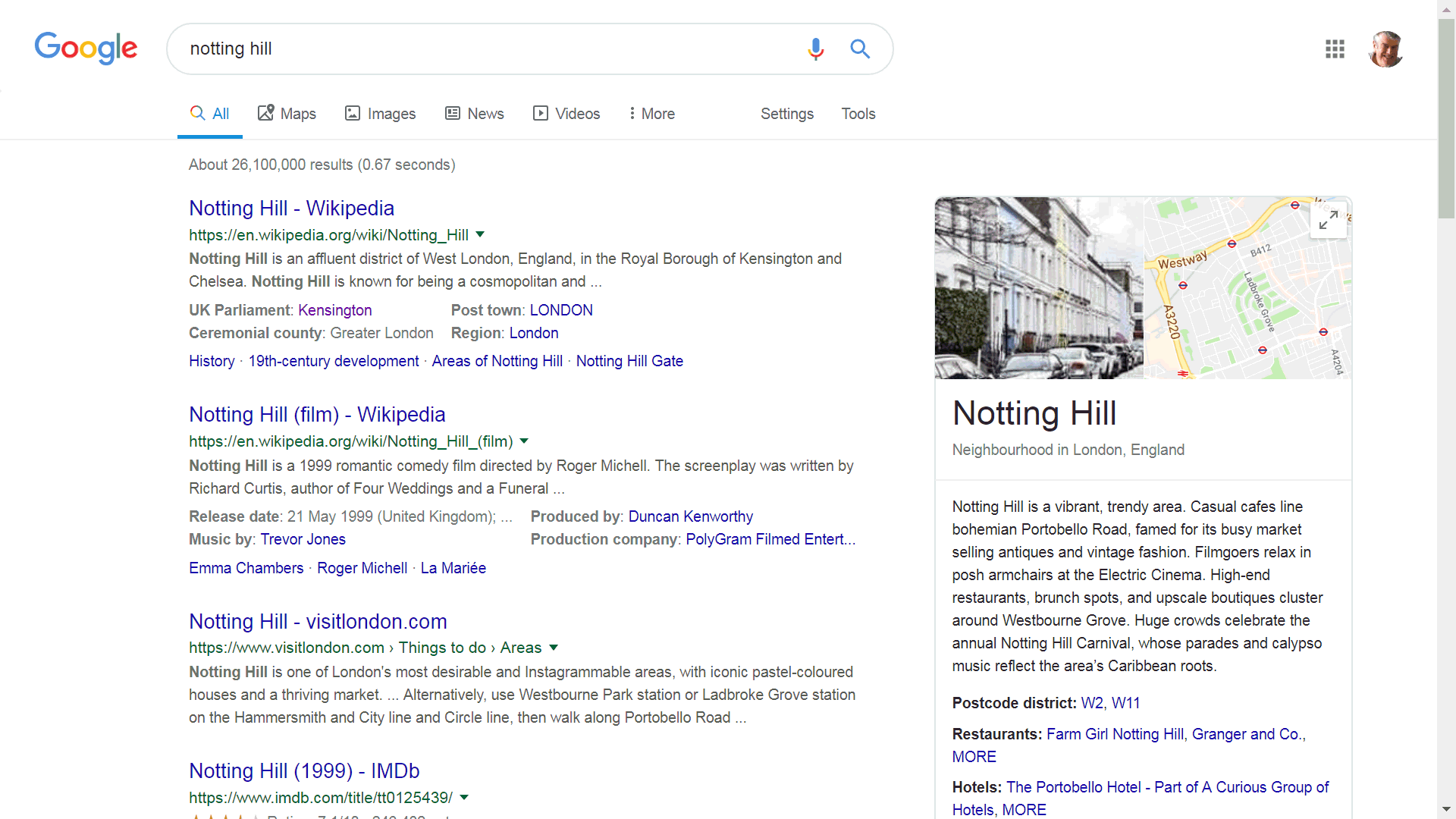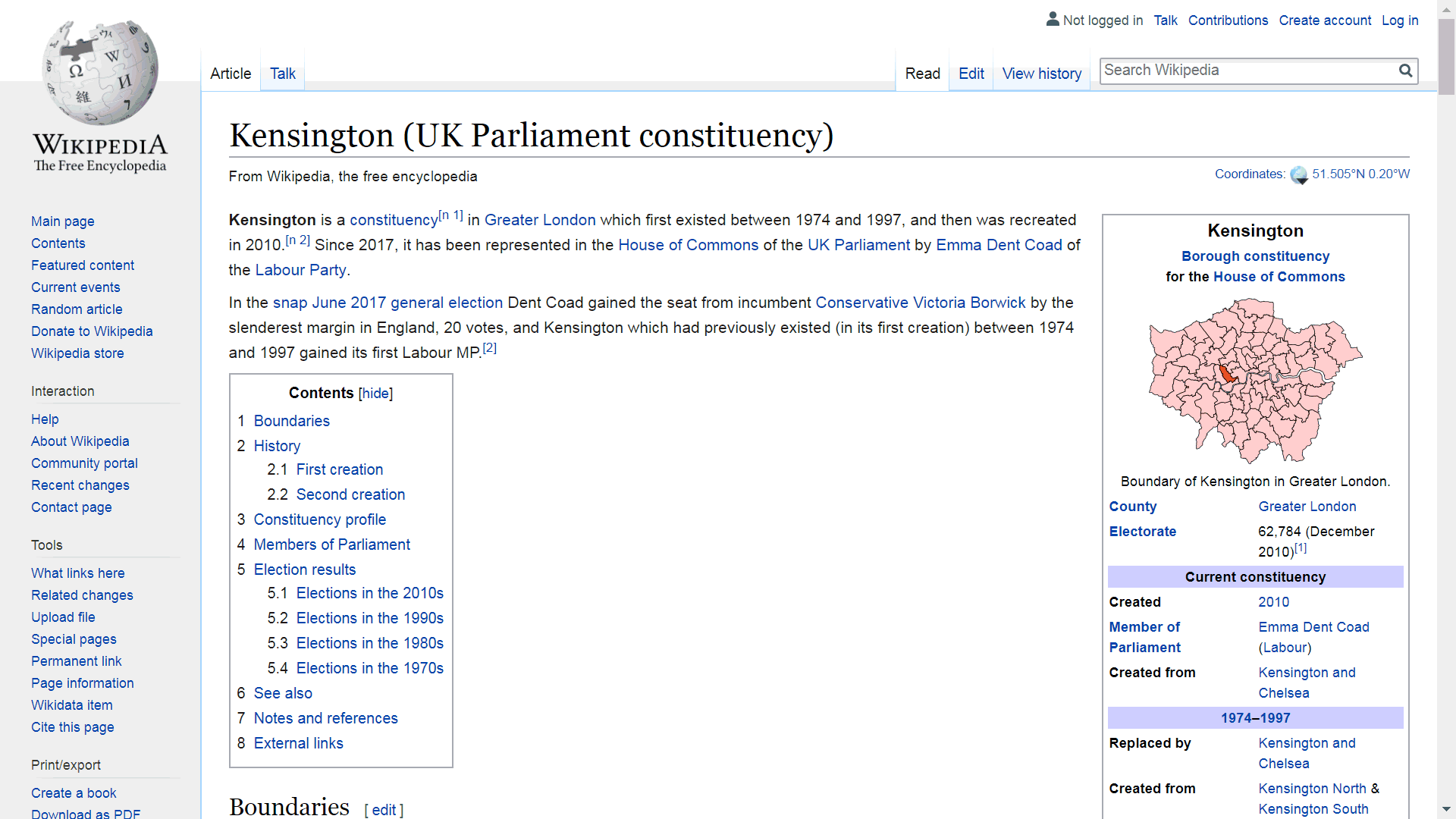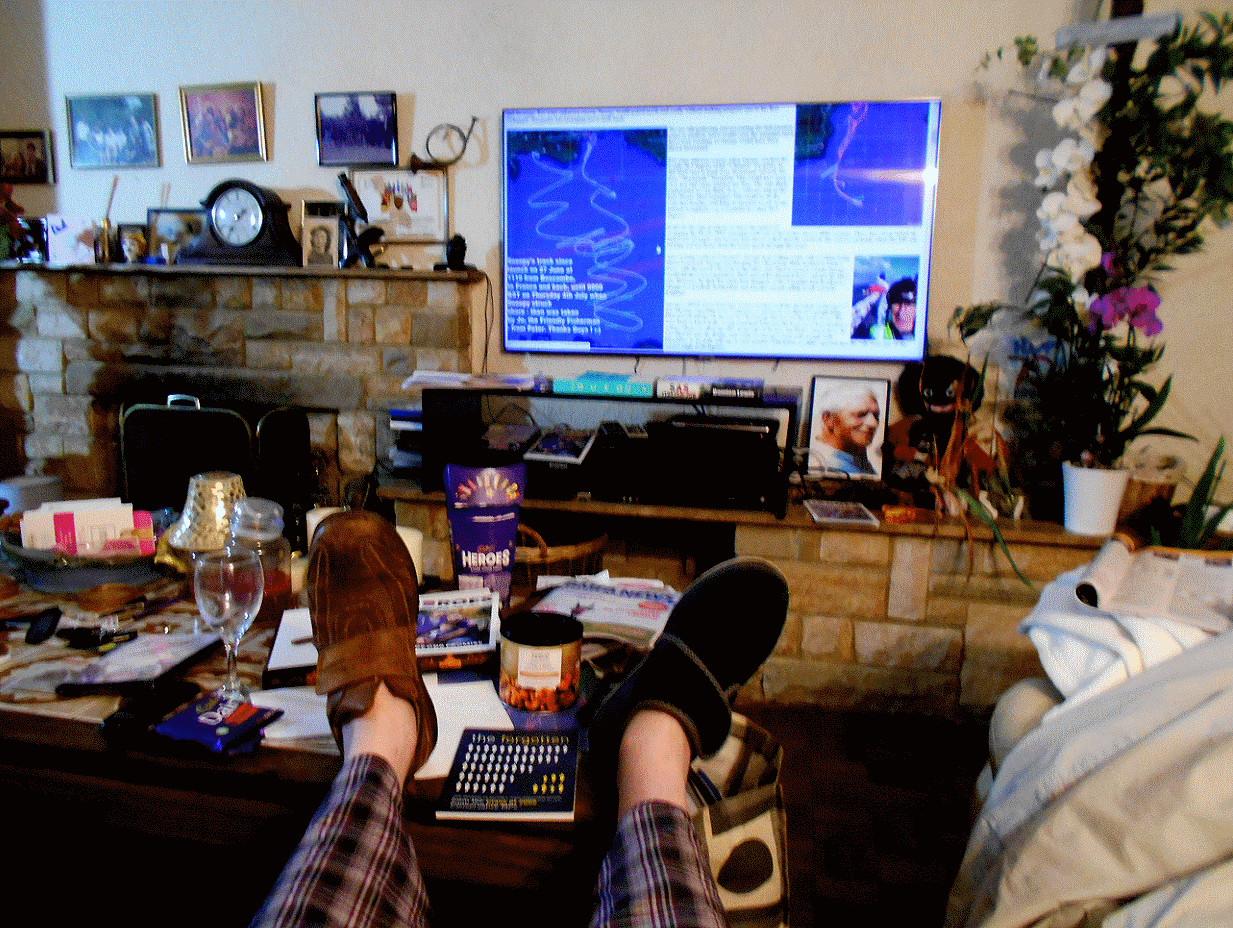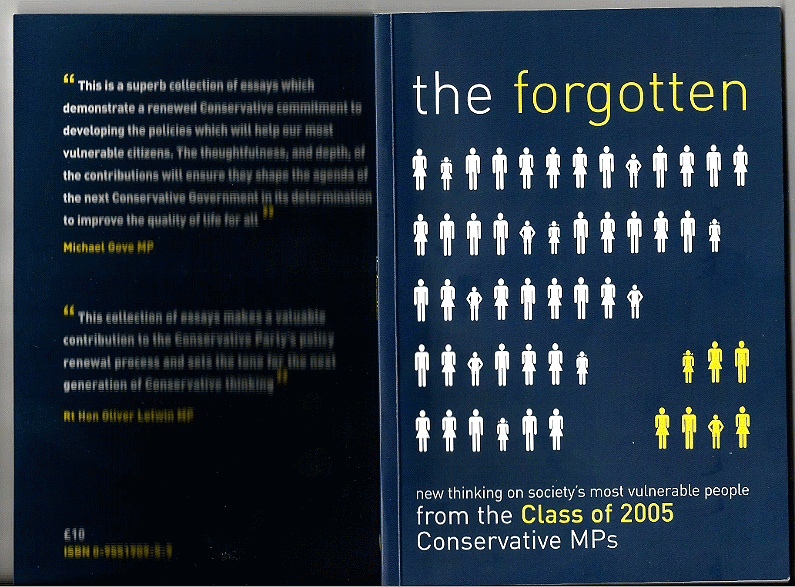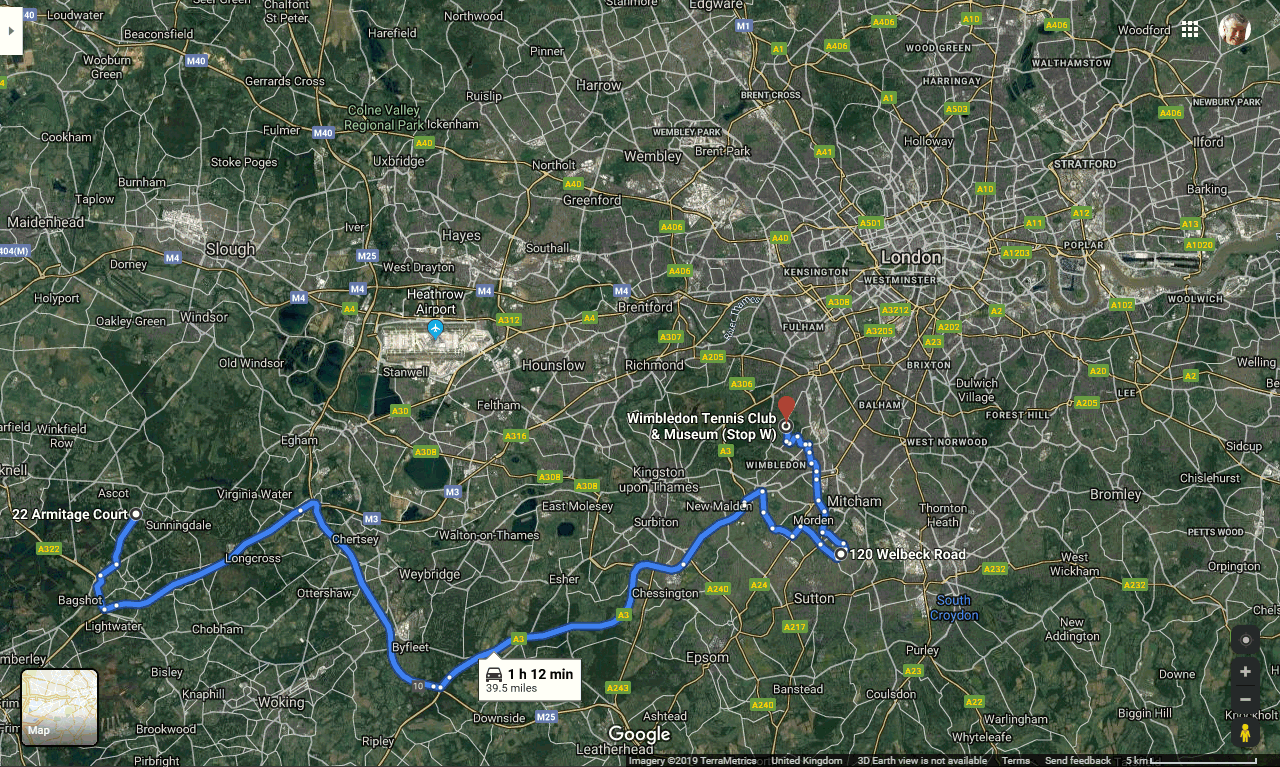 End of section dealing with the trip to Wimbledon and then Carshalton.

IN THE LONGER TERM, THE SECTION ABOVE MAY BE MOVED TO IT'S OWN PAGE.
MAJOR TIDY UPS WILL OBVIOUSLY BE NEEDED, SUCH AS SMALLER, EXPANDABLE PICTURES.
PICTURES AND VIDEOS WILL BE ADDED, SUCH AS 3D VIEWS OF KYNANCE COVE.

Sunday 14th July: Note that old SITREP above has been updated, but much seems good :-)
Robin's Situation Report ( SitRep ) at 1200 BST ( Local UK Time ) Thursday 18th July 2019 ...
Old Stuff: I have plugged in the photo from June, of her and Samantha on BBC1 TV on Court 2 above.
The Tennis has finished, with Federer winning 3 sets to 1. June and I have arranged sprinklers, for visitors.
So they may walk around the back garden, see robot boats, the telescope, and see my "Shed" HQ/Laboratory :-)
We all expect to be here tonight. If June and I don't answer, someone will answer the door or 'phones.
I have spoke to our neighbour Kevin, over the fence. He is in the picture. My SpotT2 is working OK.
I may pop down into our village to talk with the Bansals and Shamim Chowdhury at Nanu's Take Away.
he's been in the village 35 years, is Bangledeshy, as are the Raj Vooj. His advice is the same as mine ! :-)
Robin's priorities have always been having fun, either at home or away. That's right Dick ? ;-) End of old stuff

This public page is obviously being used for non Snoopy stuff - no apologies for that ! Robin.
I also make no apology for the fact that my pages are so confusing - if you have just a little smartphone. The most probably guys able to help me, help others, are supplied with "The Right Tools for thejob". That obviously includes the "professionals", such as some journalists, the military, Air Traffic Control, Energency Services, and a host of other "Professionals". I have friends that include Grumpy Old Men and guys with very little money, who are able to read my pages on a simple Laptop or Tablet. Others, and their are many, including close friends and family, who insist in using the latest technology, without realising the need for proper training, if it is something important. The cases above are certainly important to me.
That is not to say those below might be even more important to June and myself. e.g. the visit to Dave and Pru Marsh in our village, yesterday. It was not so much to see how they are, since it is three (?) years since my last visit, but for the certain interest of my ex-Ferranti friends, who might be considering "popping in" to us, as I suggest near the top. The vone most in my mind is Carol, the recently widowed wife of Barry McCullock. I hope to add a link to that lovely page of memories soon. But I thought it wise that you see all the stuff above before you ring or pop by.

The Contents List below, MAY work :-)

Contents of Snoopy page (click on a link to skip to that section) :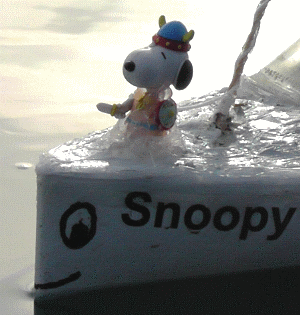 An important message to Americans, from Snoopy the Viking ...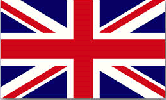 "Hi Guys ! I've lived so many years in Europe, I hope you don't think that I have "gone native". These clothes were given me by McDonalds, when they gave out clones of me around the World, and they are appropriate: Vikings were the first to reach American shores, long before the French or British. I'm looking forward to coming back home to my mother-land of USA, if and when that idiot Robin succeeds in making me a suitable boat. Sorry about his insistence in our boats flying the British Flag: I'm sure he is only doing it to annoy you. I often hear him muttering, 'we should never have worn red, and marched in a straight line'! I hope to see you soon: I will give you plenty of warning !"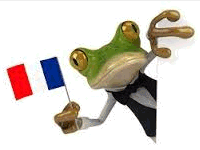 the French ENSTA-Bretagne boat, braving the Atlantic waves !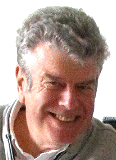 My Home page has had FAR more visits :-)
I would like to thank the many thousands of "enthusiasts" around the World who helped us test and improve GPSS. This was a family business, but it is still a great network of friends. Thankyou.
© 1991-2019 Robin Lovelock.
Robin Lovelock, Sunninghill Systems, 22 Armitage Court, Sunninghill, Ascot, Berks SL5 9TA, United Kingdom.
There have been

visits to this page counted by Digits Web Counter since 7th July 2019. How the Web Counters work is explained at the bottom of the Snoopy page.
40% of the World's Population of 7.4 billion people are now on the Net. Thank God they don't all visit this site at once :-)
Some may wish to bookmark these sites below. Some people have all the site on DVD or a USB stick.
This copy of GPSS.co.uk, www.gpss.co.uk is hosted on user28153.vs.easily.co.uk and www.tsogpss.co.uk.gridhosted.co.uk
The old hosting on www.gpss.force9.co.uk was to end in January 2015, but still seems to be there :-)
Your browser is on

.



© 1991-2019 Robin Lovelock. Please credit www.gpss.co.uk if you use material from any of these pages. Thankyou.