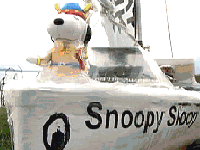 Home . About . GPS . Downloads . Business . Partners . Contact . Family . AVL . Links . History . AsOnTV . Snoopy
Snoopy's "Paint" Page
updated 1pm Monday 17th November 2014 UK time.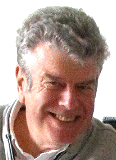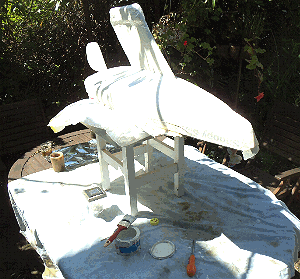 You may have reached this "Paint" page by accident, or from Snoopy's Robot Boat "Front" Page. Click on the link to know more about Snoopy's robot boat intended to cross the Atlantic, from UK to USA.
This "Paint" page was created in July 2014, to give details of my looking again at the paint we should be using on Snoopy's robot boats, prompted by the fact that our repainting increased the weight by another 0.3kg. How much of our 15kg+ boat is already that of the paint ? If we are going to add weight with the paint, we had better use the most suitable for the job.
Below you see both sides of the "Snoopy's Paint Test" sample, that I left floating in Bray Lake for a few months - to provide an objective test on some of the paints we have used, and other's I had around the house. No point in spending money without good reason !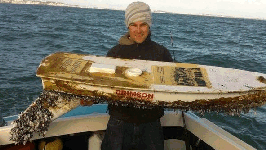 Boat 10, Snoopy's boat for the 2014 Atlantic Attempt, has been coated in International Perfection and Trilux 33 anti-fouling paint in recent months, and that's how we plan him to remain, when he makes his attempts. This was after reading of the model boat that was found off the French Coast, covered in barnacles. See left! You will see this mentioned back in February 2014, in our blog.
I've used the "International Perfection" paint in the past, and it certainly seems hard-wearing: the nice lady at Penton-Hook Marina, said "10 years" - but that it was not suitable to paint over other paints, or it might flake off.
That's why our sample now has corners where the Int'Perf'n is painted over something else. We immediately saw a bad reaction between it and Ronseal Yacht Varnish - the two part International Perfection attacked the varnish soon after it was applied. But - so far - no such problems have been seen with the other paints. Time will tell - months in the water !
Next year, we may use a different combination of paints. e.g. I only saw recently that Trilux 33 is NOT to be used ABOVE the waterline!

Our sample was deployed on 18th July 2014, on a bit of string, tied to a brass eyelet screwed into the Bray Lake landing. We will see what the coming weeks bring :-)

Here are some details about International Perfection Paint and Trilux 33 Anti-Fouling Paint .
I'll add more to this page in the near future.... I guess "near" is a relative term :-) These photos taken today, 17th November, 4 months later ... Trilux wins ? :-)


© 1991-2014 Robin Lovelock. Please credit www.gpss.co.uk if you use material from any of these pages. Thankyou.