Home . About . Contact . Family . AsOnTV . Holidays . NHSCare.info . Grumpy . Snoopy
How we made Snoopy Sloop 12 from Eric's IOM boat .. and tested it !
Last update 2000 Thursday 12th May 2016.
GPS firmware update fixed the Autopilot problem ! Good Goldsworth Park Test with Video !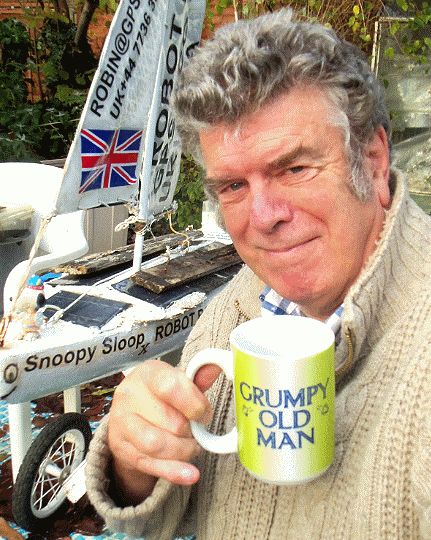 From Robin Lovelock: This page is the "Boat 12 Blog", and describes how Eric's second IOM radio controlled model boat was converted into another of Snoopy's robot boats. See the Snoopy page to know more. In brief: In 2008 I became "hooked" on the idea of a small robot boat able to sail itself accurately across the Atlantic, from UK to USA. After several years of prototyping, I ended up with a GPS-Autopilot and SPOT tracking system, capable of being carried on a "Marblehead" 1.2m/4ft long boat. This was the smallest boat able to carry sufficient solar panels to keep the system running.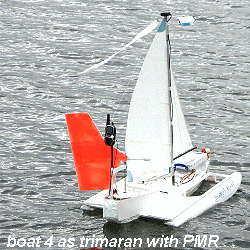 My recent experimental work, on things like better solar panels, and an even lower power Autopilot, means that even a one metre boat might be used in future years. At the very least, it would be fun to see Eric's boat sail itself around a few of his favorite local model boat club waters ;-)
You can visit Eric's Page to see his "on water" videos and pictures, which led to Eric giving me yet another IOM to play with. This is the second boat Eric has given me: the first was our "Boat 4", also an IOM, which sank in 12 feet of water on Bray Lake - but, as our videos show - we used underwater CCTV to rescue it, so it could sail again. Boat 4 ended up being converted to a trimaran, and is now in my garage. However, this time we filled the hull of our new Boat 12 with foam, BEFORE risking it on Bray Lake !
Boat 12 started as "a bit of fun", particularly the idea of trying it on other lakes. However, it seems the boat has a lot to teach me - especially after it smashed The Bray Lake Test time. Depending on wind direction, my other boats might take up to an hour, and rarely as fast as 20 minutes. Boat 12 did it in 15.5 minutes !

These pictures are from the page: Robot Boat progress in 2008 to 2010.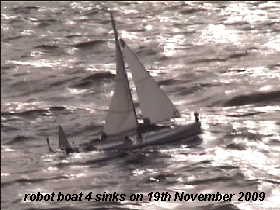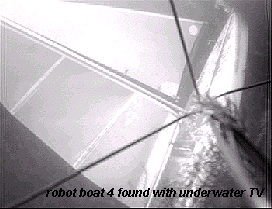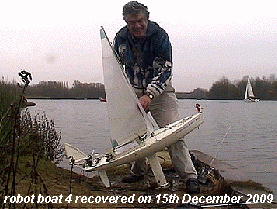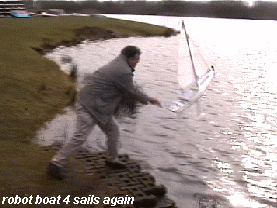 Some videos of Snoopy ...
Left to right: Rescue of IOM Boat 4... Eric's Micro Magic video... 2014 video with lots of history... Snoopy's last attempt in March 2015...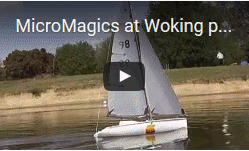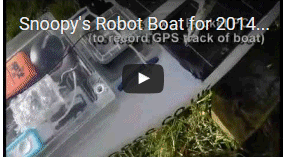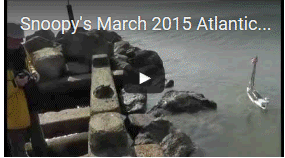 We started with Eric's International One Metre (IOM) Hull and Keel...
Below is the hull, after careful removal of the sail winch servo, and filling with foam - so it does NOT sink on Bray Lake !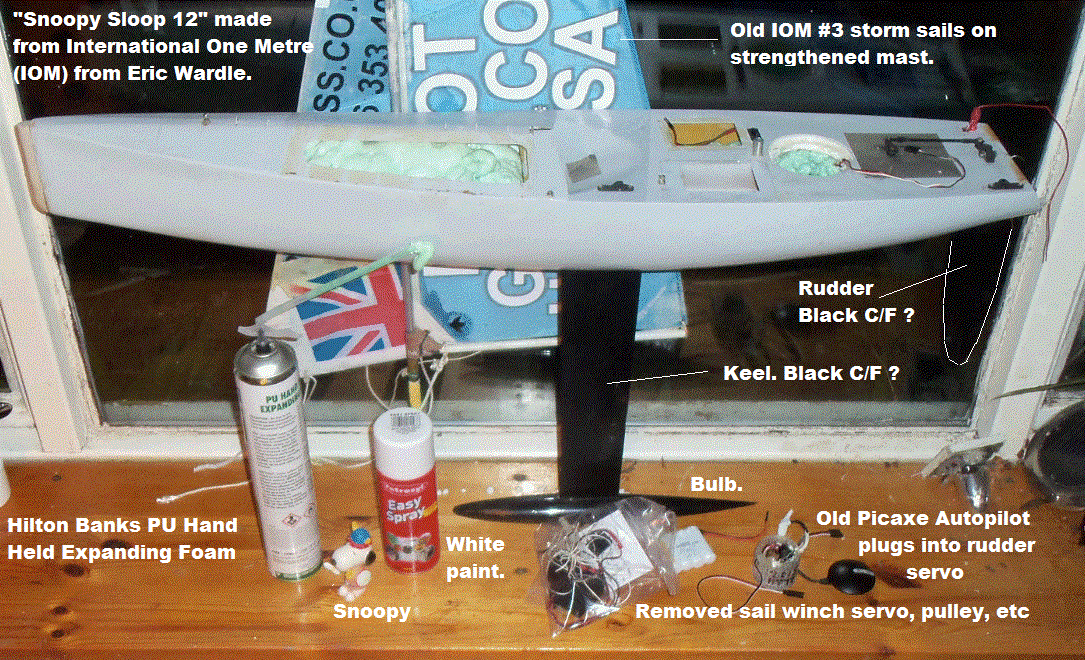 Tuesday 19th April 2016: We collected the boat from Eric on Sunday 17th April 2016. Within minutes of getting home, an old Autopilot was plugged into the rudder servo - and it worked first time. i.e. started with the familiar "left-right-left-centre waggle" WRONG ! See Wednesday below - should be "left-centre-right-centre waggle". and no need to reverse the servo linkage. The old plastic can that normally houses the radio control receiver had become brittle and fell apart. It will be replaced, and will hold the Autoipilot and 5v battery. The sail winch servo mechanism was removed, for possible future use if the boat is returned to normal IOM model use. This included the power switch, wired into the servo, now replaced by a new switch, with standard Futaba connectors. Hull access holes were exposed, by peeling off the sticky plastic, and foam added CAREFULLY, so the hull did not explode. It did not take long to add the rig, using those old IOM #3 sails and an old mast and boom assembly. It's a great day for it, so I sprayed some white paint over the boat and hung it out to dry. Click on the pictures if you want bigger ones. The hull with weighed exactly 4kg. Adding the rig, paint, battery, Autopilot and a new solar panel (if we added one), brings the total to 4.35 kg - a LOT lighter than our current boats (typically 15.5 kg). Less weight means faster ;-)
The SPOT Trace and old Autopilot pop nicely in the holes available. Snoopy and lettering, protected by varnish was added. For now, we can cover with sticky white plastic.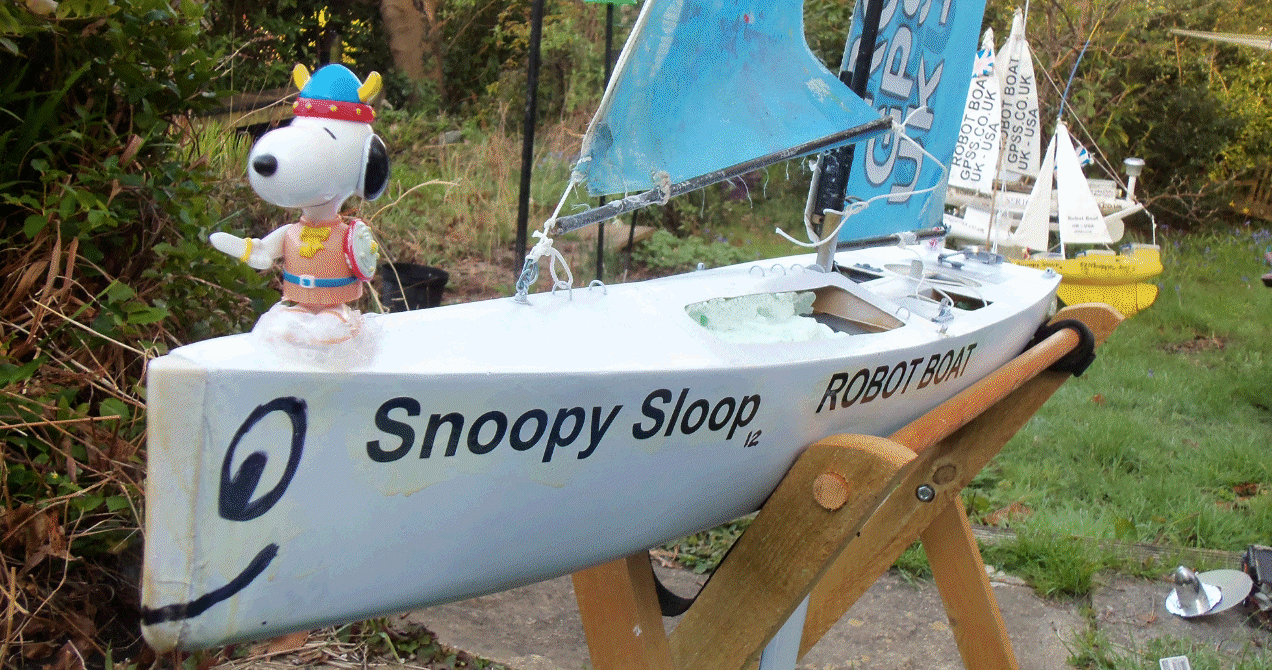 First Bray Lake Test on 20th April : Snoopy needed a rescue ...
Snoopy's Bray Lake Test ... sail 530 metres automatically, through 5 waypoints ...
Wednesday 20th April: Boat 12 had it's first Bray Lake Test and LOTS of silly mistakes were found and most quickly fixed. Eric and others could watch the SPOT Trace positions update on the Spot Trace Map , from my leaving home, time at Bray Lake, then return. Yes, we got Snoopy back OK :-)

Snoopy sailed fast, in the breeze from the East, but insisted in steering wrongly, and not getting away. I was mistaken in yesterdays check of the rudder servo direction !

This was quickly fixed by changing the servo linkage. Snoopy then sailed rapidly out to waypoint A, then B, in just 5 minutes.
Click on the pictures if you want them bigger. I'm pointing at the Autopilot, under the deck. Above is the GPS Logger. Mobius video camera to right.

Nice Mobius video, but I forgot to re-start it after I fixed the servo linkage. On the right, below, is the reversed servo linkage. I should have seen that the GPS logger was hit by the main sail boom - which did not help sailing ! When I moved it to a better deck position, I should have changed the duck tape: that's why we lost the GPS Logger somewhere on the lake. Luckily we still have the Mobius camera. If I'd remembered to re-start it, we would have video of the good sail, and seen when the jib came loose.
Here are three frames from my video: 1) past waypoint A in ~2 minutes. 2) past B another ~3 minutes. 3) after jib broke loose after ~30 minutes slow progress upwind.
After seeing Snoopy was making no progress upwind, due to his flapping jib, I paid £5 in the drinks kitty for a Bray Lake Watersports rescue :-)

Great Bray Lake Test on 21st April : completed in a record 15.5 minutes !
Thursday 21st April: That's Snoopy about to hit the shore near Base, after completing the Bray Lake Test in a record time of 15.5 minutes ! I drove through rush hour traffic to reach Bray Lake at 0900, so I could get back in time for pub grub with my "Last of the Summer Wine" team of grumpy old pensioners.
The best times before, with other, bigger 1.2m boats, was over 20 minutes, and only when wind was in the "perfect" direction: from the North-West, so no legs were directly upwind. We had a light breeze from the North-East, so much of the return route was upwind. I'd tied the jib more securely, and in a different spot, which may give a better sail form. Eric and others could watch Snoopy leave home, sail on Bray Lake, then return home, on the Spot Trace Map .
You can see the exact times at waypoints, by clicking on these video frames below, and reading the time stamp in the low-left corner. e.g. Snoopy left Base at 0908 and returned to hit the shore at 0923+30 seconds.
"Pub Grub" then coffees with friends occupied my time for a couple of hours, followed by a very welcome visit by Roy with bright ideas. e.g. a "vibrator" for the SPOT Trace made using a servo motor and eccentric weight. That is now on the "BlogX" page.
See the 6 minute video after the pictures.

Launch from "Base" at 0908 ..... Just before Waypoint A and turn right at 0909+30 secs ..... Just after turn at A ....
Just before Waypoint B at end of lake .... After the turn at B at 0912+15 secs .... Passing the buoy near Waypoint C at 0916 ....
After the turn at Waypoint D near the island at 0918+40secs, to return to Base.... Near Base .... After hitting the shore at 0923+30secs ! :-)
Pictures above may look very similar, but they and the video hold important information - like how fast Snoopy did it ! :-)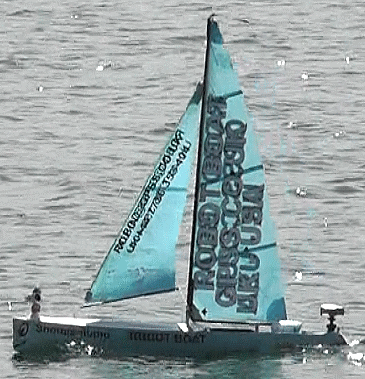 Friday 22nd April: Here's the 12 minute video and a map showing Snoopy's progress, both Wednesday and Thursday. The last 6 minutes is Thursday's video unchanged, preceeded by 6 minutes video from Wednesday, when Snoopy only got half way, because that flapping sail prevented him from making progress upwind. Wednesday has good video taken from the bank with my good Panasonic camcorder. Sadly the battery needs changing, and that's why it let me down on Thursday. The map would normally have shown the detailed plot from a GPS Logger, but we'd lost that on Wednesday: it's probably at the bottom of Bray Lake ! That's another little job for my list: dig out information on that cheap Ardulog SD card logger, order one or two, and add the GPS and battery. Next time, I'll make sure the box floats ! Times at waypoints are good, based on the Mobius video. I'll let you calculate the speed in knots/mph/kmph for the downwind legs Base-A-B-C compared with back upwind, C-D-Base. Other jobs competing for my time: 1) make a slightly bigger video which includes a brief summary of the earlier day's half completed Bray Lake Test on the 20th. 2) build at least one more Autopilot from the spare Picaxe 28X2 and BR355-S2 GPS that I now have. 3) Add some more waypoints to the Autopilot software, to support Boat 12 (or others) sailing at those other local lakes that Eric has visited. 4) Make a "timed vibrator" for SPOT Trace. All these are "background" activities, to amuse ourselves, while we wait for that Atlantic Attempt with Boat 10.
Saturday 23rd April: Above picture added, from Wednesday, before the jib was tied in different spot, giving better tacking. Lesson for Boat 10 and 11 ? See current Blog.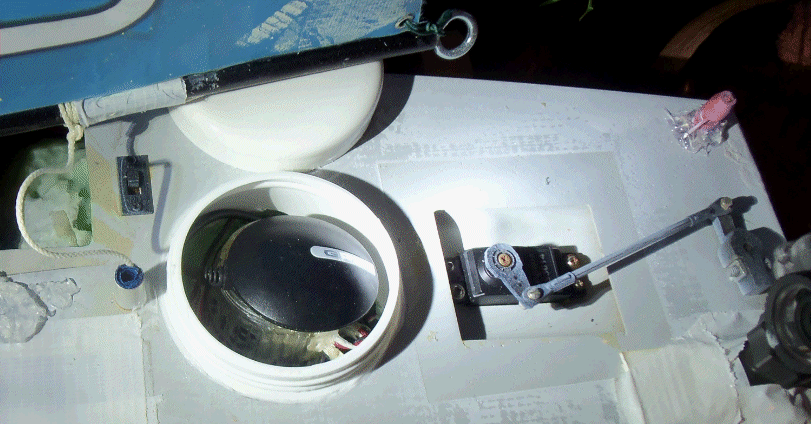 I was really lucky to find a white plastic screw top container that was EXACTLY the right size to fit into the hole in the deck, where the original r/c receiver container was. That's where the Autopilot goes now: you can see the BR355 GPS. The container was empty and clean in my junk box and the label, in several languages, said "White putty for wood".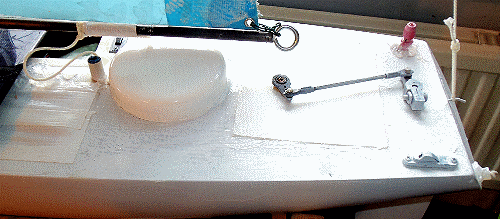 I sawed off the bottom, and glued it in with white silicon sealant from Wickes. When the lid is screwed on, there's about 1/4" (6mm) clearance from the mainsail boom. White sticky plastic will be used, as before, to cover the rudder servo hole.
Monday 25th April: I used stiff white plastic sheet instead. Scissors cut it 10cm x 10cm and made the servo spigot hole. A big blob of grease was applied to the spigot, the sheet was glued down with double sided sticky tape. The servo arm was put back on and a light spray of paint applied at back end. The edges of the sheet were smeared with white silicon sealant. Now we need to decide how to tidy up where the solar panel sits, to the left of these pictures. Then assemble a Picaxe 28X2 Autopilot and add waypoint for places other than Bray Lake. e.g. Goldsworth Park next ? Here's a picture from Eric's page....


I've just added this to the "Experimental Blog" on BlogX ....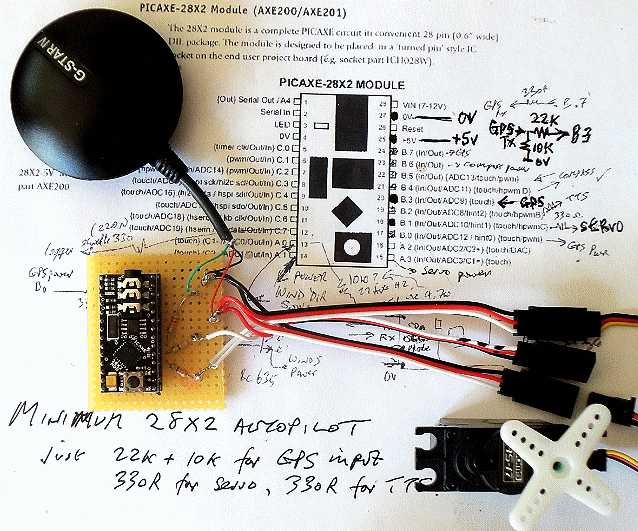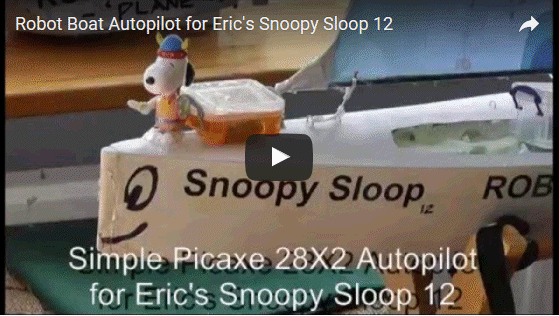 I've now wired up another Picaxe 28X2 Autopilot for Eric's IOM Boat 12 so we can try it on other lakes. Click on the picture to read the details, including my scribbled notes on pin connections, resistor values, etc. The 28X2 has a lot more memory than the old 08M2 based autopilot Boat 9 used last week, to smash the Bray Lake Test record - doing the course in 15.5 minutes. This "Minimum 28X2 Autopilot" does not include the extras that we got working a year or two ago, like power switching, compass, etc. Just a nice KISS GPS-Only autopilot, like that used for years in our Atlantic attempts, but with the bigger Picaxe 28X2. I loaded AP28X2d.BAS of the Autopilot Software, which has all the logic used in the 2015 Attempt 08M2 Picaxe. I'll soon add more waypoints for other local model boat lakes. The replacement battery for my Panosonic Camcorder arrived, so I now have a working camcorder for Bray Lake and other places. First use was this 1 minute video showing the Autopilot working. Click on the Youtube video on the right :-)


Thursday 28th April: The old Autopilot was replaced by the Picaxe 28X2 and is ready for software updates to support other lakes. Test equipment, only used on Bray Lake (and others ? ), was added : The GPS Logger sits in a holder behind Snoopy. The Text-To-Speech unit sits in the recess in front of the mast, connected to the Autopilot at the rear by a Futaba extention cable, pushed through the foam. The SPOT Trace sits in it's new "vibrator cradle" described in more detail in BlogX.
Friday 29th April: Today the last bit of "Test Equipment" was added, only used on Bray Lake: the FM Transmitter that transmits sound from the boat to the transister radio on the shore. It's range is only a few hundred yards/metres, but enough for us to hear what the computer is thinking, spoken with the Text-To-Speech. e.g. "Waypoint Alpha 40 metres...". The microphone can sometimes also pick up the sound of nearby wildlife - and people. The wire antenna from the FM Tx goes up to the top of the mast. The Ardulog based GPS Logger sits on the top, and seems to work OK with the FM Tx switched on. i.e. no EMC problems. Both units have on/off switches, and an elastic band holds them in place.
Before programming Goldsworth Park Lake into the Autopilot, we need to decide Snoopy's route ...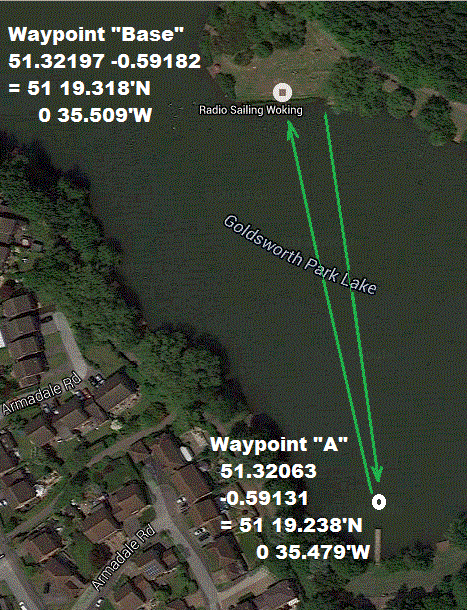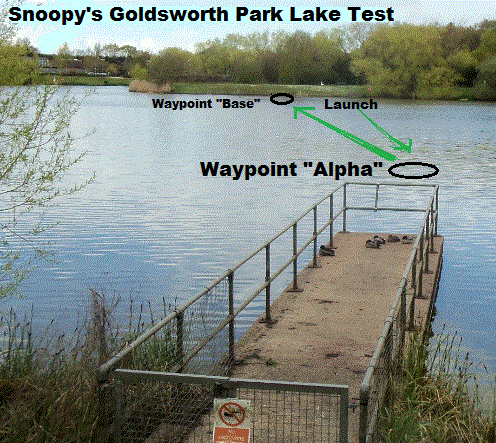 A visit to Goldsworth Park Lake showed that it would be wise to program a straight "there and back" route, between the "Base" where the radio controlled model boaters gather, and the highly visible pier, on the south bank. A triangular route, parallel with the shore, might risk snagging fishermen's lines. Google maps was used to get the lat/lon locations of the two positions, one being just short of the pier, by the pier's length. The Autopilot software will speak these as "Alpha" and "Base". North of Base will make the destination Alpha. South of Alpha will make the destination Base. The next job was to, very carefully, program the changes into a new version of the Picaxe 28X2 Autopilot software. This was done, and it is ready for test. Bray Lake before Goldsworth Park ?
Saturday 30th April: Yes - and it's a good job we did. There were immediately problems after launch: the boat went in circles because the 28X2 Autopilot software holds the rudder over for longer, causing oversteering. This was fixed by moving the rudder linkage, to reduce rudder maximum throw. Snoopy then did the Bray Lake Test in about 20 minutes. The GPS Logger worked some of the time, but did not record all the trip. This was put down to interferrence from the FM Transmitter very near it, and this will be checked out soon. Robin forgot to switch on the Mobius video camera, so we did not get the time-stamped video, as seen from the back of the boat. This would have been useful to analyse the steering, and what looks like lee helm. We may want to "balance" the boat better. More sadly, we missed things like Snoopy's view of close approaches with others on the lake, such as lady paddle boarders :-)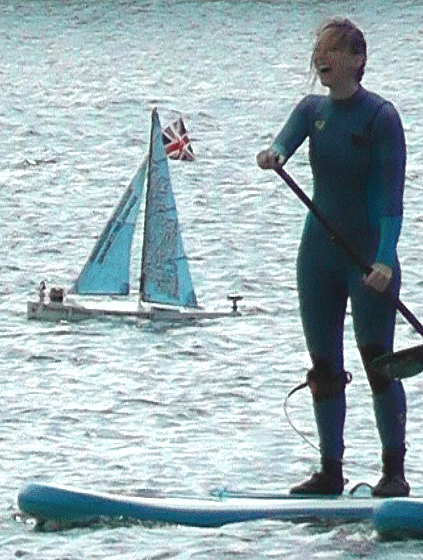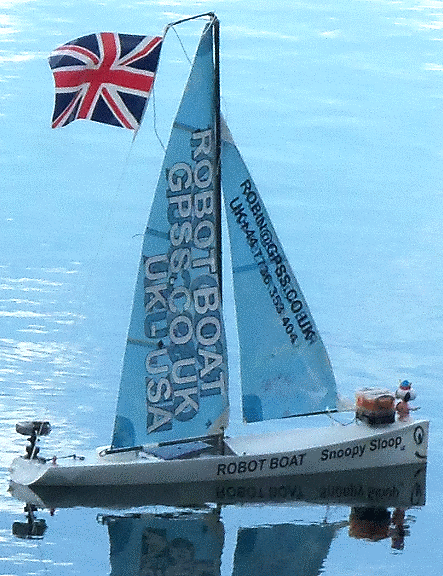 The boat was about 5kg, instead of it's original 4 kg. The extra 1kg was the extra test equipment, such as Text-To-Speech, GPS Logger with battery, and FM Transmitter with battery. Plus the SPOT Trace and that Mobius camera of course. Despite this 5kg, you can see that the boat still sits nicely high on the water, unlike Boat 10, awaiting the Atlantic.
Monday 2nd May:Faulty on/off switch replaced. Rudder trimmed to left to centre it: cause of steering right on GPS Plot, rather than lee helm ?
Tuesday 3rd May: Bray Lake Test in 30 minutes, but overshot "A", almost to far bank. Also bad steering. Seemed to work better on old autopilot, where rudder is centre for greater proportion of time. Problem was diagnosed as bug in experimental 28X2 software, delaying the centering of the rudder. Experimental Autopilot program AP28X2e.bas was updated and now speaks "last update 3rd May 2016" on startup. The GPS Logger, without an FM Transmitter, still gave a bad GPS plot, with "frozen" lat/lons. It seems the Skylab GPS was the problem. This was replaced by a trusty Globalsat BR355-S2 and is reported in BlogX.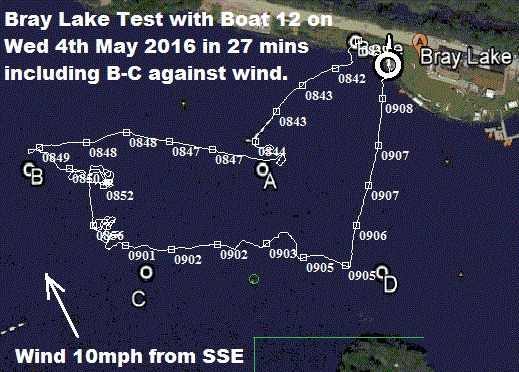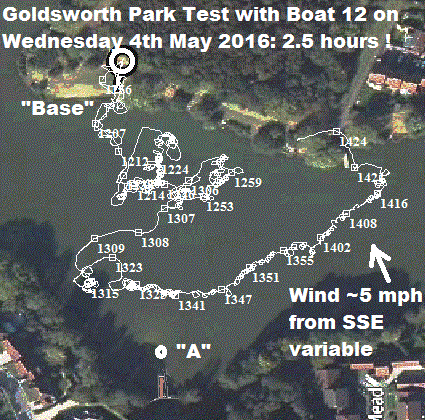 Wednesday 4th May:The Bray Lake Test went quite well, with Boat 12 completing the route in 27 minutes, including the slow leg from "B" to "C" against the wind. The new GPS logger based on the BR355 GPS seemed to work as it should. This, combined with a lovely sunny day, made Snoopy and I visit Goldsworth Park Lake. The GPS Plot shows the result: Snoopy's tour of the lake by the scenic route, lasting 2.5 hours ! No fishermen't lines were crossed, and one friendly chap gave Snoopy a rescue by some accurate casting :-) I hope to upload a youtube video in the next day or two, and that should help diagnose the problem. The best guess is that Snoopy's boat turns so fast, compared to the other boats, that the Autopilot 7 second control loop is not quick enough. Solutions include slowing Snoopy's turn rate with something like a longer keel. A better solution is probably to blow the dust off our compass based steering, which has a faster rudder control loop. Below is a short video from today.
Friday 6th May: The last couple of days have seen tests on Bray Lake, intended to diagnose why that little trip on Goldsworth Par Lake lasted so long. Maybe Boat 12 needed to have a wider keel, like all of Snoopy's other boats. Perhaps the autoplot, with it's 7 second rudder control cycle, could not cope with a boat that turned so fast ? To test this, I stuck an A4 plastic sheet either side of the keel with duck tape ! This clearly was not the solution, as you can see from the GPS Plot on the right !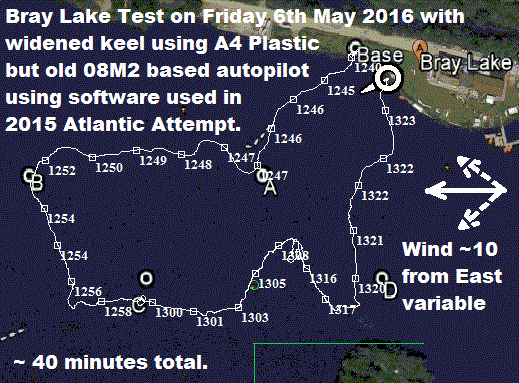 I went back to our original old 08M2 based autopilot, that had done the Bray Lake Test in that record 15.5 minutes. This software was used in the last 2015 Atlantic Attempt, and is little different from that used in the earlier attempts. A bug in our experimental 28X2 Autoplot software, from 2014, could obviously be the problem. However, it could be something more subtle, like setting up those new Globalsat BR355-S2 GPS with the correct characteristics. I have lots of video from these recent tests, but I won't inflict it on you yet: let's try and get Boat 12 back to working better than all the others ! :-)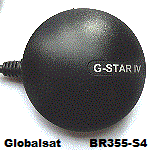 Saturday 7th May: It seems those new BR355-S2 GPS from Taiwan needed a firmware update before I put them into Picaxe 28X2 autopilots or GPS Loggers. This explains our problems: GPS heading is critical to the GPS-only autopilot steering. I found this for Saturday 21st March 2015 in my BlogX ... QUOTE ... the last few days have been busy, after the launch on Wednesday of Snoopy's March 2015 attempt on the Atlantic. However, today I got the time to try a firmware patch sent by the very helpfull Jesse, at Globalsat in USA. It went very well indeed, only taking a few minutes to install the firmware patch and then test it - including after powering the updated BR355-S4 off and back on. Now it does what I want - gives random directions when stationary, and what seem to be accurate direction of movement when moving very slowly, at down to 0.2 knots or less. I'll do some more "tea-tray" tests, and we will try it out on Bray Lake, in Boat6, soon. To ensure we do not lose the patch, I'm sure Globalsat will not mind my hosting it here as [RBPATCH.ZIP]. After testing, it will probably be loaded into all my BR355-S4 here.UNQUOTE. Guess I should have added, "and any more that I buy in future !" :-)
The firmware was updated in the three GPS, BlogX updated, and Boat 12 is ready for Bray Lake Test, without A4 plastic keel and with 28X2 Autoplot !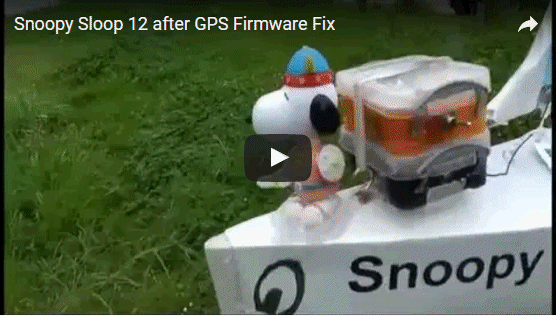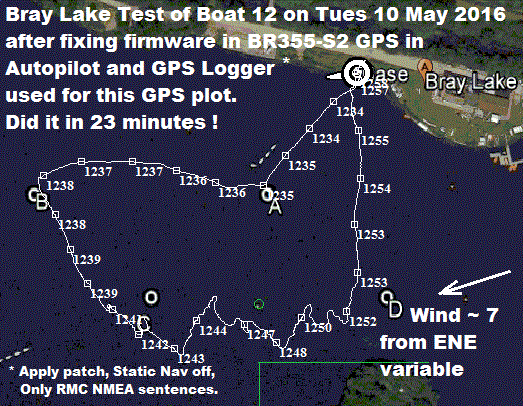 Tuesday 10th May: Click on the GPS Plot to enlarge it and read the detail: in short, it is clear that our Autopilot problem was due to those new BR355-S2 GPS from Taiwan needing to have their firmware updated, and to be set up correctly.
It only took 23 minutes to complete the Bray Lake Test, including the leg from "C" to "D", tacking against the wind. Arrival at "Base" was the most accurate yet: within one metre ! Play the video on the left to see Snoopy Sloop 12 completing the Bray Lake Test.
Thursday 12th May: Snoopy completes The Goldsworth Park Test ! Play the video below to see Snoopy sail 170 metres to near the end of the pier on the south bank, then back to base on the north bank. He only got halfway in the morning, and that's at the end of the same video. That was a simple bug in the Autoplot software: easily fixed, before Snoopy's return in the afternoon.
Where should Snoopy try next ? :-)
More here later, as "work" proceeds ...

Who is visiting this page ? How it's done is explained at the end of the Snoopy page.
There have been

visits to this page since 30th March 2016.

© 1991-2016 Robin Lovelock.