Waltham Walks by Robin and June
Location: N 51° 29.519 W 000° 47.329 Difficulty: 2 Terrain: 1
The "Waltham Walks" Geocache is hidden near the public footpath through Shottesbrooke Park, between Walthem St Lawrence and White Waltham.
Your clue is "in root under bark".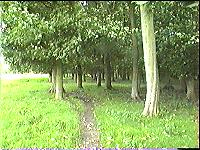 The location may not be as impressive as those at other of our Geocaches like The Copper Horse and Hampton Court but it is set in "typical English countryside" and we can reccomend the walk suggested below. The geocache is the usual Lovelock large tupperware box, with numerous low cost "goodies" including disposable camera, fluffy toys, etc.
The saddest geocachers, who hate walking, may try the closest bit of road at N 51° 29.121' W 000° 47.956' near some cottages and footpath gate. However, parking is difficult here, and so is not reccomended. A better approach is from the ancient gatehouse on the White Waltham side, not so far from the airfield, at N 51° 29.666' W 000° 47.178' This takes along the avenue of trees, past Shottesbrook House, alongside the church, through an alley and tunnel between old brick walls and towards the wooded area where the cache is hidden.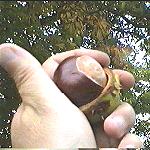 I preferred to park the car in Waltham St Lawrence, in the road with conker trees not far from "The Bell" public house, and the footpath through allotments at N 51° 28.950 W 000° 48.311 I always like the idea of being able to end the walk near a pub :-) Tourists will find "allotments" of interest - little community vegtable gardens. "Conkers" is the schoolboy game played with the fruit of horse chestnut trees, where the conker is drilled and tied on the end of a bit of string. You take turns in bashing your opponents conker with yours, and build up points according to how many your conker has smashed. An old trick was to cook them in an oven I believe :-)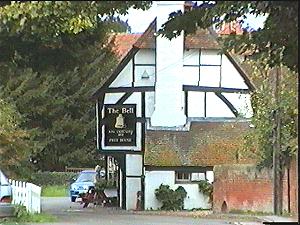 You will find more Lovelock caches on www.gpss.co.uk/geocache If you wish to contact Robin and want a reply, please email him direct on gpss@compuserve.com If you do this through a geocaching web site, please make sure you include your email address. Robin regrets that he may not reply to those who seek to hide who they are. Please include at least your name and email address.