Jimmy Cricket by Robin and June
Location: N 51° 26.031 W 000° 43.159 Difficulty: 1 Terrain: 1
Jimmy is back ! :-) The original singing Jimmy Cricket is back, so there are now two caches for you to find here: one from the lat/lon above - which has the camera - and the other by listening somewhere within 100 yards of this position :-) You will not need all those complicated clues below. The old text follows....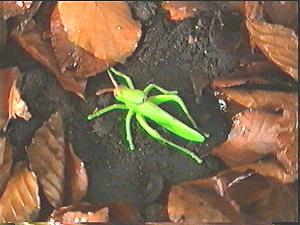 The Jimmy Cricket cache is the second one that we would not describe as "easy" - deliberately. All our early caches were intended as an introduction to someone trying Geocaching for the first time. Now we can concentrate on making them just a little more "interesting" - although some may differ on this :-) We have made this one a little easier to locate by the fact that you can hear it. If you get within a few yards you should be able to hear it chirping. I'll start with giving a 3-star rating - but adjust this according to people's experience. The nominal location of N 51° 26.000 W 000° 43.000 is just to help you "find the pub" :-)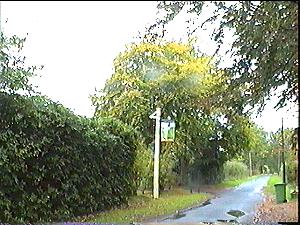 The main clues for this cache are in the pictures and the few words here. You will know when you are within fifty yards of the cache by the name of the pub. You will probably get your hands dirty getting at the cache - which is burried, but you will not need to go digging. Just find the cricket - he is securely bolted to a sheet of wood covering the white plastic box with the usual "goodies" including fluffy toys, etc.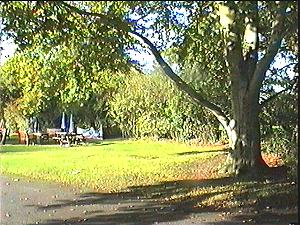 The position is within sight of those inside the pub and/or the garden (don't want to give you too many clues), so you creeping around looking and listening for Jimmy Cricket should give them a little entertainment. Neil and Fran pictured behind the bar saw me plant it, and have been advised to charge a surcharge - rather than discount - to geocachers who need to cheat to find the cache :-)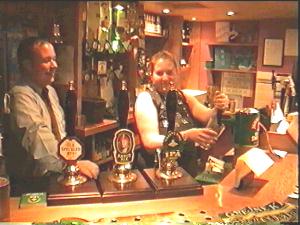 Regardless of how you accurately locate the cache, here is your data: The Cricket cache is exactly 6.073 kilometres from the Windsor Great Park cache, 5.323 kilometres from the Victory Field cache, and 4.795 kilometres from Roebuck Pub used as the start point for the Tweetiepie cache. If you calculate this as a lat/lon, remember to work in WGS85 and not OSGB. Less sophisticated approaches include cotton and pins on a 1:50,000 Ordnance Survey Landranger map (175 Reading, Windsor). Remember the lat/lon graticule around the edge is NOT WGS84, but the grid is in kilometres. Hopefully none of this will be needed - other than to get a rough location, if your GPS can display distance to these waypoints - or your hearing is better than mine :-)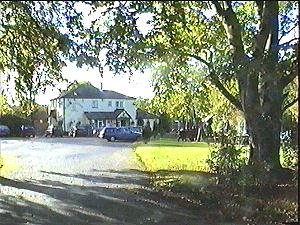 You will find more Lovelock caches on www.gpss.co.uk/geocache If you wish to contact Robin and want a reply, please email him direct on gpss@compuserve.com If you do this through a geocaching web site, please make sure you include your email address. Robin regrets that he may not reply to those who seek to hide who they are. Please include at least your name and email address.