Windsor Great Park by Robin and June
Location: N 51° 27.108 W 000° 38.329 Difficulty: 2 Terrain: 1
New ! Your clue to this one is "on ground near fence", and from here you will get a nice view you may not have expected. On your way you may see the tree in the picture below, the original cache location, before it "went missing" in February 2002. The first five to find the cache have a special present awaiting them :-)
The Windsor Great Park Geocache is perhaps ten minutes walk into a heavily wooded part of Windsor Great Park - depending upon which car park you use. When I visited on a Friday afternoon, many of the car parks had their gates shut, but one seemed permanently open. This open free car park was at N 51° 26.761 W 0° 38.265. This Geocache is not so far from others hidden by the Lovelocks, including "Windsor Castle" and "The Copper Horse" - you will see both these landmarks from the road.
The cache is the usual large tupperware box, with disposable camera and countless low value "goodies", books and toys. It was hidden at the base of what must be one of the oldest hollow oak trees in the forest - but is now at a new location :-)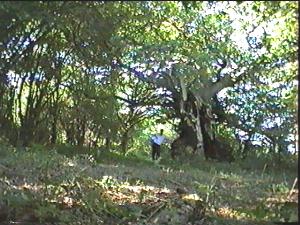 You will find more Lovelock caches on www.gpss.co.uk/geocache If you wish to contact Robin and want a reply, please email him direct on gpss@compuserve.com If you do this through a geocaching web site, please make sure you include your email address. Robin regrets that he may not reply to those who seek to hide who they are. Please include at least your name and email address.