Virginia Water by Robin and June
Location: N 51° 24.855 W 000° 37.734
Difficulty: 2 Terrain: 1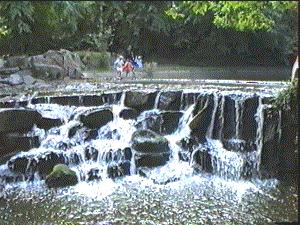 This is a replacement of the very first Lovelock geocache, planted by Robin and June in August 2001. Blacknest Gate is still the best place to enter this lovely area which now holds several of our caches. This one requires you to find a clue ticket providing the lat/lon of the cache itself. Your whole mission should take less than an hour - but why hurry ? :-) We suggest you park at the side of the road near Blacknest Gate, or maybe in the car park of the Belvedere pub - if you intend to have a drink or a meal after your walk. If you use the official Blacknest carpark it will cost you £2 in coins at the entrance. If you walk back beside the road you will pass "Moss Cottage" where June lived as a girl - until Robin arrived on the scene :-)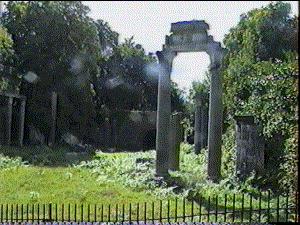 You will find it easier and more enoyable if you go over Five Arch Bridge BEFORE you follow the directions from your GPS. You only need find one of the identical clue tickets, and they have been placed in three similar spots to reduce the risk of them all getting lost. Please write down the lat/lon on the ticket, then hide it where it was. The three locations are all similar, being brick objects that you will soon recognize. One is at the lat/lon above, one is 140 metres east of it, and the other 250 metres east of it. Typical places to look are "under steel" - for a magnetic ticket, "behind grass" - against the brickwork, or "in a crack" - look for a wire or tab poking out. But remember - you only need to find one of them. You put this ticket lat/lon into your GPS, remember what it said on the ticket as a clue, and continue your walk to find the cache itself.
The cache is the usual tupperware box, with goodies, logbook, instant camera, etc - but in a black back with string at the top. It is placed in a dry spot, so please keep it dry - use an umbrella if rain threatens.
Virginia Water has a large lake, perhaps two miles across, but many more miles around it. If you choose to take a stroll, allow two or three hours for all the lake. There are a few more caches in this area, so you could take a picnik and take all day - but choose good weather. You might follow the lake east to "The Wheatsheaf". After "refreshments" there, make your way back for more at "The Belvedere" :-) On the way to the Wheatsheaf, if south of the lake, you will pass landmarks such as the "Ruins" and then the "Cascade" (waterfall). The Totem Pole is north, past The Wheatsheaf. Five Arch Bridge is in the west - not far from Blacknest Gate - just north of The Belvedere Pub - briefly named the Robin Pub.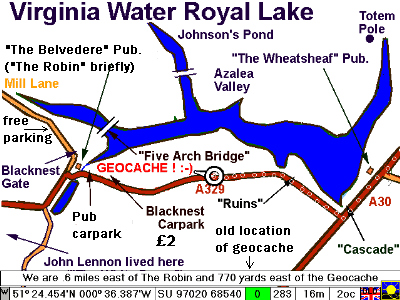 This is a non-commercial, Public Domain Geocache. The cache is Public Property, as is all information about it, including the location, this description, and reports from people visiting the cache. You will find more Lovelock caches on www.gpss.co.uk/geocache If you wish to contact Robin and want a reply, please email him direct on gpss@compuserve.com If you do this through a geocaching web site, please make sure you include your email address. Robin regrets that he may not reply to those who seek to hide who they are. Please include at least your name and email address.