Richmond Hill by Robin and June
Location: N 51° 26.848 W 000° 17.520 Difficulty: 2 Terrain: 1
No need for the stuff below - just go straight to the lat/lon above. We'll add clue tickets on a later visit, and revert back to the old lat/lon.
This location is of great historic interest and only a short walk from the geocache box itself. When you reach the spot, wait until you are not observed, then lift the ivy following the arrow to a castle. The microcache holds a slip of paper telling you where to find the box: in fact it allows you to see, from where you are standing, the seat on which you will probably choose to sit when you examine the geocache contents, fill in the log book, etc. This seat is located at a far less busy spot. The geocache is a medium sized, dark green tupperware box, with instant camera - to take a picture of yourself, small toys and lots of other low value "goodies". Please take care not to be seen replacing both caches, and make sure each is well hidden in the correct spot.
The microcache location is well worth the visit, being known as the "Henry VIII Mound". It is one of the highest spots in the park and with good views in several directions. It dates back thousands of years - probably having been a bronze age barrow. In more recent years it is believed that King Henry shot deer from here, while herds were driven past him. On a clear day you can see for many miles, including St Paul's Cathedral through a "keyhole" cut in the large holly tree and "protected" by wrought iron.
The best approach is probably to enter the park through Richmond Gate, in the north west corner. Then turn right to travel south until you reach the Pembroke Lodge Gardens free car park very near the location. While here you may also wish to try the Richmond Park geocache. Your path to the Henry VIII Mound will take you through Pembroke Lodge Gardens where the squirrels are very tame :-)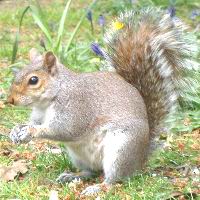 You will find more Lovelock caches on www.gpss.co.uk/geocache If you wish to contact Robin and want a reply, please email him direct on gpss@compuserve.com If you do this through a geocaching web site, please make sure you include your email address. Robin regrets that he may not reply to those who seek to hide who they are. Please include at least your name and email address.