GPS Party by Robin and June
Location: N 51° 23.818 W 000° 39.595 Difficulty: 1 Terrain: 1
What a Great Party !

Many Thanks for coming. I think we had over 20 adults, but sadly no children other than Sam, aged five, who found all three "Kids caches" and also acted as "official photographer" :-) That's Sam's self-portrait on the left. I was not sure if you wanted too many digital pictures taken so I only have these two further below, one inside and one out. Sorry that it only shows a few of you - but if you want something added later, let me know. Sam's pictures are best described as "interesting" - like close-ups of people's feet,

but some were not too bad. e.g. this one of Lara, the border collie doggy, who came with Richard and Sue from Newbury, and this one of June, Angela, and Isobel. My two pictures (better versions can be emailed) show some of you indoors and outdoors. Below you can see Chris, Richard and Bert discussing "geocaching nitty gritty" while others outside drink and natter :-)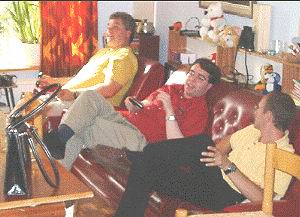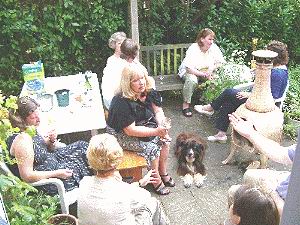 I see some of you have added logs to the copy of this page hosted on www.navicache.com Thanks again to those who came and made this such an enjoyable afternoon and evening, and sorry to those who had to cry off at the last minute - you are always welcome to pop in on us at another time.
Robin on 21st August.
Original Invitation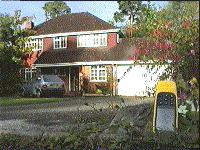 Robin and June are having a "GPS Party" from 3pm until late on Sunday 18th August 2002, and, if you have a GPS, you are welcome. Please call Robin on 01344 620775 or email him on gpss@compuserve.com before Sunday if you are coming. Friends/Family including kids are welcome - please let us know any vegitarian or special food needs, so we will have enough for the barbecue.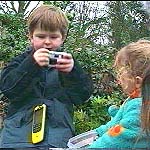 Dress casual and bring a bottle similar to what you might drink. e.g. wine, beer, coke. The lat/lon above is the geocache, guarded by gnomes, under small oak tree at the front of 22 Armitage Court: do that one if you dare :-) There will be a few geocachers there, including TV stars Sam and Poppy, on the left - available for autographs :-) We settled on the date above after feedback from invitations to those we were in direct contact with: sorry if this is too a short notice for you to make it. For those "other halves" who don't quite share hubby's (?) same enthusiasm for geocaching - don't worry - you will not be alone :-) Some will choose to swap stories on their geocaching exploits, but there are many other interests other than geocaching or GPS that you will share. Here's a chance to meet some new friends. Don't be shy: give Robin a call on 01344 620775 :-)

There will be three really easy "Kids Caches" in the back garden:
AC1 Blackberry at N 51° 23.821 W 000° 39.625
AC2 Beech at N 51° 23.824 W 000° 39.625
AC3 Apple at N 51° 23.824 W 000° 39.618

You will find more Lovelock caches on www.gpss.co.uk/geocache