Magna Carta by Robin and June
Location: N 51° 26.635 W 000° 33.955 Difficulty: 2 Terrain: 1
The Magna Carta Geocache is hidden within easy walking distance of the monument by the same name. Your clue is "dry but under water".
The Magna Carta Monument is just a few minutes walk from the John F Kennedy Memorial. Both lay on the slopes of the hill overlooking the River Thames at Runnymede - where Magna Carta was signed by King John in 1215. Both have an American connection, since the Magna Carta Monument was erected by the American Bar Association, "to commemorate Magna Carter symbol of freedom under law".
The nearest parking is near the river, but there is a free car park near the Air Force Memorial at the very top of the wooded ridge - which is well worth a quiet and thoughtful visit. The car park is at N 51° 26.216' W 000° 34.120' and access is from the village of Englefield Green - follow the brown signs to "Air Force Memorial". Turn right out of the car park, past the public toilets, to the Air Force Memorial on the left. Continue past it and bear left, for the public footpath into the National Trust woodland called Coopers Hill.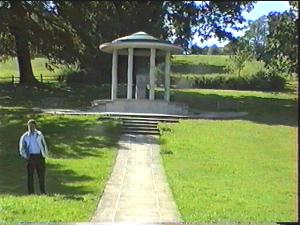 You will find more Lovelock caches on www.gpss.co.uk/geocache If you wish to contact Robin and want a reply, please email him direct on gpss@compuserve.com If you do this through a geocaching web site, please make sure you include your email address. Robin regrets that he may not reply to those who seek to hide who they are. Please include at least your name and email address.