Henley on Thames by Robin and June
Location: N 51° 32.457 W 000° 53.108 Difficulty: 2 Terrain: 1
Get Down and Look Up - to find a clue ticket :-) The "Henley on Thames" Geocache is a small tupperware box, hidden in bluebell woods overlooking Henley from the east. Henley is famous for its rowing regatta and a popular town with tourists. It's a good place to hire a small boat for an hour and potter up and down the river, between the two locks. There are also nice walks along the river, on the Henley - west bank, particularly south towards Shiplake.
You may be able to find your way up the hill via the footpath from Henley, but we found it easier to take the A423 uphill, east out of Henley towards Maidenhead, then, less than a mile out of Henley, take the small road left towards Remenham Church. You can just about park on the verge perhaps 50 yards past the public footpath sign and stile, at the lat/lon above, from where you enter the woods, alongside someone's house. Keep to the well trodden footpaths. The cache is only a short distance from the path, and you should not need to scratch yourself on anything.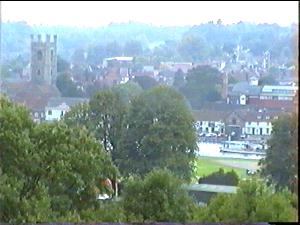 You will find more Lovelock caches on www.gpss.co.uk/geocache If you wish to contact Robin and want a reply, please email him direct on gpss@compuserve.com If you do this through a geocaching web site, please make sure you include your email address. Robin regrets that he may not reply to those who seek to hide who they are. Please include at least your name and email address.