Hurley Lock by Robin and June's Dad
Location: N 51° 33.110 W 000° 48.348 Difficulty: 1 Terrain: 1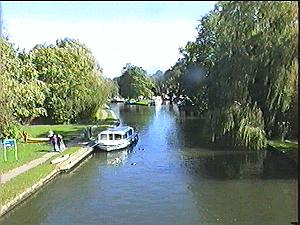 The "Hurley Lock" Geocache is hidden in a concrete corner, under ivy, on the island in the River Thames at Hurley Lock a few minutes pleasant walk from free car parking. Hurley Village is between Henley and Marlow, on the south bank of the Thames. Take the small road to Hurley Village from off the A423 Henley-Marlow road. Hurley Village is very small and only a handfull of houses, but this is a lovely spot from where to reach the river. You may wish to take a longer walk while you are here, but you will reach the Geocache within minutes. The lock obviously has deep water of danger to everyone, but the north side of the island, near the picnic spot, has lovely shallow, clear water - ideal for a paddle :-)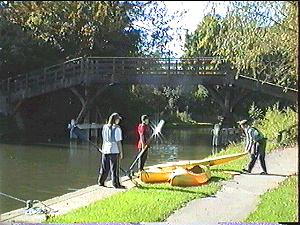 Free Parking is available at N 51° 32.940' W 000° 48.662' in the centre of Hurley Village. This is the reccomended start point. Then take the footpath north to the river, with the wall on your right. Keep on until you reach the old wooden and concrete footbridge, which you cross to get onto the island.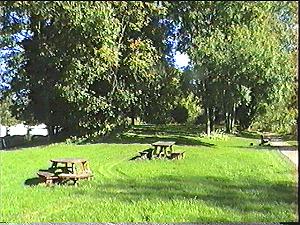 You then walk east, past the lock, to the picnic area. An alternative parking spot is in meadow beside the river at N 51° 33.084' W 000° 48.325' - but this might cost you £2 since it is private land. For this spot, take the road right as you enter the village, signed for Riverside Summer Parking. From the riverside parking you walk over another footbridge onto the island and direct into the picnic area where the geocache is hidden.
This is the usual Lovelock Geoacache, holding disposable camera for you to take a picture then return to the cache, toys and books for children. This time I made a list - and surprised myself: logbook, pens, pencils, camera, police whistle, calculator, 2 GPSS CD, golf ball, hair bands. plastic bear, torch, lighter, rubix cube, little car, foreign coins, cuddly pig, smurf, and a gremlin :-)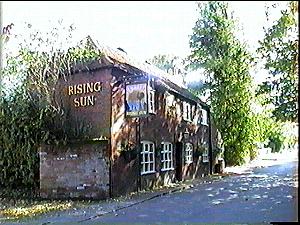 Junes's dad, Jack Ponsford - now 83 (in 2001) - helped me, Robin, plant this one, and we forced ourselves to take some liquid refreshments at "The Rising Sun" pub on the outskirts of the village, at N 51° 32.705' W 000° 48.551' Jack Ponsford never did like his picture being taken - but he's happy enough with a full pint of beer in his hand :-)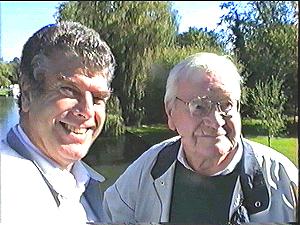 You will find more Lovelock caches on www.gpss.co.uk/geocache If you wish to contact Robin and want a reply, please email him direct on gpss@compuserve.com If you do this through a geocaching web site, please make sure you include your email address. Robin regrets that he may not reply to those who seek to hide who they are. Please include at least your name and email address.