Easy Dinton by Robin and June
Location: N 51° 26.445 W 000° 52.570 Difficulty: 1 Terrain: 1
New ! replacement of lost cache is smaller. Mind the nettles and brambles :-)
This "Easy Dinton" geocache was planted as an introduction to geocaching for those who do not have a GPS - and may not even have access to the Internet. They may read the details below from a local newspaper. Those who find the geocache, and take a picture of themselves with the instant camera, may see the picture appearing somewhere :-)
Information given to local Newspapers
No Internet ? No Problem: these words give you what you need to find your first geocache. No GPS ? No Problem: the rather sparce details below should be enough.
Robin and June Lovelock hid this Geocache especially for local newspaper readers to find: in fact maybe you will find it before someone who has the luxury of a GPS to help them :-)
Take something to leave in the geocache to replace what you take. Some foreign coins you forgot to convert to Euro, or a small cuddly toy from the Oxfam shop at 25p ?
Dinton Pastures is on the eastern fringe of Reading, adjacent to the A329M motorway that links Bracknell, Reading and the M4. It is a large area of Nature Reserve with lots of water, rabbits and places for children to play. There is a snack bar near the car park.
To reach the Dinton Pastures car park take the A329M to Reading from M4 junction 10. Leave A329M at Winnersh Triange and get on A329 back towards Winnersh and Wokingham. Look for Texaco Filling station on right and traffic lights. Turn left at lights onto B3030 to Hurst: over railway and A329M. Turn left into Dinton Pastures and park.
To reach the geocache go through the gate, past the big carved wooden snail and kingfisher on left, over the footbridge, then fork left, keeping the childrens play area on your right. Follow the path to the right looking for a bench seat on your right on the grassed area. Follow the line of the bench into the bramble bush within two yards: you should see the geocache - or will find it by poking around. Don't scratch yourself :-)
Try not to let others see you recovering the large plastic box, or putting it back. Sprinkle some grass over it, so it remains hidden. You can then sit down on the bench, looking at the geocache contents and fill in the log book. You are welcome to call Robin on 01344 620775 if you want your visit logged on the Internet in addition to the book. There is an instant camera with flash - for you to take a picture of yourself (at arm's length?) - but please leave it in the cache. Maybe the first few finders will appear in the paper :-)
You DO have a GPS ? Less words: just the lat/lon of N 51° 26.445 W 000° 52.570
You DO have access to the Net ? this page is www.gpss.co.uk/geocache/gced.htm
Don't forget this geocache was placed near a suitable landmark (the bench seat) : others might be under a tree root in the middle of a forest, or a clump of heather in a large common. But no reason why we should not have a few more like this, capable of being found without a GPS or the Internet - if you get your newspaper regularly :-)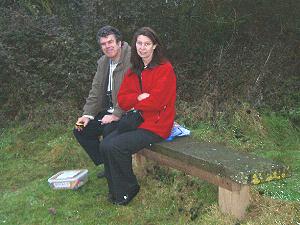 More about Dinton Pastures...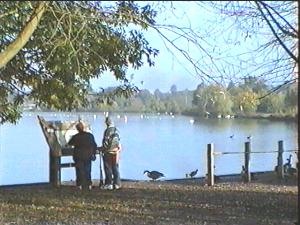 The information below is based upon that for another geocache, called "Dinton Pastures" - but for which you will need a GPS. You will find details on this and many more geocaches planted by Robin and June on the Lovelock Geocache pages.
Dinton Pastures is a pleasant enough network of nature trail walks around what were flooded gravel pits near the Loddon River on the eastern outskirts of Woodley and Reading. Easiest access is probably from the Winnersh Triangle exit off the A329M, off the M4. This is a great place to take the kids, with several play areas and - for the bigger ones - ropes hanging from trees to dangle from. But watch out - there is plenty of water to fall into.
You have a choice of several routes to the geocache: The obvious one is from Dinton Pastures car park, near the little house that provides a snack bar. The location is N 51° 26.406 W 000° 52.353. Alternatively, approach from the free car park of the rather too grandly named "Berkshire Aviation Museum" at N 51° 27.035 W 000° 53.009. For those that prefer pubs, the nearest I found was "The Jolly Farmer" at N 51° 26.723 W 000° 51.950 ;-)
You will find more Lovelock caches on www.gpss.co.uk/geocache If you wish to contact Robin and want a reply, please email him direct on gpss@compuserve.com If you do this through a geocaching web site, please make sure you include your email address. Robin regrets that he may not reply to those who seek to hide who they are. Please include at least your name and email address.