Dinton Pastures by Robin and June
Location: N 51° 26.492 W 000° 52.678 Difficulty: 1 Terrain: 1
New ! The replaced Geocache is the usual large tupperware box holding logbook, camera and numerous "goodies". Just go to the location and look around :-) The text below has not been changed, just in case the old geocache turns up again. We may also plant more :-)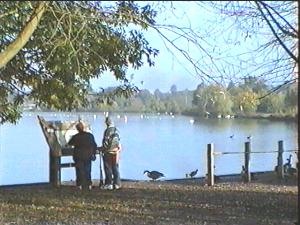 Dinton Pastures is a pleasant enough network of nature trail walks around what were flooded gravel pits near the Loddon River on the eastern outskirts of Woodley and Reading. Easiest access is probably from the Winnersh Triangle exit off the A329M, off the M4.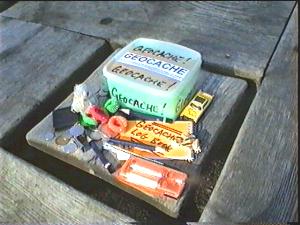 This Geocache is deliberately made just that little more difficult to find. It is a small tupperware box, so make sure you have something small to put in it :-) Sorry that there is no disposable camera in this one, but - as you can see from the picture, we still managed to squeeze a good few small "goodies" into it. The picture was taken at the square picnic table used as the reference from which to find the hiding spot. This table is at N 51° 26.505 W 000° 52.672.
You have a choice of several routes to the geocache: The obvious one is from Dinton Pastures car park, near the little house that provides a snack bar. The location is N 51° 26.406 W 000° 52.353. I'm not sure if this is a free car park: I saw no "pay and display" signs, but there were spikes blocking my exit - which I swerved around :-) Alternatively, approach from the free car park of the rather too grandly named "Berkshire Aviation Museum" at N 51° 27.035 W 000° 53.009. For those that prefer pubs, the nearest I found was "The Jolly Farmer" at N 51° 26.723 W 000° 51.950 ;-)
To find the cache you will need to start at the square table above, then search in the area roughly east and about 65 metres away, asking yourself, "where would I hide a small tupperware box ?". I reckon that cheating on this one brings it down to a one star cache:-) This is a great place to take the kids, with several play areas and - for the bigger ones - ropes hanging from trees to dangle from. But watch out - there is plenty of water to fall into.
You will find more Lovelock caches on www.gpss.co.uk/geocache If you wish to contact Robin and want a reply, please email him direct on gpss@compuserve.com If you do this through a geocaching web site, please make sure you include your email address. Robin regrets that he may not reply to those who seek to hide who they are. Please include at least your name and email address.