Cookham on Thames by Robin and June
Location: N 51° 34.256 W 000° 42.753 Difficulty: 1 Terrain: 1
The "Cookham on Thames" Geocache is a small tupperware box beyond a large public meadow just west of Cookham, on the River Thames. The box is only just big enough to hold the instant camera, log book, and a few small items - so please bring something tiny :-) There is a free car park, on the B4447 from Cookham to Cookham Rise and Cookham Dean.
This is a great place to start a walk north, to the south bank of the River Thames. We suggest you make your way along public footpaths, under the railway, to walk along the high ground facing north, overlooking the river. Then make your way downhill to the river, and walk back, stopping at the pub opposite Bourne End on the opposite bank. Cookham itself is a quaint old town full of pubs and restaurants. On the east bank from Cookham - reached by a three mile car journey - is Cliveden, an impressive large house and gardens owned by The National Trust, and well worth several hours of your time. Marlow on Thames is a lovely town, also only a few minutes by car from Cookham.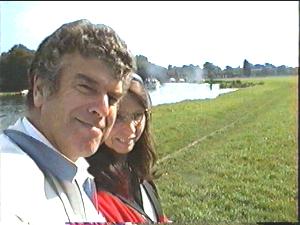 You will find more Lovelock caches on www.gpss.co.uk/geocache If you wish to contact Robin and want a reply, please email him direct on gpss@compuserve.com If you do this through a geocaching web site, please make sure you include your email address. Robin regrets that he may not reply to those who seek to hide who they are. Please include at least your name and email address.