Black Park by Robin and June's Dad
Location: N 51° 32.120 W 000° 32.932 Difficulty: 2 Terrain: 1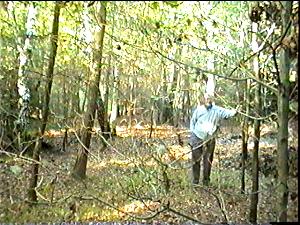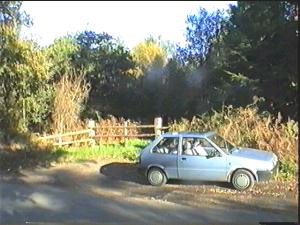 Your mission, should you choose to accept it, is to run the gauntlet of walkers, picnickers, and old men sailing model boats, to find the geocache: but not just find it: to log your visit and return it without revealing the location to those around you.
This is one of the oldest caches planted by Robin - and one of the more difficult. You will be partly judged on the logs that follow yours. i.e. if it's gone missing, maybe you did not hide it well :-)
You will need this clue: "wire in crack in concrete" with the lat/lon above to take you to the first clue ticket. This will include a similar clue and the lat/lon of a second clue ticket. This second clue ticket will enable you to find the cache itself, hidden inside an old tree stump. Yes, it's the one in this picture below - but I think you will find it easier to find those clue tickets rather than inspect all the old tree stumps in this large forested area :-)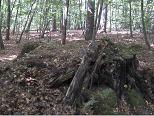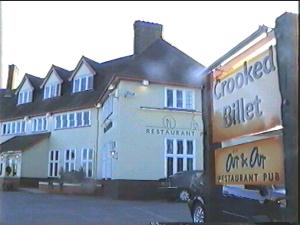 Black Park is in a nice patch of old English Park north east of Slough and south west of the M40/M25 Motorway junction. June's dad Jack and Robin planted the first cache here but did not have much time to see the more scenic part of the park, further north around the large lake. Near the lake you will find a place to buy snacks and plenty of things to amuse the kids. Car Parking is a problem if you do not want to pay the £2. However, you may find a muddy lay-by, such as that above right, where it is safe to park. The nearest pub is the other side of the busy A412, and not located for a nice walk - but you may wish to stop there anyway :-) If so, it is "The Crooked Billet" and is at N 51° 32.101 W 000° 31.810
The cache container is a plastic sandwich box inside a black waterproof bag with string at the neck. This new cache was planted on 30th August 2006 and replaced the old geocache, first planted on 1st November 2001.
You will find more Lovelock caches on www.gpss.co.uk/geocache If you wish to contact Robin and want a reply, please email him direct on gpss@compuserve.com If you do this through a geocaching web site, please make sure you include your email address. Robin regrets that he may not reply to those who seek to hide who they are. Please include at least your name and email address.