Armitage Court by Robin and June
Location: N 51° 23.818 W 000° 39.595 Difficulty: 1 Terrain: 1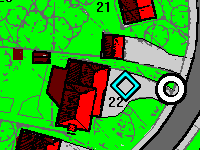 It seemed silly NOT to include this Geocache, under the small oak tree at the front of 22 Armitage Court. The big tupperware box is just 5 yards from the position seen on this WGS84 calibrated GPSS map on the right. I guess only "GPS Nuts" will visit this Geocache, or those wanting to cadge a free cup of tea or coffee from me. There is nothing much of interest here, other than the calibrated mapping on www.gpss.co.uk, but it is only a short distance from much more interesting places, like Virginia Water.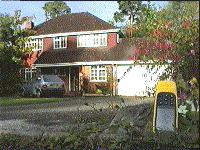 You will need to be a complete idiot not to find this one easily. No need to stray more than a yard onto my property - those with long arms need not even do this. If you see me at my study window, sadly answering e-mail, lighten my day and give me a wave. Our 'phone number is +44 1344 620775 (01344 620775 within the UK). If you wish, come up and ring the doorbell - but only in daylight hours please :-)
You will find more Lovelock caches on www.gpss.co.uk/geocache If you wish to contact Robin and want a reply, please email him direct on gpss@compuserve.com If you do this through a geocaching web site, please make sure you include your email address. Robin regrets that he may not reply to those who seek to hide who they are. Please include at least your name and email address.